When Colleen and I were looking at ideas for centerpieces for her wedding, we loved the idea of using mercury glass votives on each table.  However, when we realized that these votives run about $3 each and we calculated costs at 4 votives per table, it became clear that it would be pretty much out of the question.  Then we started seeing DIYs.  We saw all kinds of methods and just combined them to make our own.  I will give ya'll fair warning that if you are planning to make 100 votives like we were, it will take you what feels like a lifetime and be a massive pain in the tookus.   Making a few or a large vase is really quite tolerable.  The end result is pretty stunning.  They are excellent for striking a vintage/romantic note.
What you'll need:
1) Whatever vases, votives, etc.  you want to transform
2) Krylon Looking Glass Mirror-Like Spray Paint  (can also be bought at Hobby Lobby)
3) Metal (Silver) Leaf Flakes  (all of our Silver Leafing supplies were Mona Lisa brand from Hobby Lobby)
6) Small Paintbrush and Q tips
7) Spray bottle with water
Supplies minus looking glass spray (oops)
What you'll do:
1) Start by dipping your paintbrush in the adhesive and painting the inside of your glass (I used a glass hurricane for this) with a lightish layer.  Pause for a few minutes to watch Dawson's Creek Season 3 so that the glue dries until it is sticky enough to hold the flakes.  If you start to add the flakes too quickly, you'll know.
2)  Take a Q tip and use it to fish some leaf flakes out of your bag.  These  will stick to your fingers like nobody's business so I don't recommend touching them with your hands.  It is easier if you can get single flake pieces but sometimes they all clump out together and then I just separate them the best I can.
3)  Use the Q tip to place the leaf in patches over the glue and rub the leaf on til it is as flat and smooth as possible.  If you want your votive to be more dramatic with more dark areas when lit, then cover more of the glass with the leaf to your liking.  I only put the leaf on the sides of the votive.  You will probably have to use a lot of Q tips.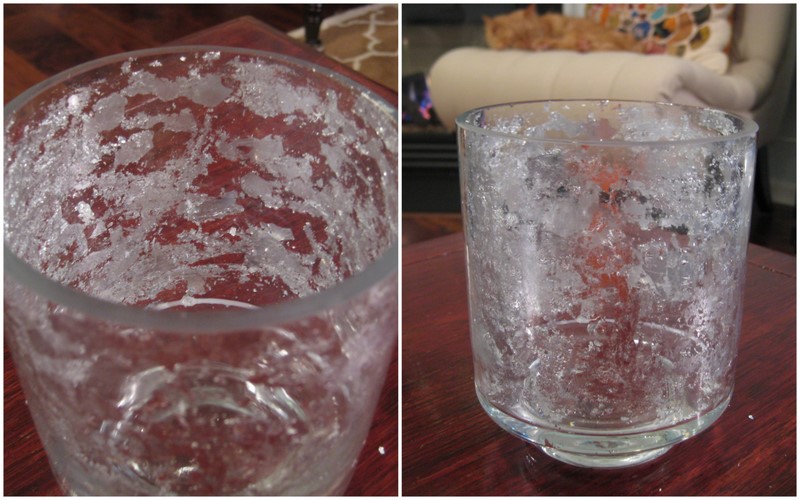 4) Seal the leaf with the sealer applied with a paintbrush.  Let dry as recommended.
This next part needs to occur outside 🙂
5) Use a spray bottle of water open so that it is misting.  Mist the inside of the glass over the leaf so that you see little droplets.
6) Lightly spray looking glass spray over the wet glass.
After letting them sit for a bit, I repeated steps 5 and 6 again for good measure.  Let them puppies dry.
You're done!  It's a miracle!
Now comes the part that was too depressing to mention earlier but should be shared all the same.  Despite desperate attempts to light the votives by the lovely individuals (Lauren, Taylor, and Billiam) who helped us by setting out all our centerpieces, it was too windy and they would not light for Colleen's wedding.  Oh cruel injustice.
Love,
Megan