So the story is that the mirror above my fireplace has a very nice shape but its flat black color was not wowing me anymore.  I wanted something that felt a bit more special.  Cue the gold leaf.  Now I will not mince words.  Gold leafing something is big pain in the butt.  While not difficult to use, it can be pretty annoying.  Just when one thinks they have gold leaf under control, gold leaf lets you know it can never really be tamed.  As this was not my first rodeo with gold leaf, I was aware of that and chose to proceed despite this knowledge.  The thing is, if you want to make something a brilliant and shiny gold, there is no replacement.  I have not met a can of gold spray paint that even comes close to its beauty.  And I have met ever so many cans of spray paint.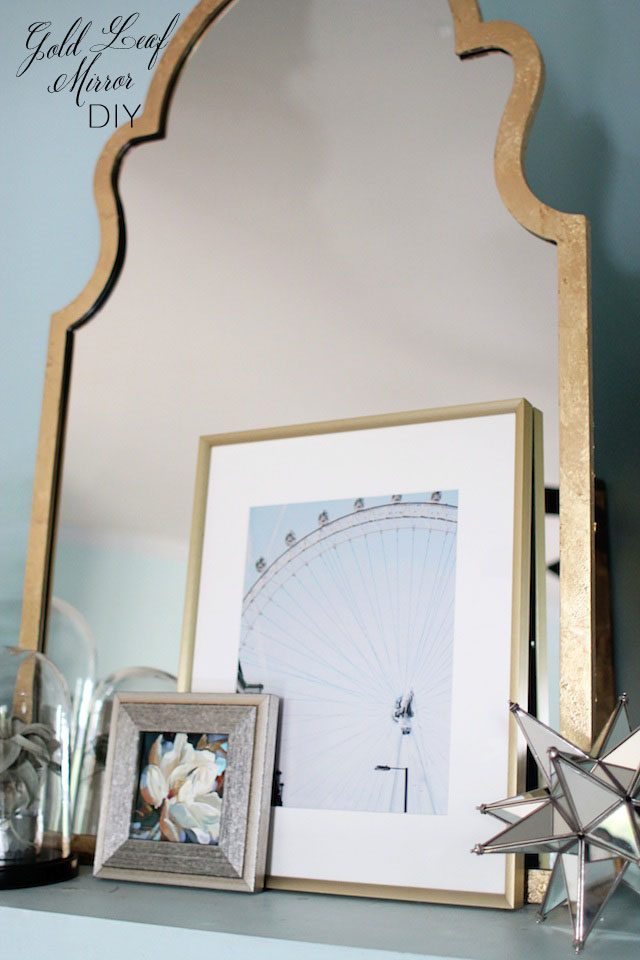 What you'll need:
– gold spray paint
– foam brush or paint brush
-newspaper and tape
What you'll do: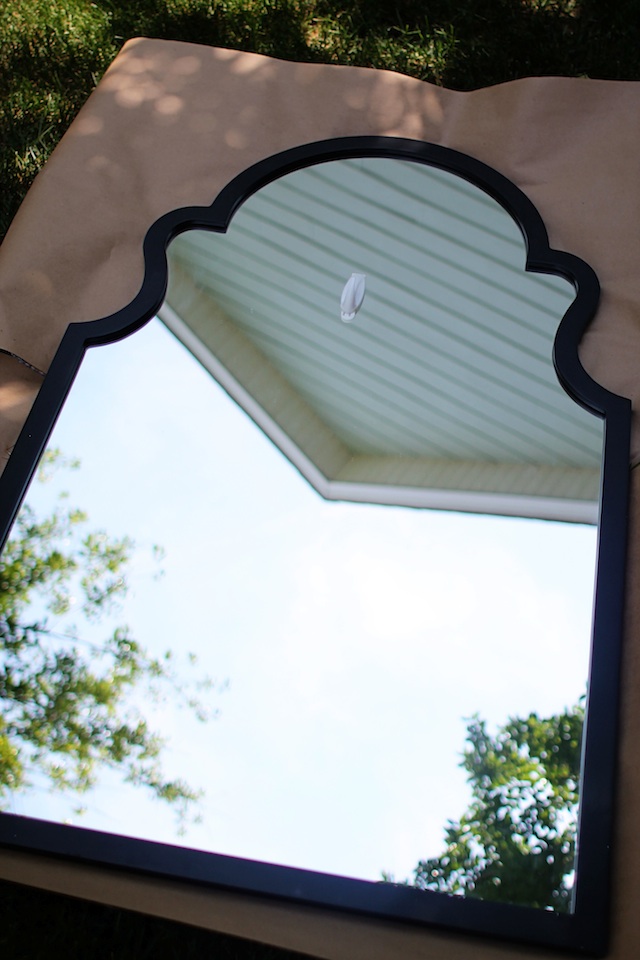 1.  I started by covering most of my mirror with kraft paper (newspaper would be fine too) and taping as close to the edges with tape as I could.  Sometimes when I am just spray painting mirrors, I don't bother with this as paint is easily removed with windex and being scraped with a straight edge.  I was worried about the adhesive getting on the mirror though and even though it took longer than I wanted it to, I ended up being glad I did this.  You will most likely still have to clean the mirror off at the end.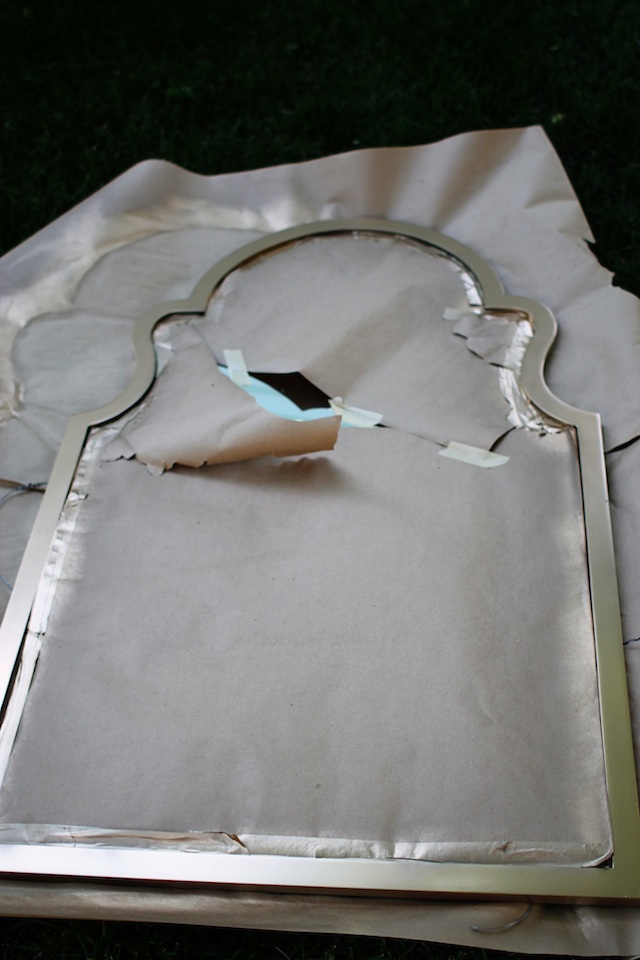 2.  Then, I spray painted it gold.  I did this so that if there were places that didn't get completely gold leafed (and there were plenty of those), it wouldn't show too much cause of the gold spray paint being underneath.  I left this dry over night since I would be adding over the top of it and I wanted it to set.  I doubt this was necessary but I was feeling extra cautious.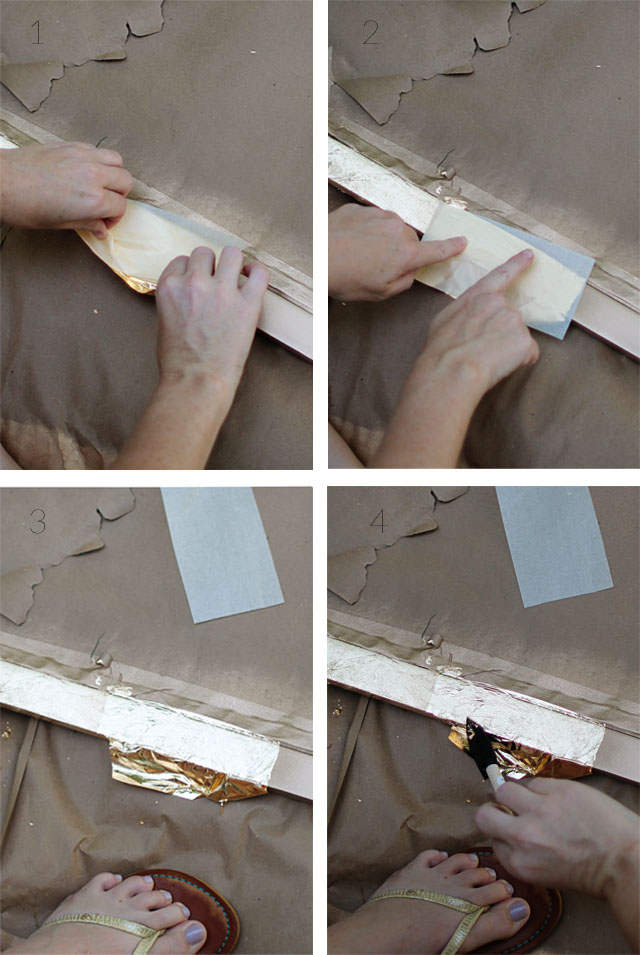 3.  Gold leaf time!  I cut my gold leaf sheets in half as half of a sheet was all I needed for each section and I didn't want to be wasteful.  Because it is so thin, it is difficult to control and very difficult to move around so when working with gold leaf, you must be fast, controlled and deliberate.  Spray your adhesive to a small area.  Using the tissue on top of it, pick up the gold leaf sheet and place it gold down onto the adhesive where you want it to go.  Use your fingers to smooth it to the mirror while the tissue is still on.  Then remove the tissue and use a brush to smooth it the rest of the way down along both sides.  I used my foot to separate the bottom of the mirror from the drop cloth so I could push the leaf all the way around.  You may have missed sections in your application so use the bits that are most likely stuck to your fingers to push into empty areas and smooth.  You can add in sections at any time with a bit more adhesive.  No biggie.  The key to this operation is not to let your hands get sticky.  Once your fingers get sticky, you are done for.  That's why you need your brush.  Once you do a few sections, you will develop your own strategies.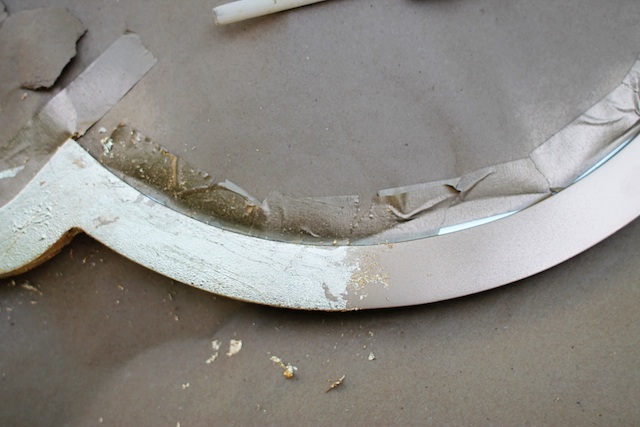 Note the shininess difference between the spray paint and the leaf on the left.  That's pretty significant.
4.  After letting dry for recommended amount of time, spray it down with sealer to make sure everything stays put.  No matter how much you seal it, small pieces of gold will still flake off.
5.  Remove your paper and clean up spot around the edge that got sprayed with windex and a straight edge razor.  Just spray and scrape and wipe.
There you have it.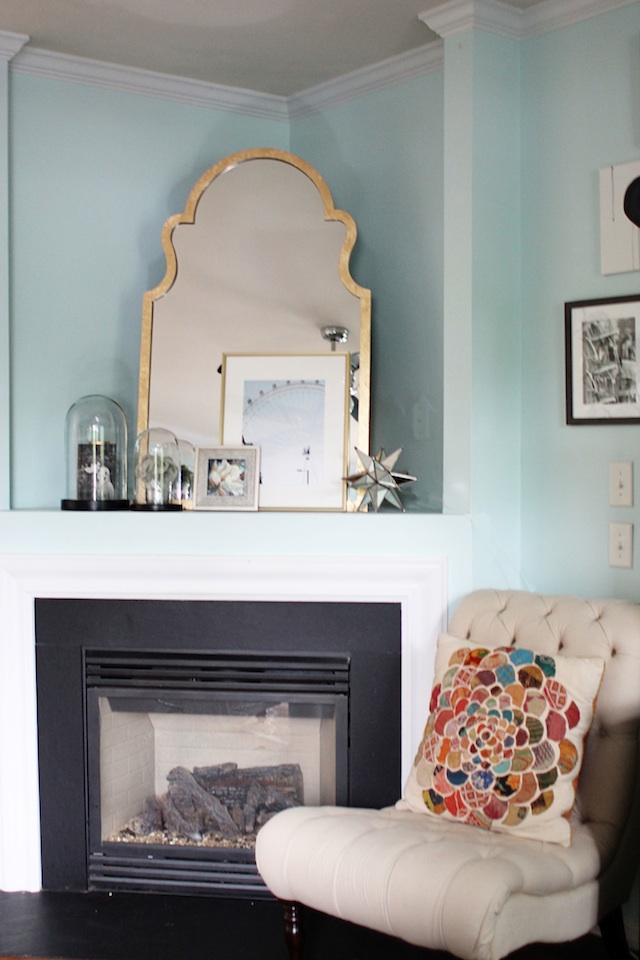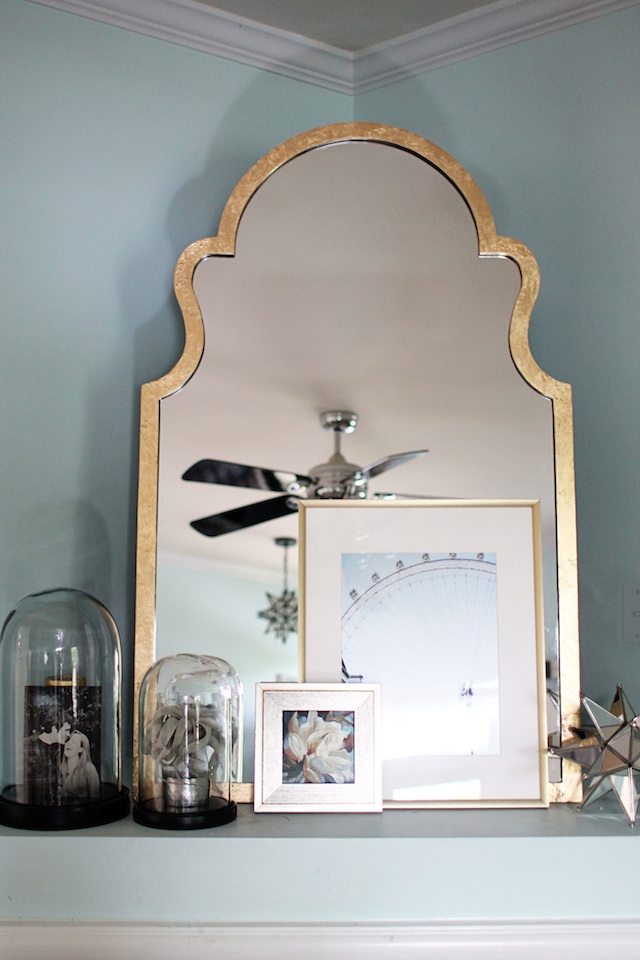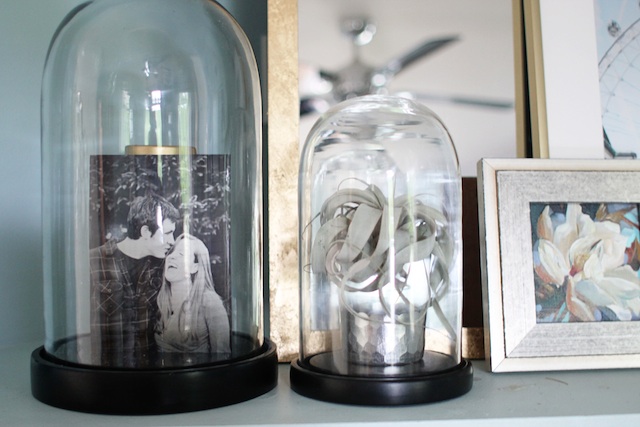 I think the mirror stands out now much more than it used to and doesn't look so dull.  What do y'all think?  Have you ever attempted to tame the gold leaf?