Summer is just around the corner which blows my mind.  What the heck guys, it was just Christmas.  This is the time of year when I start to wish I was a teacher until I realize how hard the job is the rest of the year.  Man it would be nice to have a summer again.  This weekend I was looking at my shoe situation for summer and it consists of an old dirty pair of rainbows, an older pair of Target sandals, and some other ugly sandals that I will likely never wear.  And all of my flats that are worn through and are so filthy that they make my feet black when I put them on.  At least I know I've gotten my money's worth right?  Oh, and there are also about 20 pairs of heels that get little to no use.  I'm not sure when I'm going to figure out that I never actually wear them.
Well I'm not going to go out and buy a whole new shoe wardrobe, but a couple of small updates might do the trick.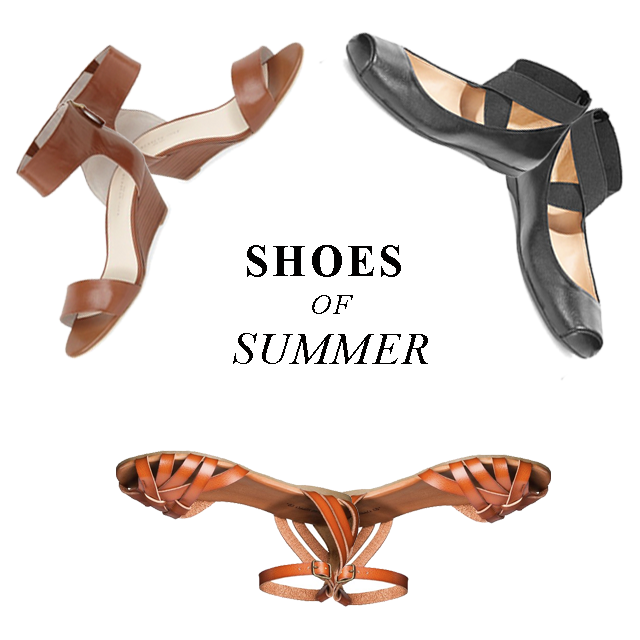 1) I have my eye out for the perfect tan/neutral mini wedge that I can wear day and night.  I obviously will never be wearing those multiple pairs of stilettos but that doesn't mean I can't have a sexy little mini wedge in my arsenal.  And it needs to be COMFORTABLE.  I am over shoes that hurt.  These are serious contendors.
2) I shot my first wedding with Allison this weekend (so fun guys!) and while getting dressed that morning I realized that I don't have any comfy black flats.  Not one.  Ok that's a lie, I have my Crocs that I bought before France, but I have found that they are only comfy until you hit a certain time limit and they become like little thorns poking into your feet.  These ballerina flats from Jessica Simpson (girl can make a shoe) are completely adorable.  I am purchasing them today.
3) I clearly need some new neutral sandals.  These seem like they would do but if you guys have any real winners then please let me know!