Today I am going to tell you a story about a girl who was obsessed with sparkle houses .  One year she was at her local Homegoods and discovered that they were selling dozens and dozens of them (even pink ones!!!!) and due to her early Christmas season excitement, she found herself buying 4 of them.  She scattered them about the surfaces of her house where she could look at their beauty whenever she wanted.  And then she was happy.  Until the next year when she wanted to buy more Christmas stuff and she didn't have any room for any of it on any of her surfaces in her smallish home because the sparkle houses had taken over ALL the surfaces.  And then she was sad.  Cause she had no room to keep practical things like her mail tray.  In case anyone was wondering, the girl in this scenario is me.  And this year, my sparkle houses all had to stay boxed save one.  Because I am a person who enjoys changing up my Christmas decor somewhat each year and when you have too many Christmas doodads that take up too much room, it can be hard to do that.  This year I tried to scale back on my holiday decor purchases and it has me reflecting on what is worth spending your money on and what should be left on the store shelves.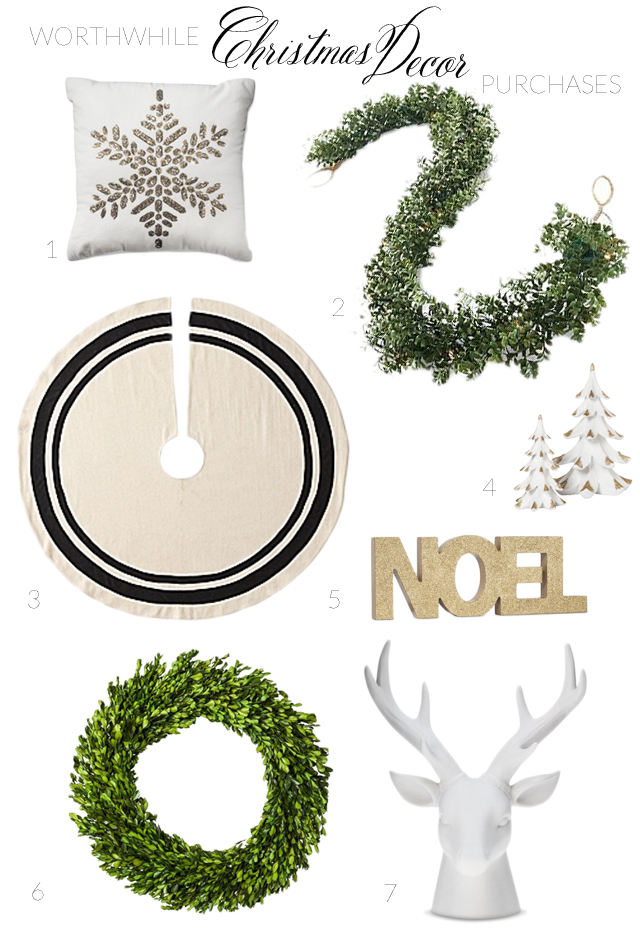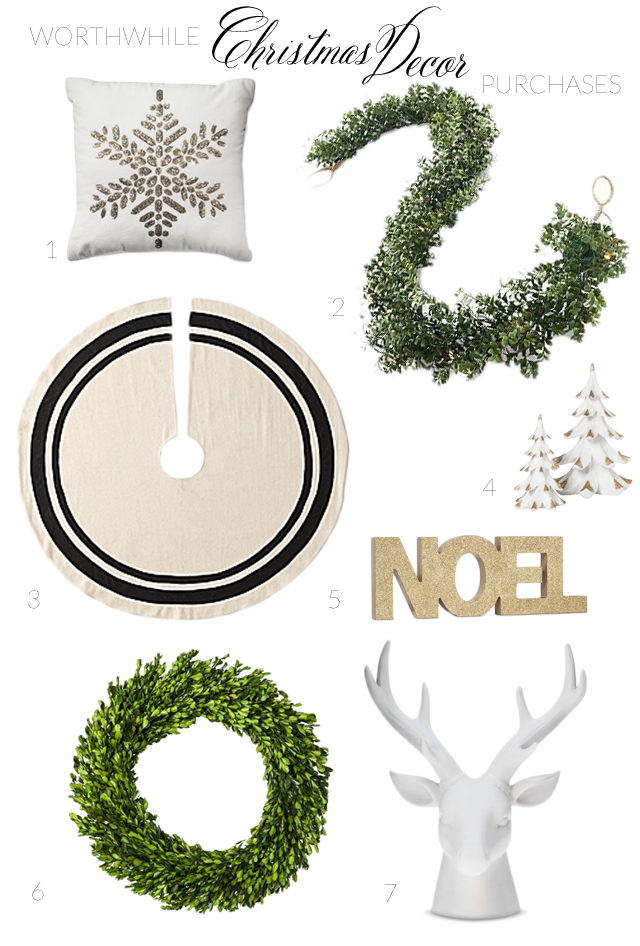 1. You can never go wrong with buying a neutral but festive holiday pillow that will match the rest of your home decor.  It is a really nice way to make things look Christmasy without taking up any precious shelf space.
2. High quality garland that can be reused year after year for mantels, staircases, etc.  I splurged a few years ago on this pre lit boxwood garland from Pottery Barn and though it was pricey, I am happy to take it out every year and it still looks great.  Here is a cheaper option as well.
3.  A great tree skirt.  I love this one because it is (once again) nice and neutral and will match the rest of your home decor and make things more cohesive.  I can't imagine ever getting sick of something that looks this sharp.  I also am kind of obsessed with the tree basket that Colleen DIYed last year.
4.  Little Christmas trees.  I realize these are knick knacks, however, my shiny Christmas tree collection is one of the only things that I am happy to use every year in my decor.  They are just very versatile and I always enjoy them.
5. A simple sign with a Christmas phrase is a nice touch for any mantel.  I like balancing out my objects with some typography.
6. A super simple wreath can be used for Christmas but can also be kept up or used in different ways the rest of the year by adorning it with lights or different ribbon or just leaving it be.  I bought a boxwood wreath from Target a few years ago and I use it year round.  This Christmas I added some ornaments to it and it feels more Christmasy and when Christmas is over I will just remove the ornaments.  I think because it is boxwood and not pine, it makes it more versatile.
7. Something sculptural like this is a great idea because it will look good with all of your regular decor but add a touch of Christmas without being obvious.  You can use it every year but change things up by adding different garlands or light strands, putting a little Santa hat on it, or just letting it stand alone.
Do you guys have the same problem I do with buying too much stuff that you end up not wanting to use the next year?  What have y'all bought that you feel has been a worthwhile purchase?