Big news folks!  I just found out last night that I passed the PE Exam!  Oh man am I relieved that I won't have to start all over with studying!  To celebrate, let's talk about my Christmas mantle.  This year and last, I have been liking the idea of more simple and neutral decorations.  A little bit of greenery here and there with a good dose of candles and/or Christmas lights.  I didn't go all out with the mantle like I thought I would, mostly because every time I started to add items, I liked it less.  Sometimes simpler is better.  See the sources below.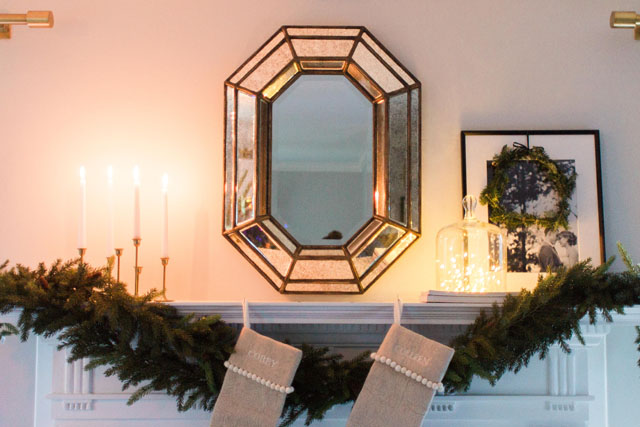 Garland – I grouped two garlands on top of each other to make it seem more lush.
Stockings – Our first year of grown up monogrammed stockings!  West elm doesn't them anymore but these are similar.
Picture frame – One of my favorite simple black frames with one of my favorite wedding photos.  I topped the frame with a quick DIY wreath I made out of left over greenery from our Christmas tree like so.
Mirror – I bought this from Wisteria and obviously it is gone.  But it is a beauty.
Cloche – It is amazing how many different ways you can style this thing.  If you don't have one, buy it here.
Twinkle Lights – I'm almost positive I got the twinkle lights under the cloche from Restoration Hardware last year.  But it is also possible they came from Anthro.  Either would work.