This giveaway is now closed.  Thanks!
Happy happy Friday!  It is the last weekend before Halloween week and we are pretty excited.  Colleen is actually in Raleigh taking her test from hell today so everyone send her positive vibes.  I know she'll do great.  I thought it might be fun to do a little giveaway.  I have been playing with calligraphing pumpkins and although it is a kinda late in October, I thought maybe some of you guys would still be interested in having one?  I will be letting you choose what you want me to write on it.  Please keep it to less than 8 or so words.  As you can see, the phrase I did was 8 words and it just fit.  I will write it on a small white plastic pumpkin for you so you can have it for as long as you want it.  You can choose a Halloween phrase or maybe a more general fall or perhaps Thanksgiving one (Happy Fall Ya'll or Give Thanks?) so that you will be able to use it into November.  I even think "My Little Pumpkin" in pink or blue for a nursery is a super cute idea too.  Anyways, I am rambling now.  All you have to do to enter is leave a comment with which quote or phrase you think you would pick.  Or whatever.  You can just say "Gimme a pumpkin!"  You will be entered as long as you comment.  You can also choose from a few different ink colors I have.  I will mail it to you as quick as I can after I randomly pick a winner on Monday night.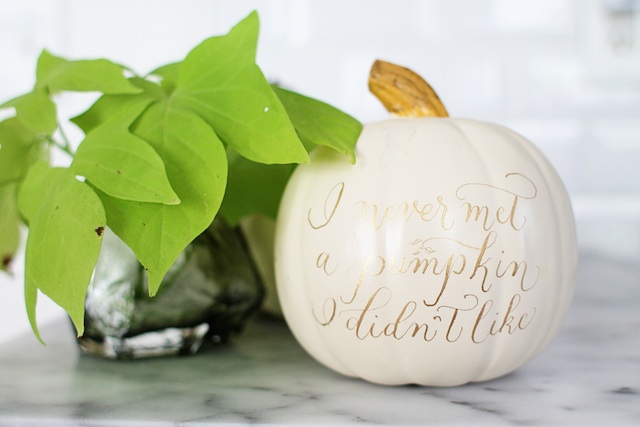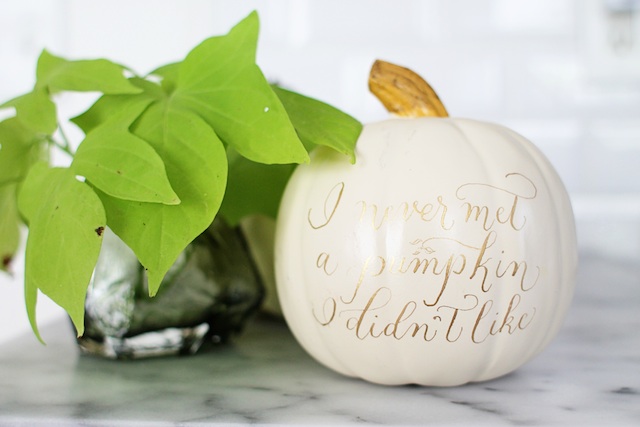 Good luck!
******  Update ******
For those of you asking about if your quotes are too long, I will do the best I can.  I want you to have what you want.  🙂  I am sure I can make most of them work.  ALSO, I have already rescued two entries from our spam folder because someone told me theirs didn't show up.  Weird.  If you comment and it doesn't show up, shoot me an email by clicking on our email link and I will make sure to save you from spam or add a comment for you.  Silly technology.
*********************
We have a winner!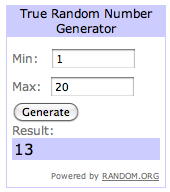 Congratulations Sara!  I will be emailing you to get your address so I can send you your pumpkin!