Okay so really Summer doesn't technically end until almost the end of September.  But I think it always feels like it ends when school buses start .  And the school buses are coming real soon.  So basically we have a few precious weeks to squeeze in any last summeryness that we may need to get out of our systems before it is pumpkin time.  I came up with a few quick ideas for embracing the last of the slow summer days.  It is not lost on me that half of these involve food.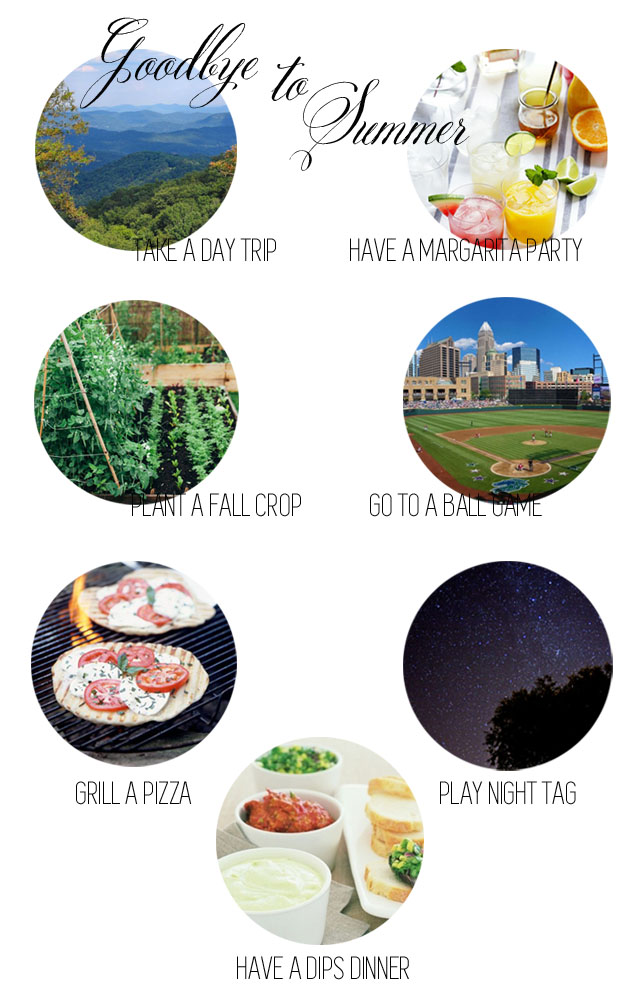 1.  Take a quick day trip somewhere close by.  No money spent on hotel rooms but you still get a refreshing little vacation.  We are lucky enough to have mountains close to us for a hiking day trip and I am actually going there this weekend.  What are y'alls day trip options?
2.  Have a margarita party.  Make it late enough that no one will expect dinner, whip up a few quick and easy apps and make a little margarita bar.  Everyone loves margaritas and to me they just feel so much more appropriate in the summer.
3.  Even I, who worship the fall, get a little depressed when all of my pretty potted plants start to get brown and crunchy.  Plant something that will grow in the fall so you can have some green to look forward to.  Here is a list of things that can be planted in August by region.
4.  Go to a baseball game.  We have a new baseball stadium in town and it has become a hotspot.  I haven't been yet but would like to go and may get a chance if the weather cooperates tomorrow.  Obviously this activity includes eating a hot dog.
5.  Are you getting a little sick of hamburgers?  Try grilling a pizza.  The topping options are endless and little work is required if you buy some pre-made dough.  Plus everything tastes better on the grill.
6.  Round up a group of friends who are young at heart and play a game of night tag.  I spent many middle school nights hiding in trees peaking around bushes and it was the most fun.  Why not give it a shot as adults??  Maybe warn your neighbors first though.
7.  If someone ever asks me what my favorite food is, dips is almost always at the top of the list.  Besides cake obviously.  Cheese dip, guac, buffalo chicken dip, fruit dip, salsa, layer dips.  Once in graduate school, my roommate and I decided to have a dip dinner.  We prepared several dip options and proceeded to scarf them down.  While this may not have been the healthiest dinner, it was surely the most delicious and would be perfect for a lazy summer night.
Do you guys have any great ideas for late summer activities?  I am all ears.  Hope y'all get to do something fun and summery this weekend!