Right now, I have exactly one makeup look in my arsenal that I feel good about.  Red lipstick.  I've never been very adept at eye makeup, so pretty much anything I do looks exactly the same.  But if I put on some red lipstick, I feel like I've got my game face on.  Since it's summertime, maybe I'll add some fun colors into the mix like my girl Emma.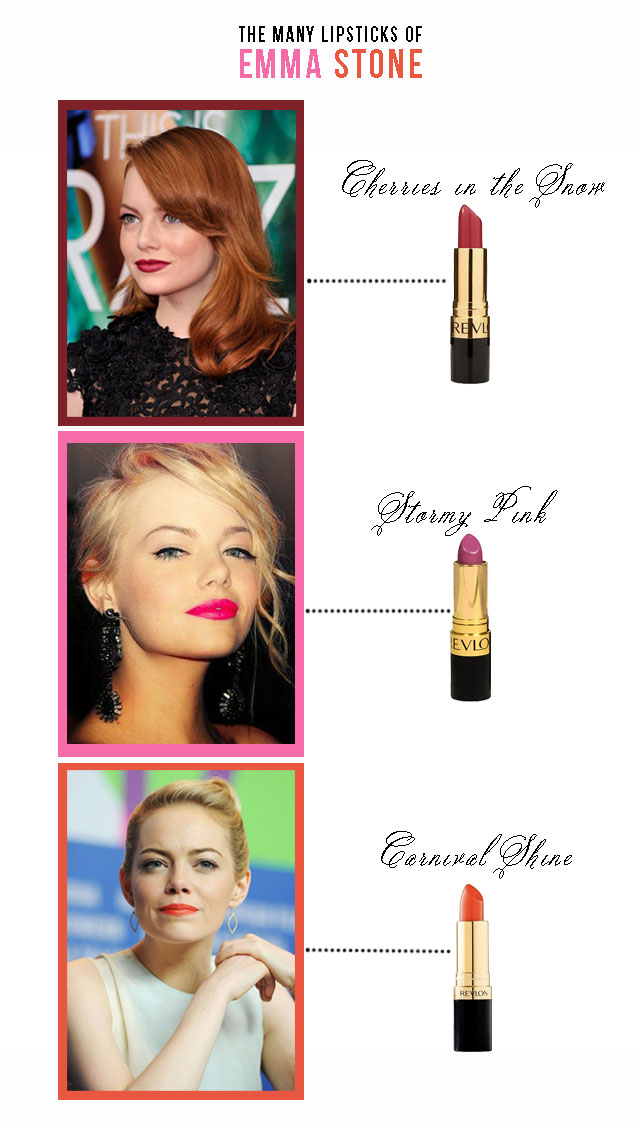 Sophisticated Emma / Fun Party Emma / Thoughtful Emma
Is there anyone more adorable in the world?  If I could be her, I would.  Instead I'll just have to settle for watching Crazy Stupid Love on repeat.  Since we are kindred redhead spirits, I feel if she can wear bright colored lipstick then I can too.  Yes I realize she is naturally a blonde but I think red hair just looks better on her.  Ok now on to the lipstick!
Cherries in the Snow by Revlon (these are all Revlon by the way because I'm going to be cheap just in case they look terrible) – This will be for when I want to be dramatic and sophisticated, but still age appropriate, like I just came from the Oscars and had sparkling conversation with Meryl.  Because we are on first name basis obviously.
Stormy Pink by Revlon – A bright pink to show how I am hip and with it (I am neither) and probably about to go to a party at James Franco's house except I wouldn't because that guy seems like a tool.
Carnival Shine by Revlon – So bright corally orange seems like a bad idea, but look how pretty she looks.  All pensive like she is answering a thought provoking question about her method.  I should at least try it I think.
What about you guys?  Any crazy lipstick choices as of late?