We all have moments where things don't necessarily go the way we want them to.  I feel like these moments become even more evident when I am doing a DIY.  Sure, it is fun to make things look like they always go swimmingly.  But facts are, that is far from the truth.  Frequently, Colleen and I will try a project that just completely bombs.  Sometimes right at the end when it is almost done and sometimes its cracks become apparent from the get go.  The latter was the case with this DIY that I will be sharing with you today.  Normally, I wouldn't show it until I work out all the kinks.  But today I thought it would be fun to show you my failure.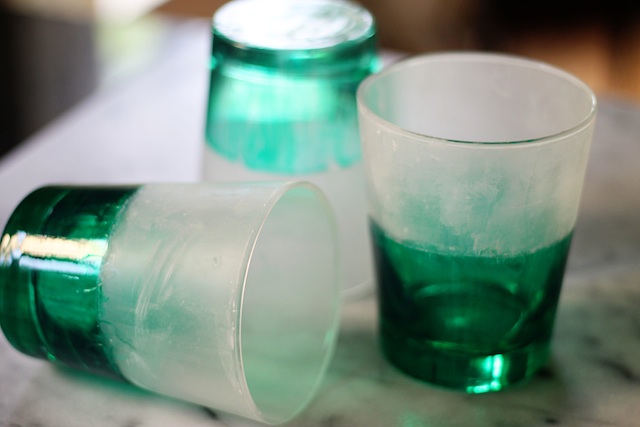 To start with, I wanted this to be painted with a pastel color.  So I went to Michael's and bought a glass paint in a pastel blue.  Sadly, when I got it home, I realized I had not bought the kind of paint I needed which was Martha Stewart glass fill paint .  Fail.  The kind of paint I bought would not work how I wanted it to.  Now let's get to the technical failures.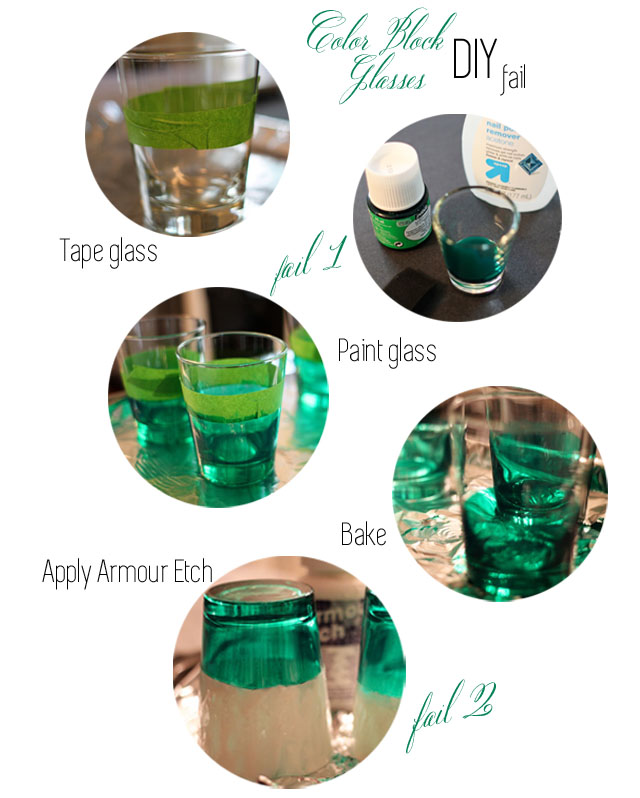 Side note:  Even this collage ended up being a fail because I completed it before I wrote the post and my numbers no longer add up.  What a silly rabbit.  Someone help me get it together.
The thought behind this DIY was to make part of the glass frosted and part of the glass painted.  Luckily I already had my trusty Armour Etch from my last DIY for Brooklyn Limestone so that I could frost up the glass.  However, instead of etching my glass first, I decided to do the painting part.  Technical fail #1.  You will see why.  So I painted on with the glass paint I already had that I knew wouldn't work as well and would be a jeweltone (ie. not pastel).  But on I trudged.  I taped a line on my glass, mixed the paint with nail polish remover (acetone) to thin and let cure for 24 hours.  Obviously before I put them in the oven, I removed my tape to find that the paint had bled through it.  Fail # 2.  Then I baked them.  Only I forgot to time how long they baked.  Also I started the baking with the oven being too hot because I went on memory instead of reading the directions.  Technical fail #3. (these are really adding up now) Once I let the glasses cool completely while still in the oven, I took them out to apply the Armour Etch on the rest of the glass and up to the paint.  Technical fail #4.  It turns out the armour etch chemical interfered with the way the paint adhered to the glass.  So when I went to wash it off, the paint started peeling off where it met the armour etch.  This doesn't bode well for being able to wash our glasses, folks.
In summary, don't do anything I did.  Your time would much better be spent watching Harry Potter marathons or perhaps eating cake.  Truly.  I think that if I did the armour etch first, used Martha Stewart glass fill paint, and followed the baking directions, the things would have really gone much better.  Too bad I didn't.  Oh well.  I promise that next time I post a DIY here it will be pretty.  Now someone put me to bed.