Is it just me or are lots of clothes that the world wants us to buy ugly right now?  Maybe it is just a sign that I am getting old and I'm all, "They don't make things the way they used to" in my grandma voice.  Because it is spring, I was hoping to find some cute new dresses and skirts and none of the ones I have found are really knocking me out.  Lots of very boxy shapes which are just not great on my body type.  Oh well.  The world does have some other delightful things to offer that I have been finding very attractive.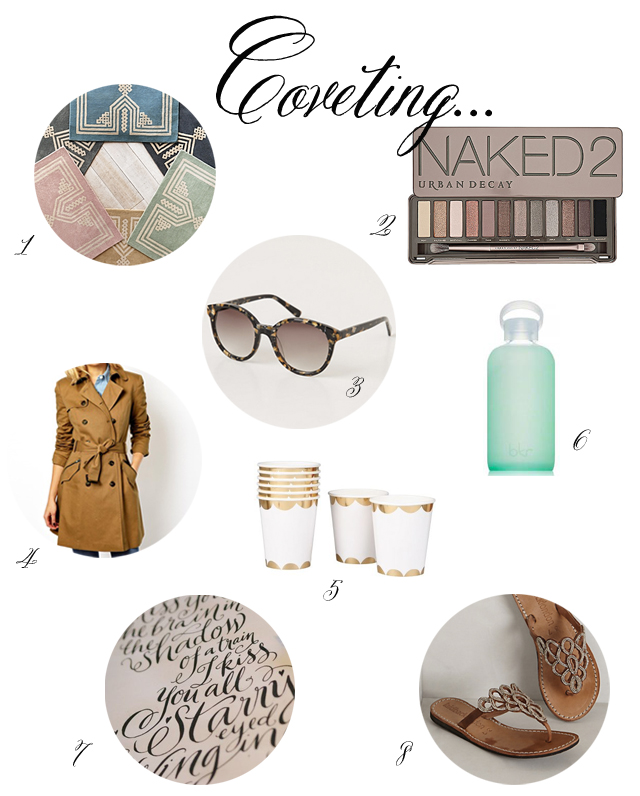 1.  Believe me when I tell you I have absolutely no business buying any rugs right now.  So I won't.  But if I did have business buying a rug, it would be one of these.
2.  I have almost pulled the trigger on this eye shadow pallette about a million times but could never bring myself to make the purchase.  Apparently it is supposed to be a serious winner and now that one of my eye shadows is gone and one is broken and sad and I am basically eye shadowless, this might be happening.
3.  Need some new sunnies for spring/summer.  These might be the ticket.
4.  Colleen has this trench coat and I am obsessed with it.  I may or may not have already purchased it in black and it should be arriving on my doorstep shortly.
5.  If I was having a party anytime soon, these cups would make the guest list.
6.  I want this water bottle.  More because it is pretty than because I want to drink water out of it.  But I may feel encouraged to drink water as well.  It's a win win.
7.  There is so much beautiful calligraphy out there that I could just spend hours and hours searching the web and ogling it.
8.  These are fancy.