In my opinion, one of the best things about pinterest this time of year is seeing all of the cutie cute and inventive ways that people decorate their food to make it look "Halloweeny."  If you guys missed it, I made a Leatherface chicken pot pie the other week that was pretty cool looking and delicious but maybe a bit too time consuming for my liking.  Here are some of the ideas I found for some Halloween goodies that actually seem reasonably simple and like they wouldn't take your entire life to create.
These witch hat cupcake toppers from The Cake Blog seem like a total piece of cake (see what I did there?).  Just pick up some Duncan Hines special cake mix and canned frosting and throw these puppies on top to cover up the crappy frosting job you did and you have yourselves a witchy masterpiece.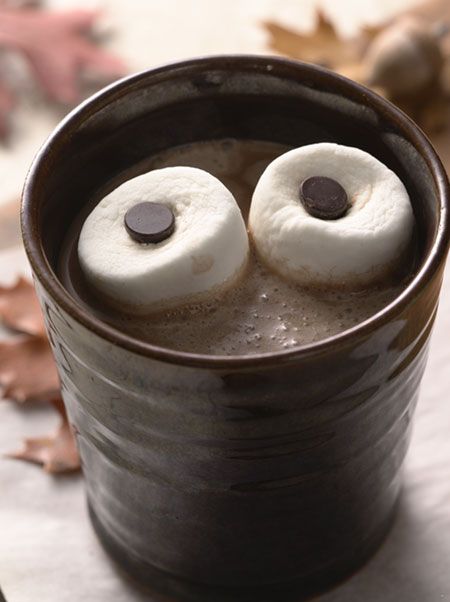 King Arthur wants you to make their haunted hot chocolate from scratch but I think you could just use the good old mix in kind.  If there is anything I am good at, it is definitely putting marshmallows in my hot chocolate and I would take a guess that you all are good at it too.  We are a talented crowd, you see.  Apparently all you do is cut your marshmallow in half and stick some mini reeses cups in the middle.  That's a big yes.
These ghost cupcakes do require some simple work with fondant but seem completely manageable and are quite adorable.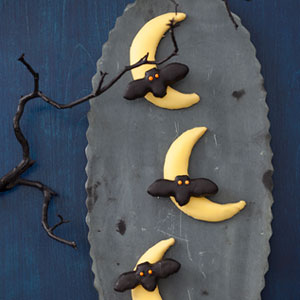 The styling of these bats flying across moon cookies made me kind of fall in love with them.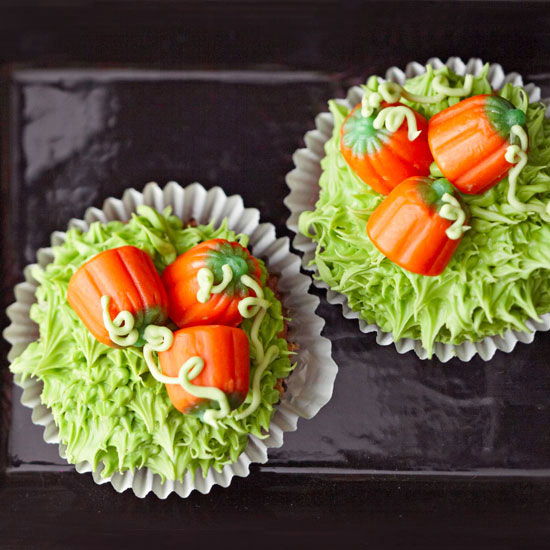 There are few things I like more in this world than a pumpkin patch so these pumpkin patch cupcakes are definitely my cup of tea.
There weren't instructions on how to make these candy corn caramel apples, but I think you would start by dipping them in caramel, then white chocolate meltable chips (melted obvs), then put some orange food coloring in the meltables and dip again and then yellow sprinkles while they are still wet.  I would chill them to set between each layer.  Completely precious.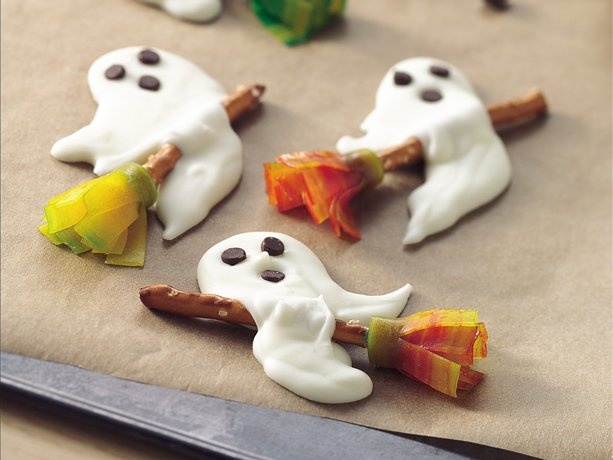 I like that these ghosts on broomsticks are trying something outside of their comfort zone.  Good for them.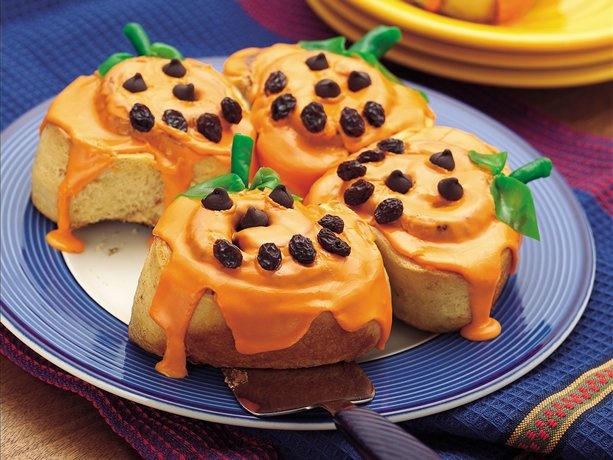 Don't get me started on orange rolls.  Or cinnamon rolls.  These jack'o lantern orange rolls are just the kind in the cylinder spruced up a bit.  Perfect.
Do you guys known of any super simple Halloween treats we can all make?