Truth.  I think I have had coconut cake no less than 4 times in the last month.  I have been craving it so it seems like every time I see it I can't resist purchasing.  I know this is ridiculous.  You surely don't have to tell me.  I think the biggest problem is that I kept getting it and then finding myself somewhat disappointed.  So I just didn't want to stop until I got it right.  Some were too sweet. Some were too coconuty.  Some were dry.  Now don't get me wrong.  I still happily shoveled them into my mouth.  But my life was not complete.  So I decided to just throw in the towel on purchased coconut cakes and make my own.  Cause sometimes a fat kid's gotta do what a fat kid's gotta do.  The madness must stop.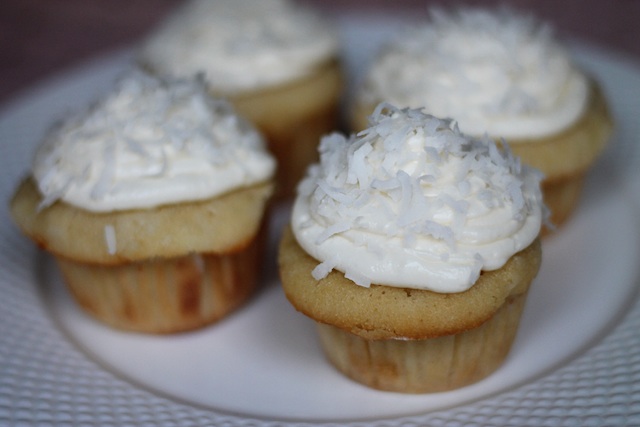 I used this recipe from Ina.  Cause she is a chick who knows her cakes and I appreciate that.  I actually had this realization the other day about why Ina is my favorite food show.  It is cause I like her kitchen best.  I hate Rachael Ray because her kitchen makes my eyes hurt.  Giada used to be my other favorite when she had Everyday Italian and that cute kitchen with the minty looking subway tile.  Now her kitchen is all moderny looking and i don't enjoy her show anymore.  I probably also like girl shows better because let's face it, girls are prettier.  Just a little insight into my crazy brain.  Anywho…Then I used my cream cheese buttercream recipe because it seemed necessary.
Coconut Cupcakes (Barefoot Contessa)
makes 18-20
3/4 pound (3 sticks) unsalted butter, room temperature
2 cups sugar
5 extra-large eggs at room temperature- We most likely won't remember to take our eggs out in time but the cake will turn out fine with cold eggs too.
1 1/2 teaspoons pure vanilla extract
1 1/2 teaspoons pure almond extract
3 cups flour
1 teaspoon baking powder
1/2 teaspoon baking soda
1/2 teaspoon  salt
1 cup buttermilk
Directions:
1.  Preheat the oven to 325 degrees.
2.  In the bowl of an electric mixer fitted with the paddle attachment, cream the butter and sugar on high speed until light and fluffy, about 5 minutes. Or less really.  We can't all be as meticulous as Ina.  The world would melt.  With the mixer on low speed, add the eggs, 1 at a time, scraping down the bowl after each addition. Add the vanilla and almond extracts and mix well.
3.  In a separate bowl, combine together the flour, baking powder, baking soda, and salt.  Ina wants us to sift it together but we won't cause we hate sifting.  In 3 parts, alternately add the dry ingredients and the buttermilk to the batter, beginning and ending with the dry. Mix until just combined. Fold in 7 ounces of coconut.  That's half the bag.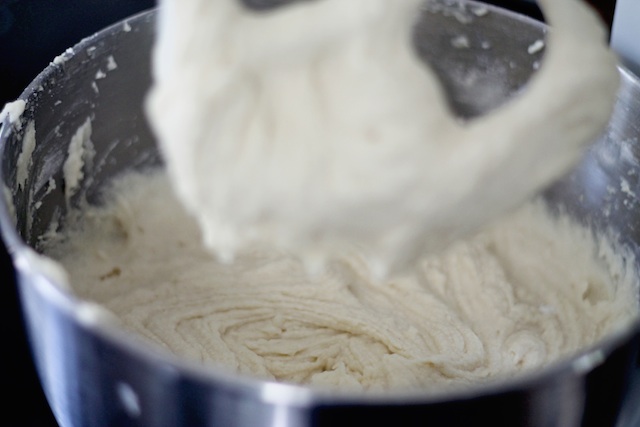 4.  Line a muffin pan with paper liners.  Quick story about liners.  Sometimes when your name is Megan and you go to the store to buy cupcake supplies, you convince yourself that spending that $2 on cupcakes liners would be ludicrous because you just know you have white cupcake liners coming out your ears at home.  Then you get home and realize that in reality you have approximately 9 white cupcake liners.  What you do have coming out your ears is Halloween spider cupcake liners.  It is times like these when you have to just let things go and make peace with the fact that you will be bringing coconut cupcakes in Halloween spider liners to your 4th of July celebration.  And the world will keep turning.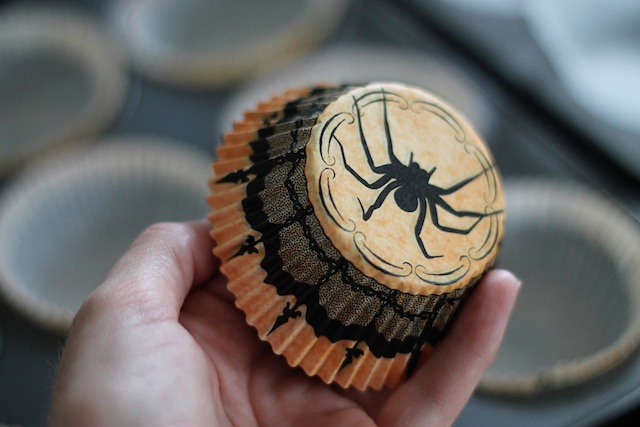 5.  Bake for 25 to 35 minutes, until the tops are brown and a toothpick comes out clean. Allow to cool in the pan for 15 minutes. Remove to a baking rack and cool completely.
Cream Cheese Buttercream
2 sticks butter, softened
1 pkg cream cheese, softened
1 lb powdered sugar
1 ¼ tsp almond
1 ¼ tsp vanilla
¼ tsp butter extract
1 TBSP milk
Directions:
Cream butter and cream cheese.  Add sugar and then all the rest of the things.
Frost those cupcakes up and sprinkle some coconut on top to make it pretty.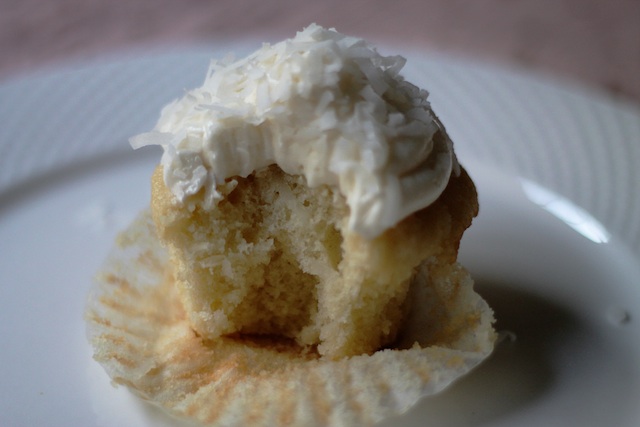 Then eat one immediately.  I promise you won't regret it.