Have you guys ever been to a place that you just loved so much that you start to feel like it might in some small way belong to you?  And you are fully willing to accept that it most likely belongs to a few other people too (its citizens mostly) but you know for sure that it must be yours as well because you feel such a connection to it.  That is how I feel about the town of Doolin.  Of all of the wonderful places that we went, Doolin is probably the one I would say I loved the most.  We were there for less than 24 hours and that is all I needed to fall for it completely.  Which totally sounds like a Nicholas Sparks novel but oh well.  It's true.  Doolin is this tiny little coastal town that boasts some lovely views of the Cliffs of Moher.  It is home to many cows (at least while we were there), rock walls, perfect Irish fields, and is world renowned for its Irish music scene which is very funny to me because its pubs can be counted on one hand.  But mostly, despite all of the tourists that come here after seeing the cliffs, it feels pure and untouched.
When we got there we checked in to our B&B and walked down to Doolin Harbour to check out the scene down there before we headed to the cliffs to see them at sunset.  This was definitely one of our more genius moves and we didn't even realize we had planned it that way until we were driving there.  It is my opinion that seeing the sunset over the cliffs on a clear day is a profound experience.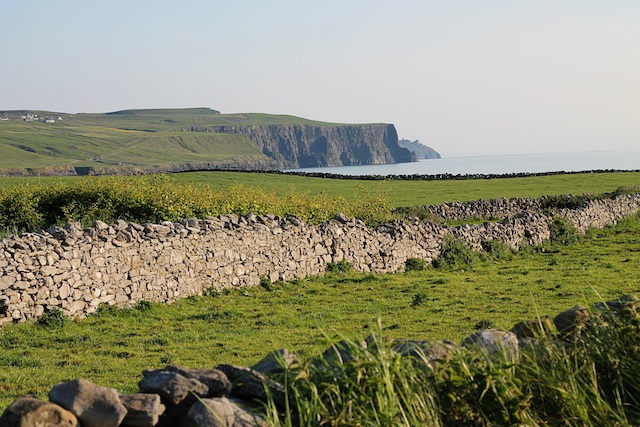 This is the view of the cliffs from Doolin as we were walking down to the harbour.  We had a similar view from outside our B&B.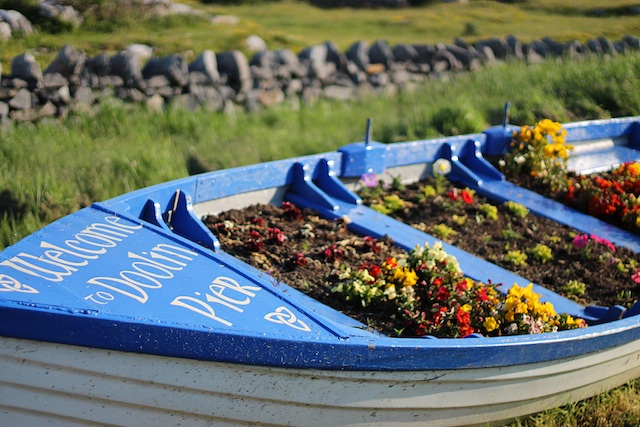 Doolin is very close to a geographical part of Ireland called The Burren. "The rolling hills of the Burren are composed of limestone pavements with criss-crossing cracks known as grikes, leaving isolated rocks called clints."  So says Wikipedia. Some of these sit where the ocean meets the shore at Doolin Harbour.  It was like playing hopscotch to try to walk across them.
It was while we were down at the harbour for the first time that evening that we made a pretty exciting discovery.  Doolin has a town pet.  Kind of anyways.  And it is totally a dolphin.  Dusty the dolphin lives in Doolin harbour and very much enjoys greeting boats and swimmers alike.  Only don't try to grab her fin.  I saw somebody do that on a youtube video (Yes, she has her own youtube videos.  She is quite famous and you should know that about her.) and she started smacking her tale against the water and splashing like a maniac.  She was pissed, y'all.
This picture was taken the next day when we got a little closer to her.
Once we picked our jaws up off the floor after meeting Dusty, we walked back towards Fisher Street in town to eat dinner so we could check out the Cliffs of Moher at sunset.  In June, the sun does not set in Ireland until 10 to 10:30pm.  And it rises super early too.
Here are some more pictures of our views as we walked back…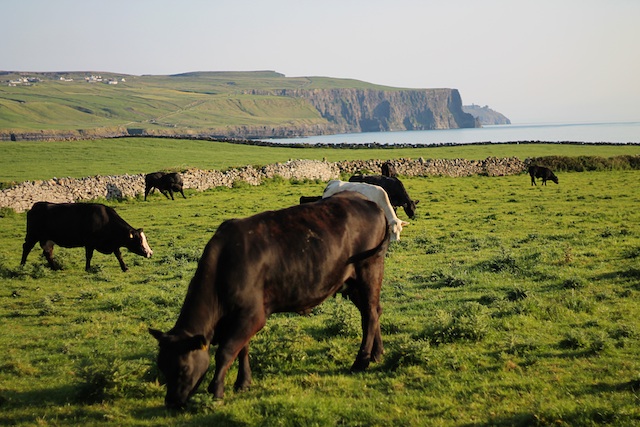 These cows get to just hang out, eat, and look at the Cliffs of Moher all day.  Must be nice.
This little row of buildings is one of the main streets in town.   This is the view from above as you take the windy road up towards the cliffs.
The road we took to get to the cliffs also has some sort of lookout or castle type of thing.  Ruined castles and other structures are very common sights to see while driving pretty much everywhere in Ireland.
So when we got to the cliffs, I was crazy antsy to get out of the car and probably a little scary (Sorry, Katie) because I just knew the lighting was going to be fantastic for pictures and I didn't want to miss it.  Well, I was right.  And I didn't miss it.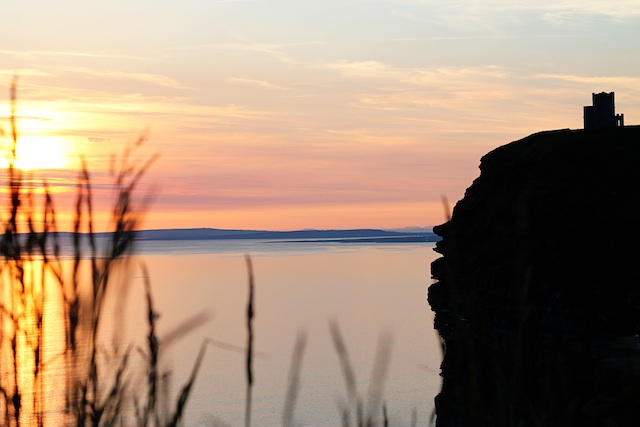 It is pretty hard to tell in the pictures how massive these were but if you look up in the upper left hand part of this picture, you can see how tiny the little people are.  The great thing about going at this time is that all of the tour buses had left and there were only a few people there with us.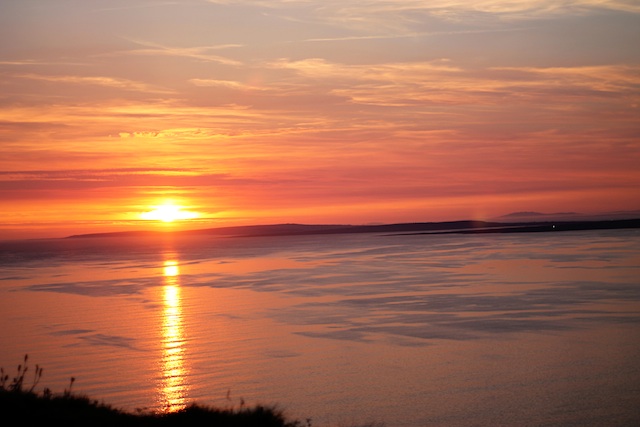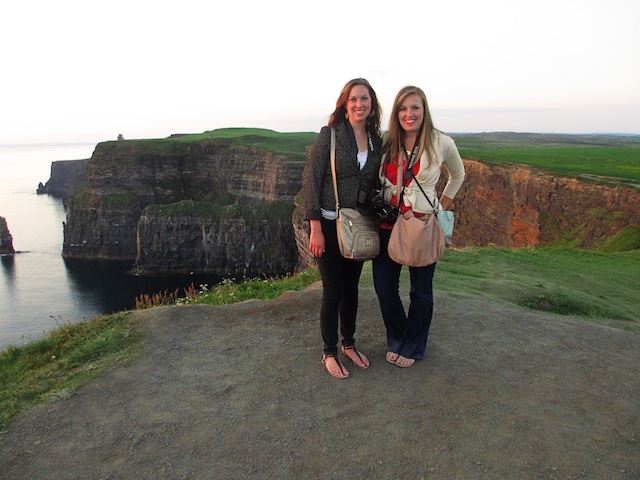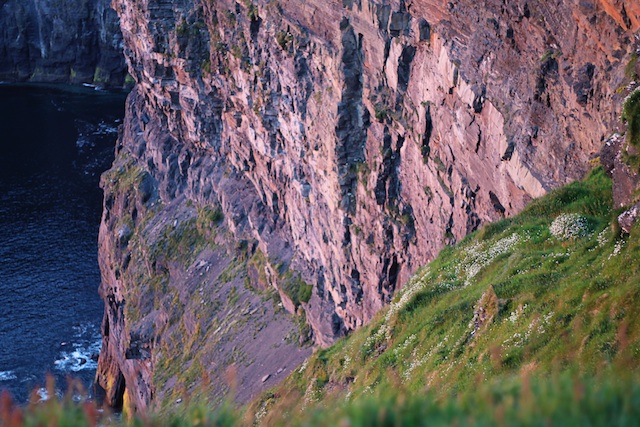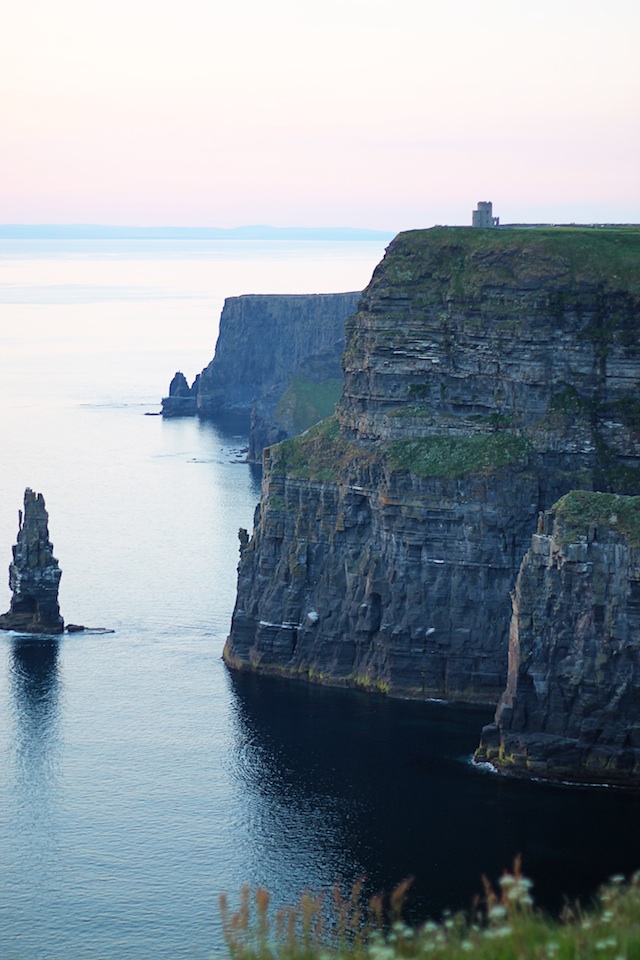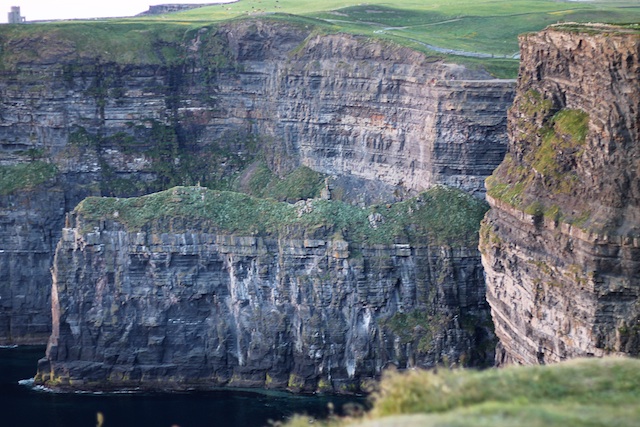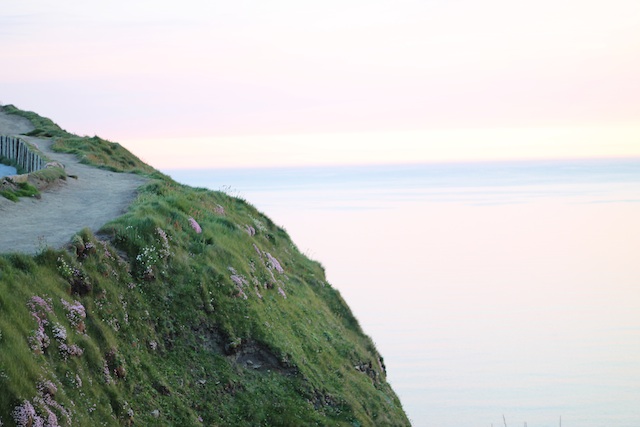 Then it started to get a little dark and we had to hit the road before it was pitch black.
The next morning we woke up and were pretty bummed because we knew we had to leave but we decided to go back down to see the harbour and Dusty and say goodbye.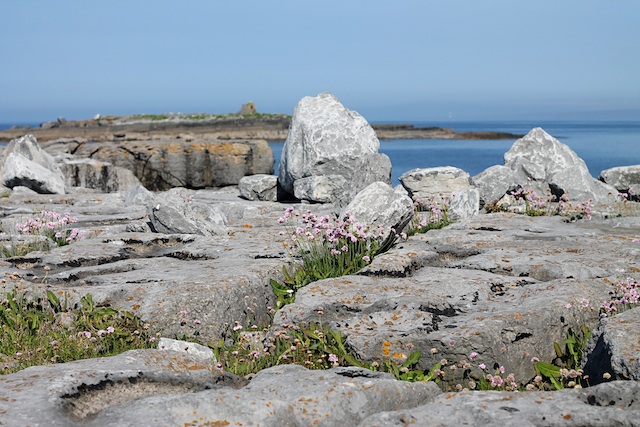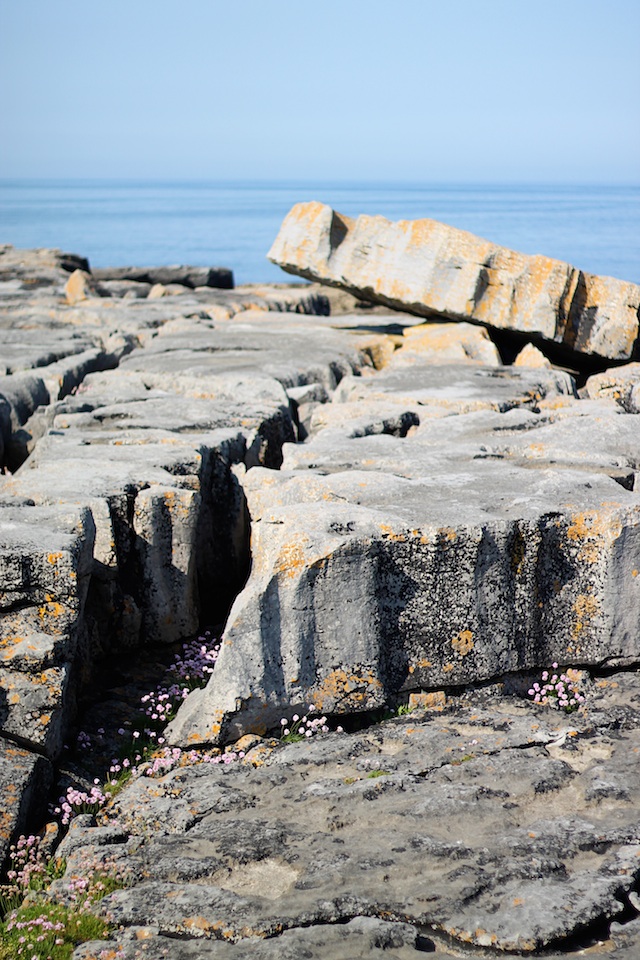 I hopscotched the rocks to the edge of Doolin Point so I could get a different view.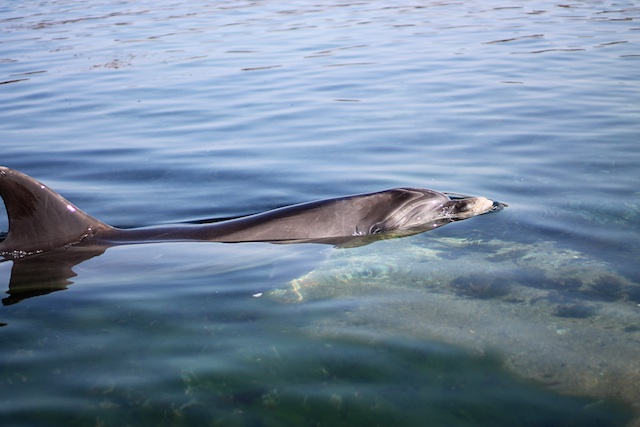 Then we rolled up our pants and waded into the iceberg water to bid farewell to our buddy Dusty.  Yes, we were really that close.  I would say about 5 feet.
We went back to the cliffs to see what it was like during the day right before we left…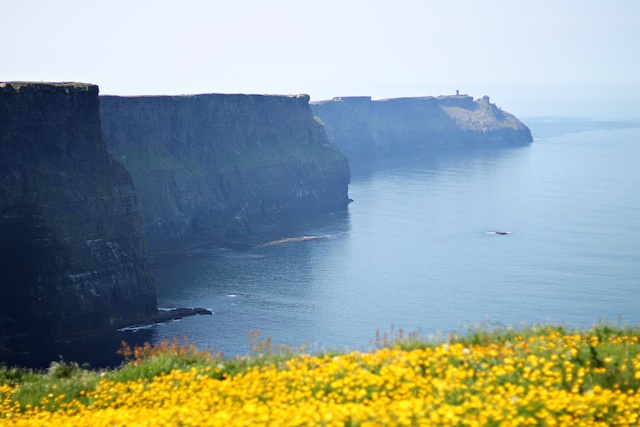 While the yellow flowers everywhere were sensational, we couldn't see the detail of the rocks as well because the sun was behind them.  I bet this would be better in the afternoon.  Plus the hoards were there.  We were feeling pretty happy about seeing them the night before.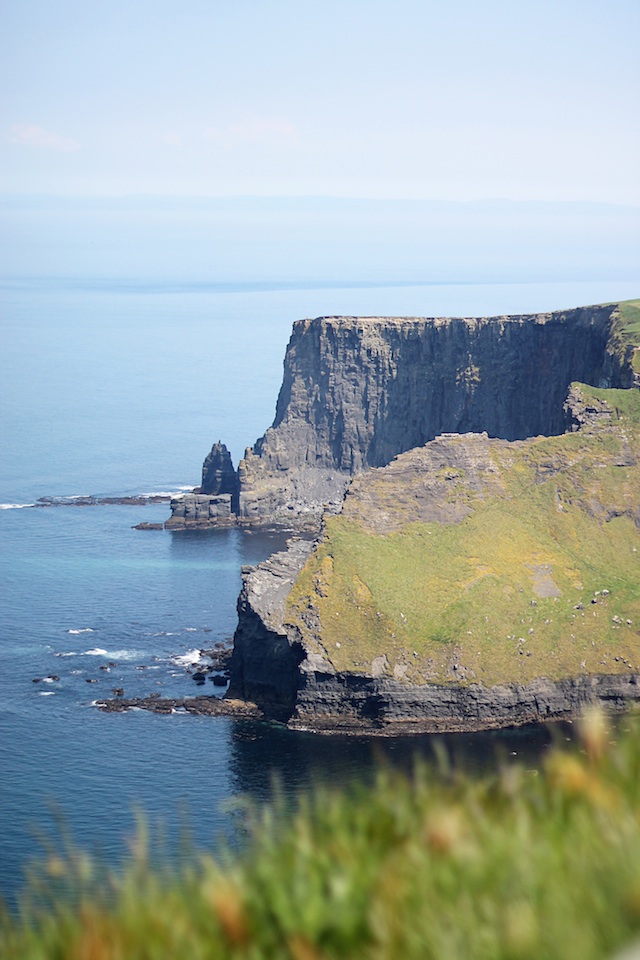 On our way to Galway, we drove on this coastal highway that takes you through the Burren, so there were interesting rock formations to our right and the ocean to our left.  It was not too shabby lookin.  Because we were driving most of the time, it was hard to get great pictures, but I did get a few decent ones.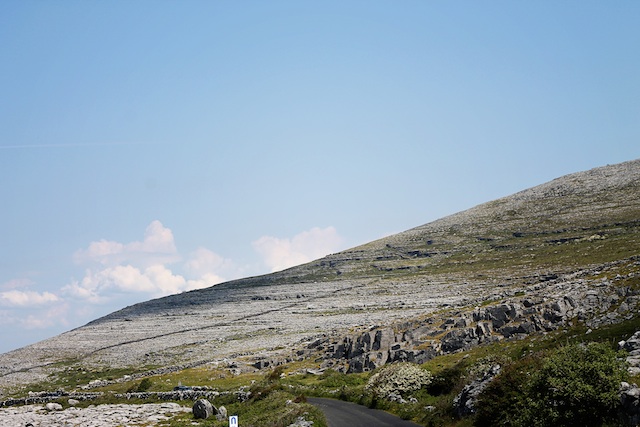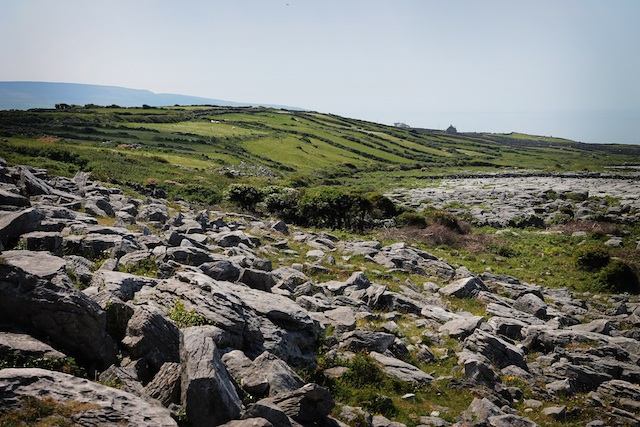 Goodbye Doolin and the Cliffs of Moher.  We will miss you.