Funnily enough, the room that we have closest to being finished is one that we really don't spend that much time in.  Despite it not getting as much use as the family room, living room is my favorite room in the house because of the spectacular light that it gets pretty much all day long.  It is also Pica's favorite room.  After her busy work days, she likes to spend time leisuring on the sofa.  My next life, I am coming back as a cat.
For this room, I was wanting a mint green/light blue, and we found the perfect color in Benjamin Moore Opal Essence.  Other contenders were Irish Spring (too bright) and Bath Salts (too green).  The mirror was gifted to us for free (!) by my friend Catrina and I happily spray painted the gold more gold.  Side note: not all gold spray paint is equal.  Although several people recommended the Krylon Brass Metallic spray paint, spray painting 2 coats only left me feeling unsatisfied with the cheesy yellow gold finish.  I found the Krylon Gold Leaf spray paint to be a much more delightful color.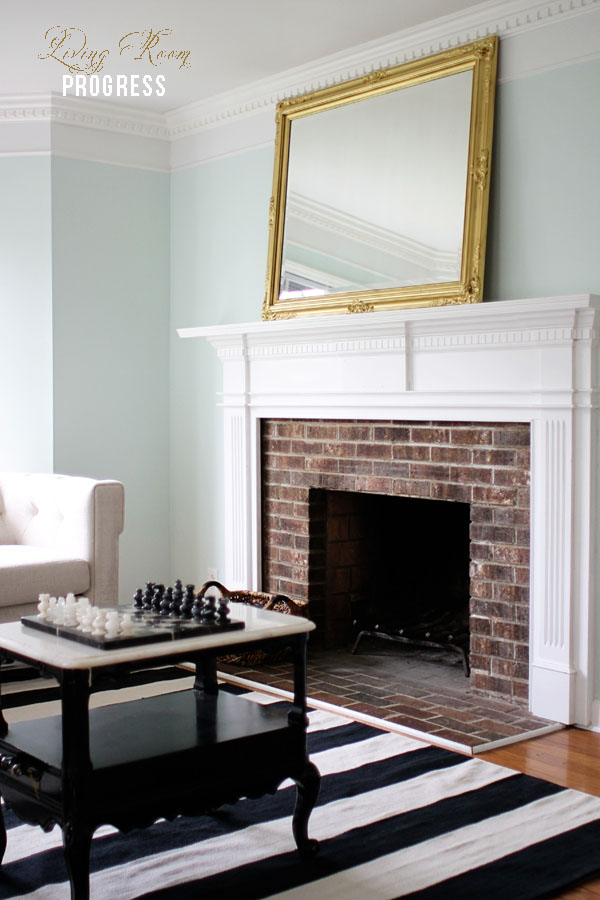 I want to make the room a little more warm and cozy and library-y by adding lots of fun pillows and placing bookshelves on the small walls next to the sofas.  In the future when I am feeling less broke I will be purchasing a comfy wingback chair and a new light fixture.  Probably not for a while.  Also, on the other side of the room I am putting together my office.  I figured if I liked the room so much, might as well use it for two purposes right?  I'll show you guys that as soon as I get things a little more together.