We don't typically do a lot of Easter decorating around here and to be honest with you, I am not really sure why.  Something about all the pastels together in one place has never really appealed to me I suppose.  The super dumbest thing about my lack of Easter decorating is that I LOVE bunnies.  Really I have an obsession and taking me to the bunny house at the state fair is never a good idea.  I want desperately to have them ALL.  That's neither here nor there though.  The reason I have really gathered you all here today is not feed my need for bunnies but to discuss quickie Easter tablescapes.  Lots of families get together for Easter and it is always nice to have something a little bit special to decorate the table with.  If you, like us, don't have a lot of Easter paraphernalia (Can you believe that word has an "r" in it?  I would never have guessed) but want to fluff your table a little, here are a few simple ideas for doing it.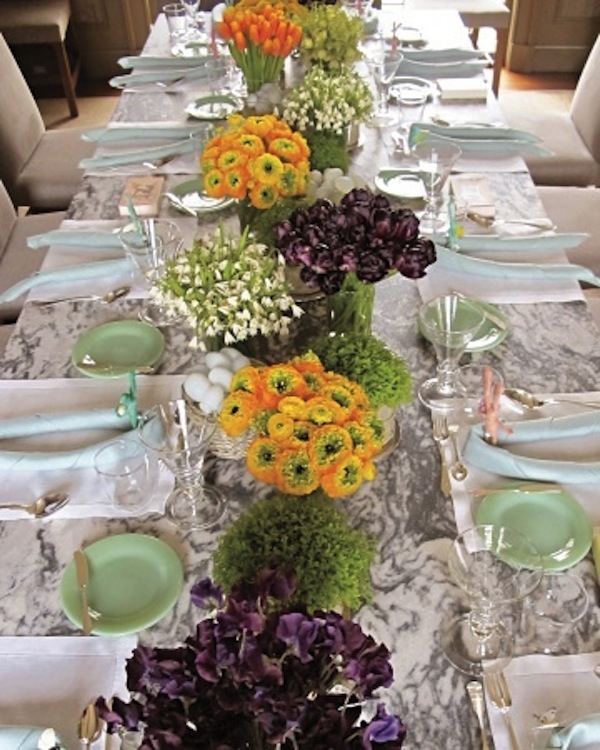 Obviously if you ever want to make anything look good, just copy most anything Martha does and this is no exception.  Hop over to Trader Joe's or your local grocery store and buy several cheap bunches of flowers and place each type in their own vase just like Martha did.  Repeating types is good too.  Obviously not this many unless you want to be empty in your bank account.
Use some simple stuff you already have and invest in one new item that seems like an Easter table super star such as some crazy good lookin napkins or this platter that is pretty much to die for.  Actually at some point this week, Cassandra from Coco + Kelley will be sharing how she dyed these napkins to look like angels herself.  So you can also buy some cheapy white napkins and stalk her blog until you can DIY those suckers.
Cut some greens from outside and stick some babies breath in it just like I did for the rehearsal dinner I helped plan.   Bonus points for sparkly chevron tablecloths.
Stick a little egg at everyone's place with some babies breath tucked under it.  Is it just me or does babies breath make everything better?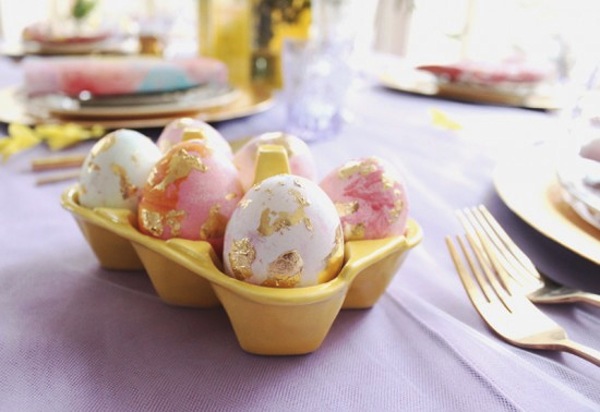 Another little gem from Cassandra's Easter table of beauty.  Dye or gold leaf some fancy eggs and stick them in the middle of the table with some candles or something else simple and call it a day.  Eggs this pretty can stand on their own, I think.