Apparently it is diy art week here on Two Delighted.  We surely didn't plan for it to be that way but we figured we would just go with it since we completed Colleen's colorful art canvas and this project this past weekend.  I have had this project on my mind for about a month now and I just couldn't figure out how I wanted to implement my idea.  So in the end, I just went for it and crossed my fingers.  I have been wanting a piece of art with stars for awhile and I came up with the idea of using gold leaf for the stars to make them shiny.
What you'll need:
– Gold leaf sheets
– Gold leaf adhesive (I used a pen)
– Black or dark paint
– Canvas
-Paintbrush-  one soft and one with a hardened tip for lettering (will explain later)
What you'll do:
1.  Apply adhesive in circles or patches over an area of your canvas.  Wait 5-10 minutes for the adhesive to get sticky.
2.  Place your sheet of gold leaf over the area and rub over it so it sticks to the glue.  For some reason this didn't work for me so I end up pulling bits of gold leaf off of it's sheet and rubbing it onto the sticky areas with my fingers.  This will look messy.  Cover the areas where you wants stars to be.  Allow to dry for a little while.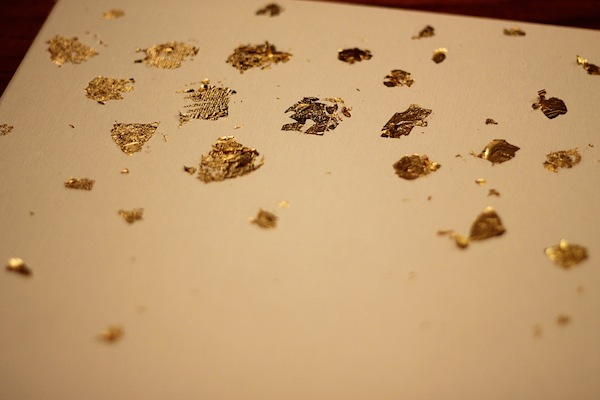 3.  Take a dry brush or your finger  and brush off any bits of leaf not stuck on along with smoothing out clumpy bits.
4.  Put some black paint on your paintbrush and draw small circles over your gold areas to be your stars.  Mine were varying sizes.  Fill in with black any area you want to be sky.  The way I painted my black on was very imperfect because I prefer for things to look a little more rough.  If you wanted it to look smooth, you would probably want a second coat to cover all of the gold that should be hidden.  You can see that gold shines through the black a little in places on mine.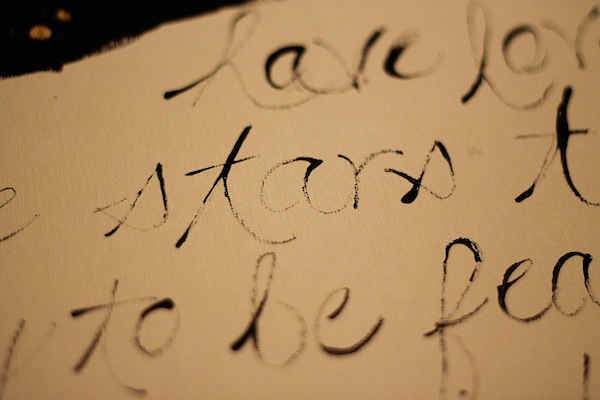 5.  I have a brush that I accidentally left out one time without washing.  This is what I have been using occasionally to make lettering because it almost works like a pen that you dip in paint.  I like that that way it lets the lettering be thick in some places and very thin in others.  Use this technique to write on your quote.
Literally every time I am trying to photograph something, this gentleman finds a way to get in the shot.  What a ham.
It is a little difficult to tell in the pictures, but in person the stars look very gold and shiny like they are twinkling in the sky.
Also, my poor orchid is just starting to wilt.  I think I have been watering it the perfect amount so I don't think that's it.  He is kinda close to an air vent??  How can I save him???  Poor guy never stood a chance.