A couple of months ago, I put together a dining room inspiration board that included a lovely piece of art by Emily Green.  She actually has smaller versions for a pretty reasonable price, but since I was wanting something pretty huge, it seemed much less expensive to shamefully attempt to copy it, or at least get the same fun and colorful feel.  Megan had plans this weekend to work on another piece of canvas art that you guys will see soon, so I decided to go ahead and work on my own art at the same time.
I went into Michael's intending to purchase a large (24″x36″) canvas but they ended up only having 30″x40″ so I figured go big or go home right?  Luckily, the canvas was on super sale for $15 instead of the $40 it was originally priced at.  We also purchased some craft paint, but seeing as how Megan has almost every Martha craft paint color under the sun, we were pretty much good to go.
What You'll Need:
– Craft paints in lots of pretty colors
– Paint brush
– Canvas
What You'll Do:
1) So I don't know that I'm really the person to be instructing anyone else on art techniques, but I will tell you what I did.  First, pick all your colors and put them on a plastic plate for easy access.  It is also helpful to include white and black, so you can add in some variations in the colors.  Also have several cups of water available.
2) Wet your brush and dip in your first color.  You can practice your circles on a sheet of paper or if you are brave just go straight to the canvas.  I decided to go one color at a time and spread out the colors relatively easily.  I think it also looked better with a little more water on your brush.  When you are changing from a completely different color (i.e., green to yellow), be sure to clean off your brush on a paper towel so you don't get green in your yellow paint.  Unless that is what you are going for.  Um…yeah.  So that is pretty much it.  Paint a lot of circles.  Bleed some together if you like that look.  And then feel like you are a super fancy artist.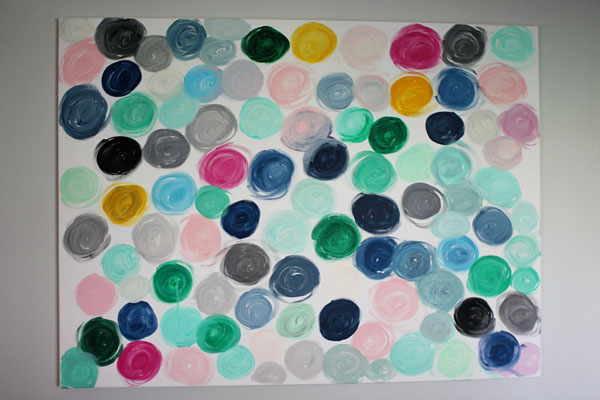 If you look very closely you can see our dark gray paint swatches for the entry way.  Hopefully I'll be painting it next weekend.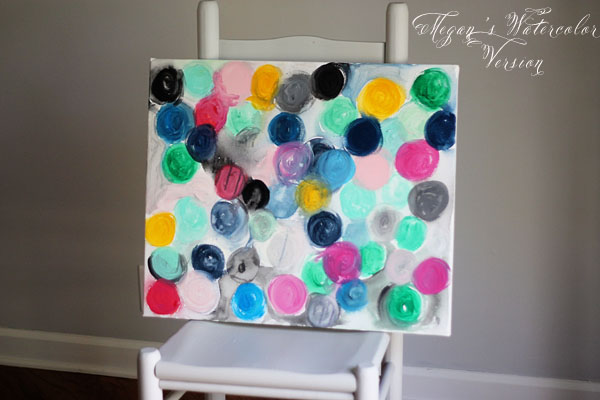 And here's Megan's smaller version.  Just a little bit more watercolory.  That's a word right?
I'm quite enjoying the new art on the wall, particularly since the room is lookin real neutral right now.  Although not quite the same as the original, I am happy with it.  Yay for cheap big art.