As I mentioned last week when I was playing around with table ideas, I had a few of my girlfriends over on Saturday to have a Valentine's Day brunch.  Valentine's Day is without a doubt the girliest holiday so it kinda just makes sense to celebrate it with some of your favorites ladies, right?  Anyways we kept it pretty low key and I just made a few breakfast casseroles that can be prepared the night before along with some biscuits and a fruit salad.  The most important part of a brunch, after all, is the cocktails.  Here are a few snippets from our love brunch.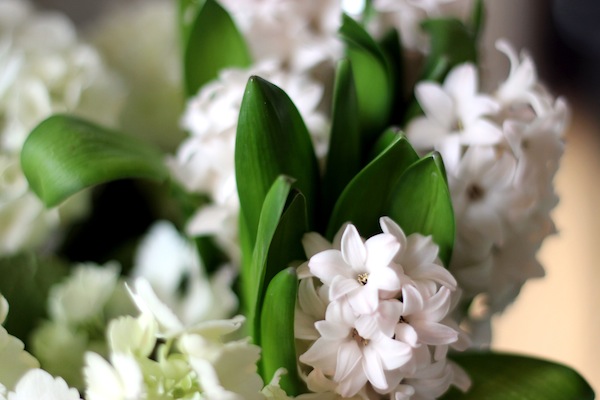 Light pink hyacinths and white hydrangeas.  The hyacinths are so fragrant.
Hearts on strings I have had laying around since Colleen's bridal shower.  I always hang on to this kind of stuff cause you never know when you'll find use for it again.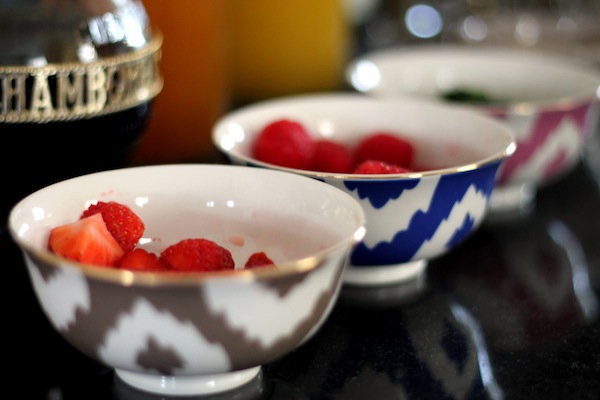 A mimosa bar with OJ, peach juice, Chambord, and St. Germain along with raspberries, strawberries, mint, and candied ginger.  And champagne, obviously.
One of the dishes I made was this killer cinnamon french toast casserole and I will be sharing the recipe some time this week because it was just too good and easy not to.
Happy Monday friends!  Hope everyone has an awesome week!