We wanted to do something super simple for a quick Valentine's DIY this year (as we weren't quite feeling up to a tablescape) and Megan came up with the idea of using little cardstock hearts for cupcake toppers.  You know how we like to top our cupcakes.  The beauty of this DIY is that you only need some pretty cardstock (extra points for little polka dots), scissors, and maybe a bit of glue.  So easy yet so festive.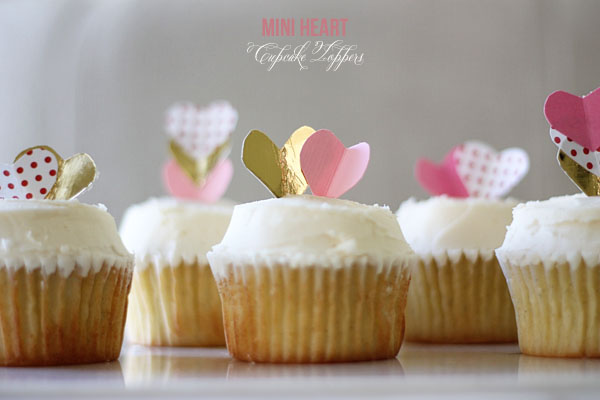 What you'll need:
– Cardstock in some beauty colors (we chose several shades of pink, red polka dots, and a nice shimmery gold)
– Scissors – even the crappy kind will work for this.  I know because my scissors are truly awful.  We always joke that we have the worst crafting supplies.
– Glue which is really only needed if you make the heart towers (my name for the stacked ones)
What you'll do:
1) Cut out some mini hearts; kindergarten style by folding the paper in half.  We started using one as a template to make them all the same size but you don't really need to.
2) Glue one heart onto another in order to make the heart towers.
3) Stack as many as you want, but I stopped at three.  If you are doing the side by side ones, you can glue one half of a heart to the other (I didn't even do this and they stayed together just fine).