Remember that time you gained 5 pounds in 2 weeks cause you ate millions of pounds of Christmas cookies and fudge?  You don't?  Lucky you.  I totally do cause it JUST happened.  I never make New Years resolutions about losing weight because I know I will never stick to them.  I was explaining to someone recently that when it comes to diets I have this little problem. Whenever I feel like I am restricting myself, I start to feel REAL sad and sorry for myself.  Then I feel like I am dying of non-delicious food eating.  It's all very dramatic.  Then I completely rebel and eat ALL the delicious food I can find.  I know it's silly pants but it is a part of who I am and I have come to accept it.  Therefore when I want to get with the skinnies, I have to find a way to still eat food of deliciousness but have it be light too.  Then I trick my defiant streak and stay with the skinnies for longer.  One way I have been able to do this is to use recipes from the blog/site Skinny Taste. It is a great food blog written by Gina and all the recipes are delicious and very skinny.  Lots of you are familiar with this, I am sure.  But I thought I would share some of the recipes from there that Colleen and I have used and LOVE.  I always prefer to use recipes if I know that someone else uses them frequently and likes them.
1.  Shrimp Quesadillas with Tomato Avocado Salsa
I have seriously probably made this no less than 15 times.  It is my favorite favorite because I love Mexican and it is so easy.  I typically just make guacamole to put on instead of keeping my avocado pieces chunky.  I use Mission Carb Balance tortillas and they have changed my life.  They are lower in calories and higher in fiber than regular tortillas.  I know I am going off on a tangent a bit but I also use these tortillas for a quick snack sometimes.  I sprinkle some mozzarella cheese on it and heat it in the microwave or in a pan to make it crunchy and then dip in salsa.  Yums and easier to control your portion them eating chips.  Quesadilla recipe here.
2.  Grilled Flank Steak with Tomatoes, Red Onion, and Balsamic
This is also super easy and can be good for a carb free meal because I love the salsa so much, I just eat a bunch of that with the meat.  I always put in more red onions than she says because I love them.  In fact, I am making this for some friends who are coming to dinner tonight.  Recipe here.
3.  Roast Beef, Arugula, and Shaved Parmesan on a Baguette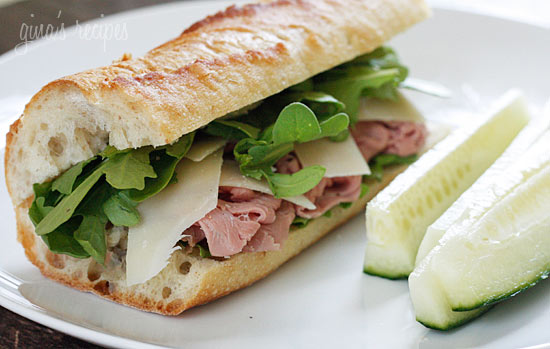 I came upon this when I was in the mood for a yummy sandwich and for me it was the perfect little combo.  Now normally I am not a roast beef girl but it is good for a special and different taste every once in awhile.  I also add mustard.  Recipe here.
4.  Roasted Potatoes, Chicken Sausage and Peppers
Any time you just cut some junk up, season it and shove it in the oven for awhile and it makes delightful things to eat, that is a win.  Colleen and Corey's go to.  Recipe here.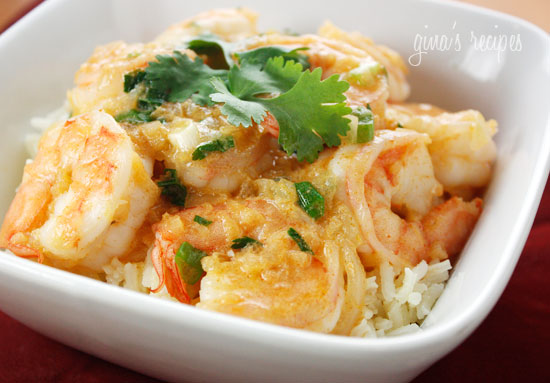 I admittedly am not the biggest fan of Thai food (it's okay just not my fave) but this is seriously sensational.  Recipe here.
6.  Shrimp Pad Thai on the Lighter Side
Another regular with Colleen and Corey.  Recipe here.
Hopefully one or two of these recipes will help you pretend to be skinny too.   Go visit Gina no matter what cause she definitely has her act together.