I mentioned a couple of weeks ago that we are under contract for a house.  I haven't really talked about it since then because things are still up in the air, and I have been a bit of a nervous wreck.  It is so hard to stay practical and unemotional about such a big, life changing investment.  Obviously, I have been stalking home decor blogs and stores like it is my job, but I have felt a little silly about mentally furnishing a house that may or may not be ours.  But really, any house we move into will need to be furnished, since all of our existing furniture is basically from the side of the road (not really, but almost).  These are some of the items that I have been thinking about incorporating into our future dining room, for this house or the next.  I will definitely keep you guys posted.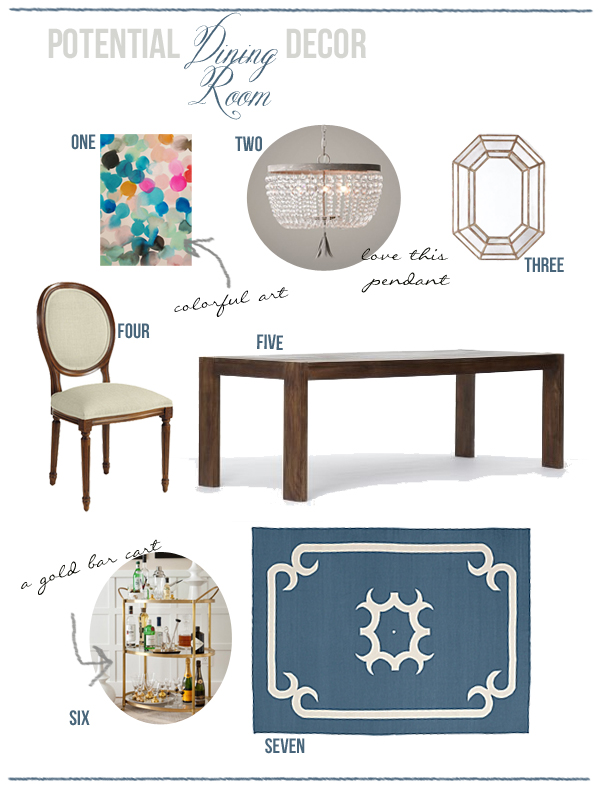 One – I plan to either make, or have Megan make (since she is really the artist) a big piece of colorful polka dotted art, just like the one in this picture.  Since the rest of the room will be mostly neutrals and metallics, this will add a touch of fun and festive.
Two – I have been stalking chandeliers and pendants for quite some time, and this is my current favorite for the dining situation.  I think I want it to be pretty glam, but nothing too over the top.
Three – Mirrors, oh will there be mirrors.  Mirrors make everything better.  Particularly ones with gold geometric edges.
Four – I like a traditional Louis chair.  Comfy and beautiful.  Now if only I could find them for a price that I wouldn't have to sell my soul for.  World Market has some pretty reasonable ones that might be the ticket.
Five – I think a simple and modern table will go nicely with the traditional chairs and glam light fixture.  Maybe this parsons table or an industrial inspired one.
Six – I have been obsessed with bar carts for forever, which is really pretty ironic considering I don't like alcohol.  They are just real good lookin.  Particularly in gold.  Pretty sure the majority of our house will be white and gold.
Seven – This lovely Serena and Lily rug has caught my eye for quite a long time.  Sometimes I think I would like something a little more bohemian, but I always tend to revert back to the simple and elegant.