I really like to keep stuff.  I'm not quite as bad as Megan, who hoards boxes and bags alike (sorry to call you out Megs), but I just despise throwing things away that could potentially have another purpose later in life. Will this tossed aside ribbon one day come to my rescue in a DIY project gone awry?  Will I need this Anthropologie bag to carry all of my things next time I move?  So needless to say, whenever I come upon a food or beverage container that is even remotely attractive, I save it.  Corey had these fancy beer bottles that he was collecting for me and I racked my brain for a week to try to figure out what to do with them.  I did consider snow globes a la the mason jar ones we made last year, but I figured I couldn't really fit anything in them except snow.  Finally, I had an epiphany that I should make them into taper candle holders.  This has been done many times before, but I think the tinsel glitter courtesy of Martha makes me love them even more.  You guys gotta get some of this stuff.  It makes things look like angels.  See more pictures of my oh so fancy tinseled candlesticks in our Christmas tablescape from yesterday.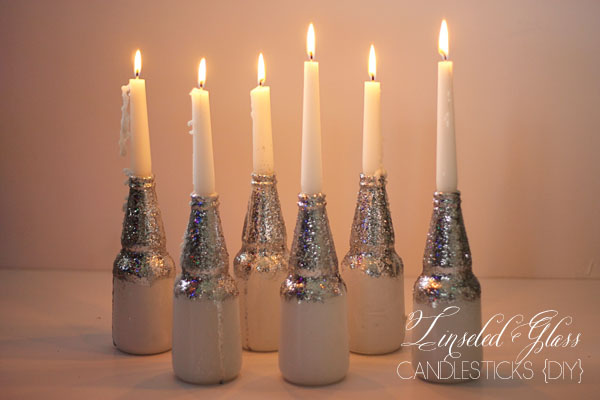 What you'll need:
– Pretty glass bottles of your choice – wine or beer would work best
– Spray paint – I used Krylon White in a satin finish
– Martha Stewart Decoupage Glue and Sealer (or similar crafting glue)
– Martha Stewart Tinsel Glitter in Sterling (just real good lookin)
– Short taper candles
What you'll do:
1) Spray paint your bottles.  Is it just me or have I been doing a lot of spray painting recently?
2) Glue the area of your bottles that you would like covered in glitter.
3) Pour glitter on the glue.  I'm not sure it gets any easier than this.