When we were trying to come up with some cheap and easy ideas to incorporate into our Thrifty Christmas Tablescape, I was inspired by a garland made by our friend Brynn of Citron Rose Bleu.  As Colleen mentioned Monday, she created cute fluffy yarn balls and strung them up to make a garland.  Since I was feeling particularly lazy, I was trying to come up with a way to make something similar without going to the store for yarn.  That's when I thought cottonballs may just be the ticket.  I had a big old bag of them already, so I took some twine that I also had and gave it a shot.  This resulted in what is without a doubt one of our easiest DIYs to date.
What you'll need:
– Bag of cottonballs
– Twine (the striped baker's twine added to cuteness factor and a little pop of color but any other string would work as well)
– Nail (If you are fancy enough to have a thin knitting needle then good for you.  I was not and my little nail worked just fine.  Just make sure you are using a nail that has a head so you string won't slide right off.)
– Scissors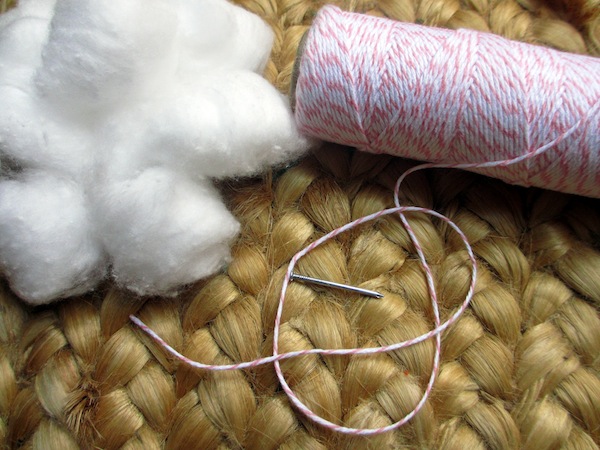 What you'll do:
1.  Tie a knot at the end of your twine/string around your needle and pull it tight.
2.  Insert the nail into the middle of your cotton ball.  I found that it was easier to push through the flat part where you can see the cotton rolled around versus the fluffy part.  Just look at your ball and you can figure out what I mean.  You may have to work your needle around a little to get it you the end of the cotton.
3.  You can see here how it gets a little stuck up in the cotton sometimes.  Just work it around and push until you can see it pop through.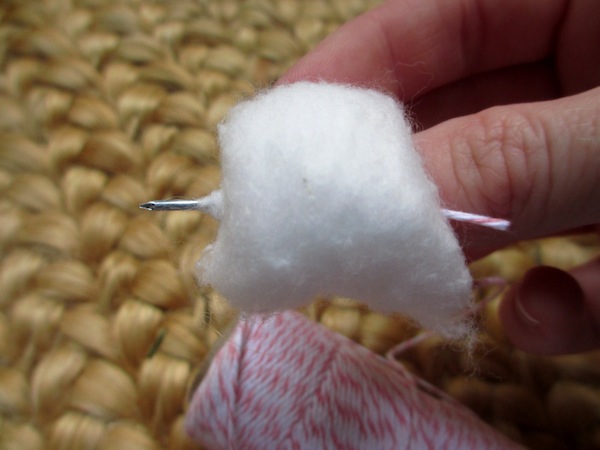 4.  Pull out the nail.  Sometimes part of the cotton comes with the end of the nail a bit.  I found that my balls looked fluffier if I fixed them up after the fact by straightening them out and tweaking them a little.
5.  Finish by putting enough cottonballs on so that your garland is as long as you want it to be with your balls being close enough together (This is purely personal preference).   Each of my strands took about 19 cottonballs but they were pretty long.  Spread them all out and voila!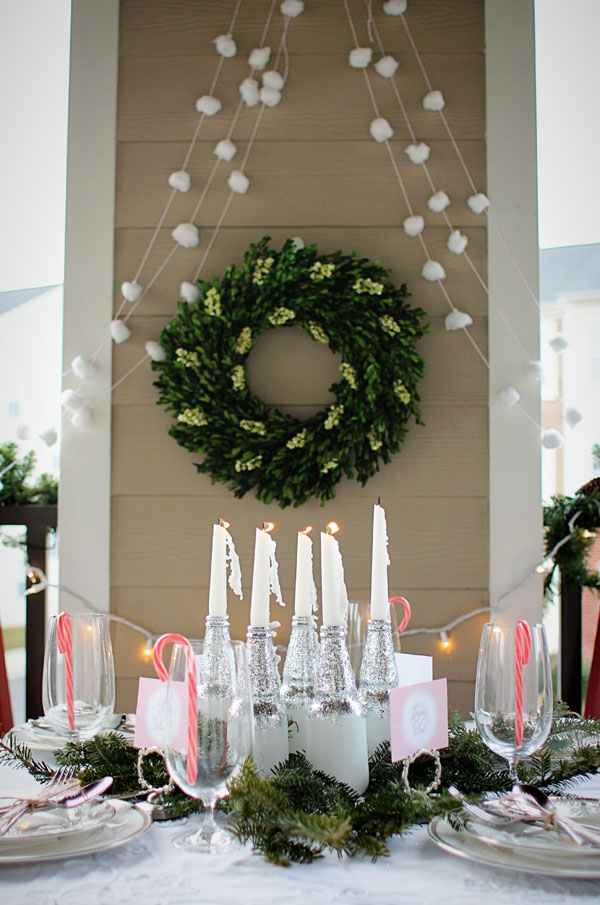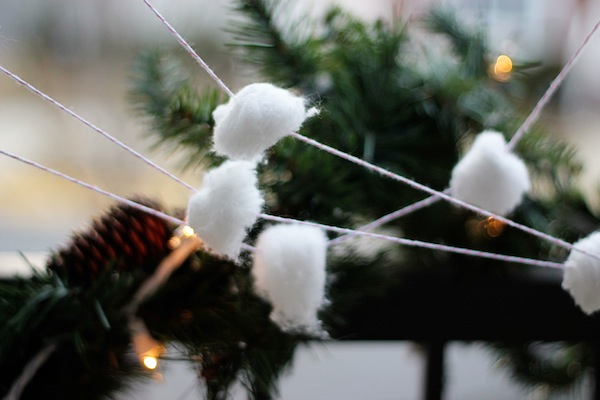 I think they make a pretty fun little decoration when grouped together.  Check out the rest of our Thrifty Christmas tablescape here.