This weekend, I took a somewhat impromptu 24 hour trip to the mountains for the primary purposes of cutting down my Christmas tree, drinking wine, and eating cheese.  I am quite proud to say that all of these things were accomplished.  My friends' family owns a house in Blowing Rock, NC and the fact that I haven't conned my way into a trip there sooner has been a major oversight on my part.  It is seriously like being in heaven.
If that isn't what a mountain house is supposed to look like, then I don't know what is.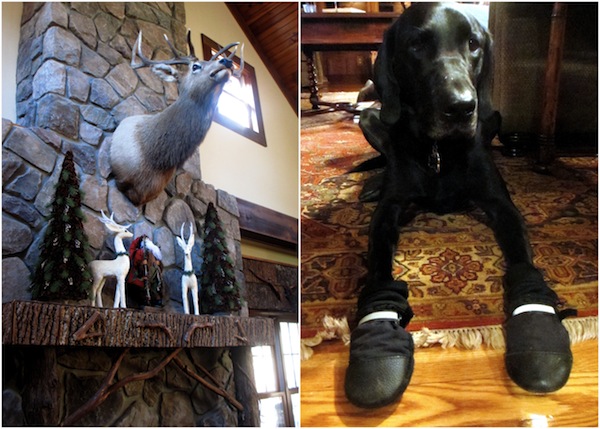 Complete with to-die-for antler chandeliers and giant buck head over the wood burning fireplace.  I only had my snap and shoot so I told them I was coming back soon to take pictures with Colleen's SLR camera because the inside of the house is so beauty, it deserves its own post.  Don't mind that pup Finnegan.  He's just busy wearing his fancy house booties.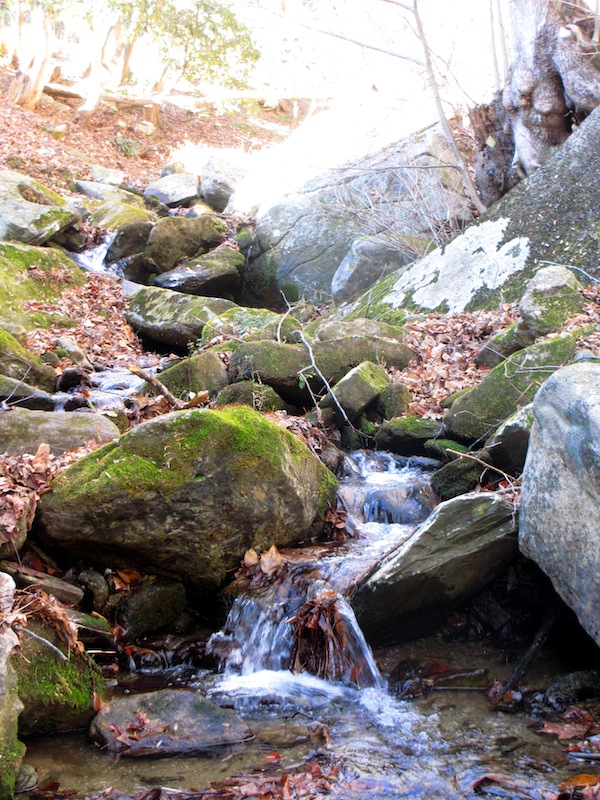 The creek that runs right behind the house.  It makes real good creek noises.
The Christmas tree farm we went to to pick out our trees.  I definitely recommend this experience.  I think freshly cut down trees must have stronger scents because my house currently smells like one giant pine tree.
We checked out Moses Cone Manor and Bass Lake, which it overlooks.
Then we went on a 5 mile hike up to the fire tower at Moses Cone Memorial Park, which was seriously beautiful despite being a smidge bit chilly at times.
On Sunday morning, I got to experience another new treat, because I was introduced to "Special Cereal."  "Special Cereal" is the very official name that my friend Caitlin has been calling this toasty warm breakfasty goodness since her mom started making it for her as a little girl.  I just love family traditions like that.  I have never heard of anything like it before so I thought I might share the recipe with ya'll in case you wanted your cereal to be special too.
Special Cereal Recipe 
(makes 2 -3 servings- Special Cereal is very rich so you don't need a lot)
– 1 tbsp butter
– 1 cup milk
– enough Grape Nuts to cover the milk so like 1 cup I guess (says Caitlin)
– a couple of tbsps of honey (to taste)
– some shredded coconut… I would say a quarter cup
– half a cup of raisins
Melt butter in a saucepan on medium heat.  Add milk, stir together.  Add grape nuts to cover milk and stir in.  Add honey, coconut, and raisins and stir in.  Let raisins plump up.  Eat.
I would have taken a picture but Special Cereal ain't real pretty.  It eats real good though.  The grape nuts soften into the milk and get mushy.  You can add more or less of any ingredients if you want to.
If you want to see more (better) pictures of the area around the house and Moses Cone, check out Caitlin and Roo's engagement session there shot by the incredible Traci Arney.
Happy Tuesday!