Colleen and I definitely go to see plenty of movies throughout the year (her more than me due to Corey's movie madness), but it seems like this time of year is when I always look forward to seeing movies the most.  Since it has gotten cold outside, going out to a bar to socialize seems significantly less appealing.  But wearing some cozy clothes and heading to the movie theater with our smuggled coffee and candy tucked precariously in our purses seems like just the ticket.  Movie season for us came just in time this year to catch some movies that we are way excited about.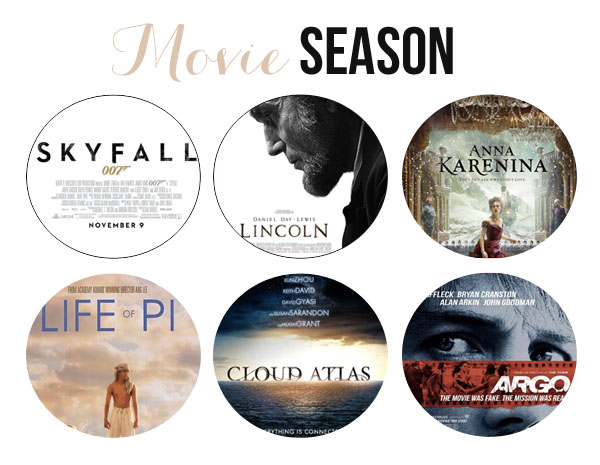 1.  Skyfall  007–  I can't even pretend to know anything about this movie so I won't.  This is a movie Colleen (and probably Corey) want to see.  I can only assume it is James Bond because of the 007.  I have never really gotten into James Bond.  Corey can leave a description in the comments section including why he is excited about it if he should so desire.  I'm sure it will be good.  Moving on. Editor's note: Obviously I made the collage and poor Meg just had to talk about it.  Skyfall is supposed to be awesome, potentially the best Bond ever, and certainly better than the last.  I am crazy excited.
2. Lincoln–  Between having Daniel Day Lewis (the best actor of our time in my humble opinion) and Joseph Gordon Levitt (a button pop)  this movie seriously can't lose.  Furthermore it is about Lincoln (duh Meg) who is arguably the best president we have ever had.   According to IMDB, it covers his struggle with abolishing slavery so I have a feeling it will also make me cry.
3.  Anna Karenina– Two words.  Eye. Candy.  If any of you have seen the trailer, you know that this movie is going to be a knock out.  The visual quality of the film evokes a sense of magic and you can bet the set design and costumes are going to be superb.  Also, Keira Knightley is charming.  Can't wait.  I started the book last night but due to the fact that it is 2,000 pages on my ipad I probably won't be able to finish it and have a functional life before I see the movie which is a major bummer.  Oh well.
4.  Life of Pi– If any of you have not read this book already, go out and get it NOW.   It is a fantastic story and when I say that I mean that it is not only great but that it definitely teeters on the brink of reality and fantasy.  It is very unique and truly beautiful and I can only hope that the movie will be the same.
5.  Cloud Atlas–  Colleen has seen this and it surprised her how much she was touched by it.  Apparently it is one of those super abstracty kinds of movies where there are lots of different characters and their lives are intertwined.  I LOVE those movies because I like things that are abstract.  I watched an interview with Tom Hanks about it and he said it is about how we are all connected.  Warm and fuzzies and beautiful cinematography as well.  Editor's note: Now this movie is very polarizing.  It is from the directors of the Matrix, so it is larger than life and maybe a little overwhelming.  Some people thought it was excessive.  I thought it was beautiful and inspirational.
6.  Argo–  This is another one that I don't know so much about, but my parents said that it was wonderful and I have a tendency to go bananas for movies directed by Ben Affleck.  Don't even get me started on "The Town."  This one has been out for awhile so if you were planning to see it, you should probably get there soon.  Editor's note: Argo is potentially movie of the year, and is just an amazing story about the attempt to bring American diplomats to safety (particularly applicable right now.)   I am dying to see it.  
Have you guys seen any awesome movies lately?  Any others that you are looking forward to?
Happy Friday!