Colleen and I are in charge of decorating the table at our family's Thanksgiving feast this year.  This suits us just fine as it gives us a chance to round up some pretties and then our jobs are done and we can sit back and enjoy the delicious made by others.  Once again, the sparkle of Martha's glitter was too much for me to resist and I ended up buying some more when I was purchasing supplies to make a leafy garland for the table.  We all knew it was an inevitability.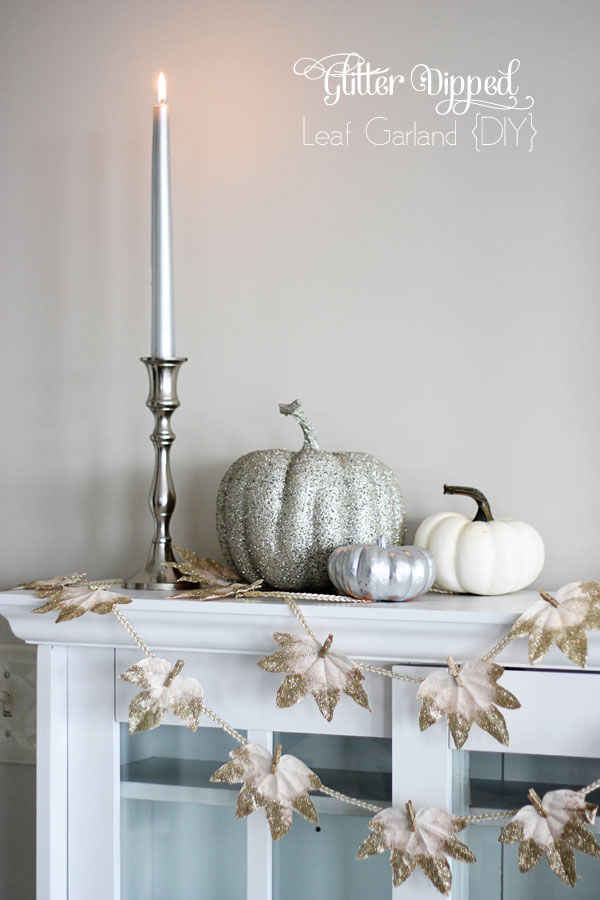 What you'll need:
– Fake Leaves- We used some orange and yellow ones that I got in a pack from Target a few years ago.  They are made of fabric.  I had the idea of using real leaves, but my concern was that they would dry out over time and break apart.  I wanted to be able to use this again so I felt like fabric leaves were my best option.  If you guys use real leaves, let me know how it goes.
– Paint- I used Martha's craft paint in the color Porcelain Doll.  It is a creamy color.
– Paintbrush
– Glitter- I used Martha's Yellow Gold.  It is a little more of a goldy gold where her "White Gold" seems almost silver.
– Glue-  I used Martha's Glittering Glue for putting the glitter on the leaves.  For putting the glitter on my clothespins, I used spray adhesive, but in all honesty, I think it may have been easier to paint them with the glittering glue and then dip them in a little bowl of glitter.  I think the glitter would cover better that way.
– Mini clothespins- I bought mine in a little pack of 50 from Michael's. Here are some from Amazon.
– Ribbon or cord- I used a braided cord with a touch of gold that I found at Michael's in the Christmas section.
What you'll do:
1.  Paint your leaves with the cream color.  I am going to be real with ya'll here.  We had difficulty getting the cream paint to cover the brightly colored leaves.  It took two coats with some time in between and after for drying.  We focused mostly on one side of the leaf so if you want your leaves to be pretty one both sides, you will have to take time to let the front dry and then paint the backs as well.  You can also concentrate primarily on the top part of the leaves since the bottom will be covered in glitter.  Luckily, the paint soaks through some so you actually paint the back with decent coverage just by painting the front.  We tried spray paint initially and that did not work at all.  Let them dry.
If I had it to do again, I would take all the leaves before I started and soak them in a mixture of warm water and bleach, which would get rid of a lot of the color from the get- go and save you some painting time.
2.  Glitter your clothespins.  I sprayed them in a big bunch with spray adhesive and shook/dumped glitter over them all together.  I then had to let them dry and flip them and repeat to make sure I covered all the sides fairly well.  Like I mentioned earlier, painting each clothespin with the glittering glue and then dumping them individually in a little bowl of glitter would be a good idea if you want super glitter coverage.  Let them dry.
3.  To make the leaves look like they were dipped in glitter, I took my glittering glue (which comes with its own little brush attached to the top), and brushed glue on the pointed parts of each dried leaf.  I then shook glitter over the areas where I had glued.  If you want both sides to look finished, let this dry and then turn them over and do the other sides.  This step went pretty quickly (like 15 minutes to do one side).  Let your leaves dry again.
4.  Use the glittered clothespins to attach your leaves to your ribbon or cord.
Hope everyone has a lovely Monday to start out the week of turkey (and thankfulness)!