This week I was on facebook looking at pictures of a Halloween party that a friend of mine went to when I saw something that absolutely stopped me in my tracks.  She had gone to the party (along with 2 others) as the Sanderson sisters from Hocus Pocus.  Their costumes were awesome enough but then I saw the replica of Winifred's book from the movie that she had as a costume prop and I was floored.  It seriously looks so amazing that I thought she might have bought it but it turns out she made it herself.  Well once I found that out, I knew immediately that I had to ask her permission to share it with ya'll.  Prepare to have your socks knocked off.  Once again, I want to be clear that she MADE this.
Have you ever???  She was kind enough to write up an explanation of how she did it and share some pictures she took during the process.  She's the best.
***Update***  Lindsay is now making these and selling them on her Etsy shop!  She has a version with a stationary eye and one which is animatronic where the eye moves.  How cool is that?  The link to purchase the stationary one is here but you can access the other as well.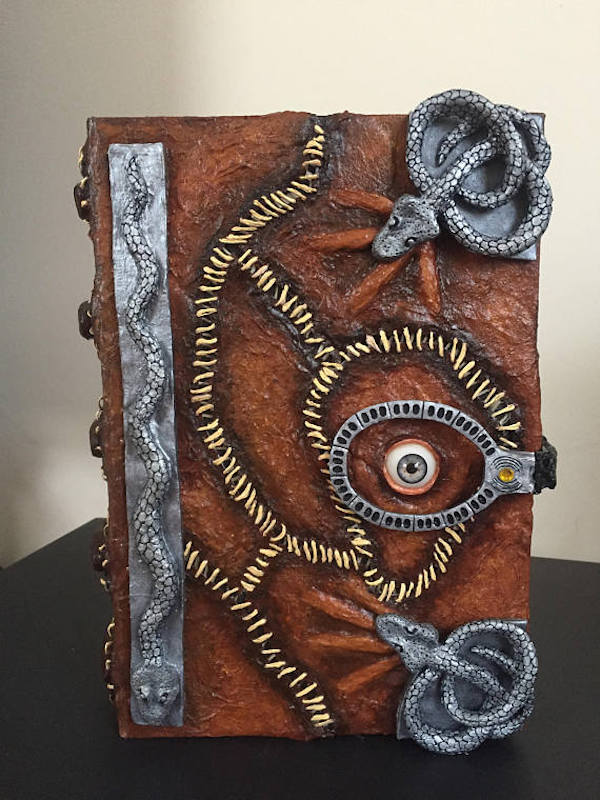 What you'll need:
– decor book from craft store (Editor's note:  I am sure you could use any hardcover book)
– acrylic paint
– hot glue gun
– craft glue (actually used Martha Stewart glittering glue)
– string
– clay
– mannequin eye
– tissue paper
– clay tools
– cardboard
– colored jewel
 What you'll do: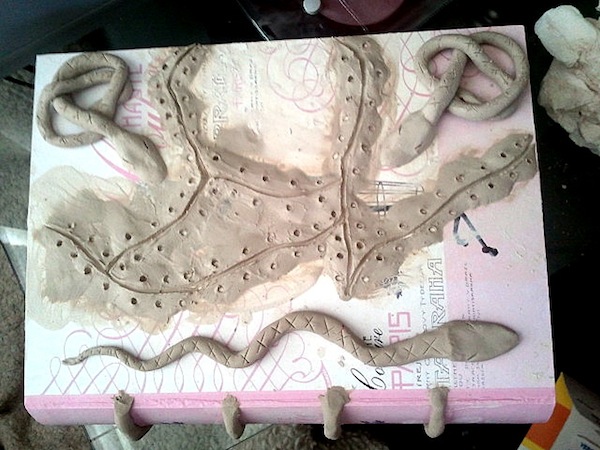 1.  I started out making the parts out of clay (just used a cheap quick dry type) so I made the snakes and stitched skin parts and made sure to leave holes for the string.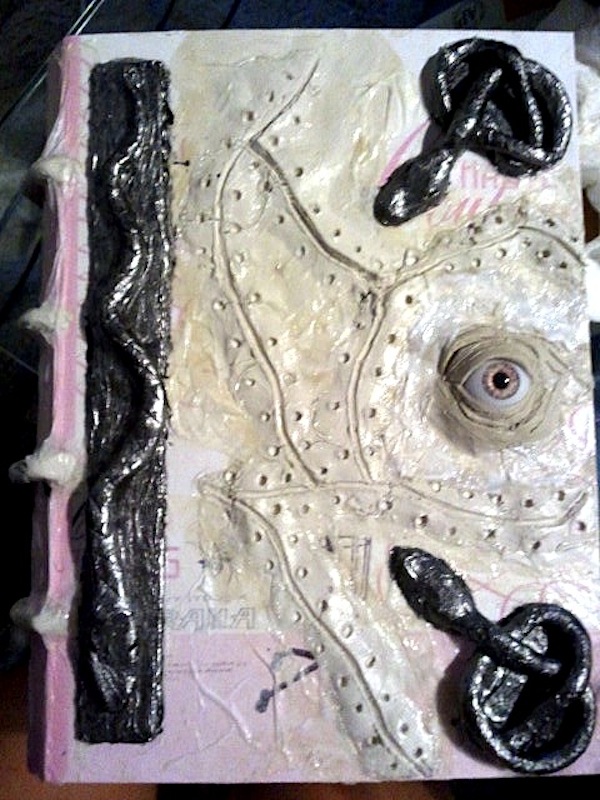 2.  I added tissue paper to the book by tearing into pieces and crinkling it up, and then I would use the glittering glue to hold the paper down and also covered all of the clay parts too with it
3. When my ebay buy of the mannequin eye came in the mail, I hot glued it and made the eye lids around it with the clay.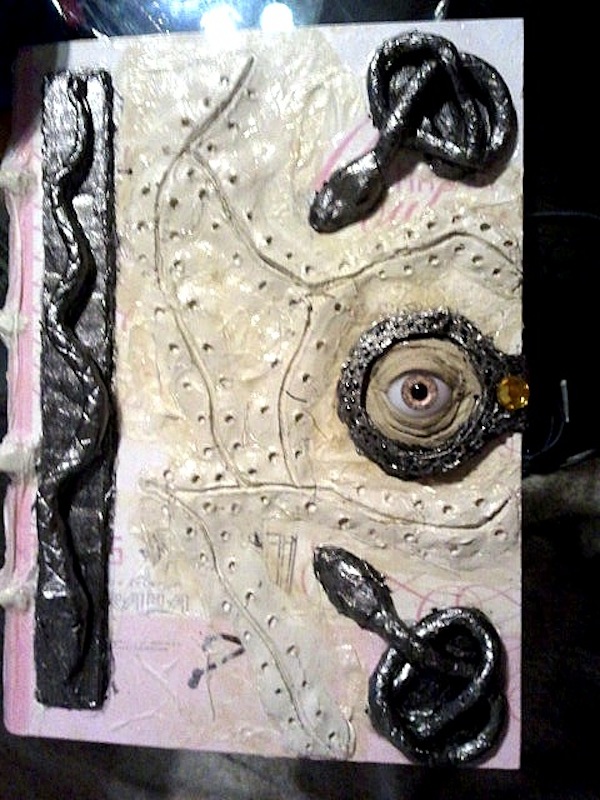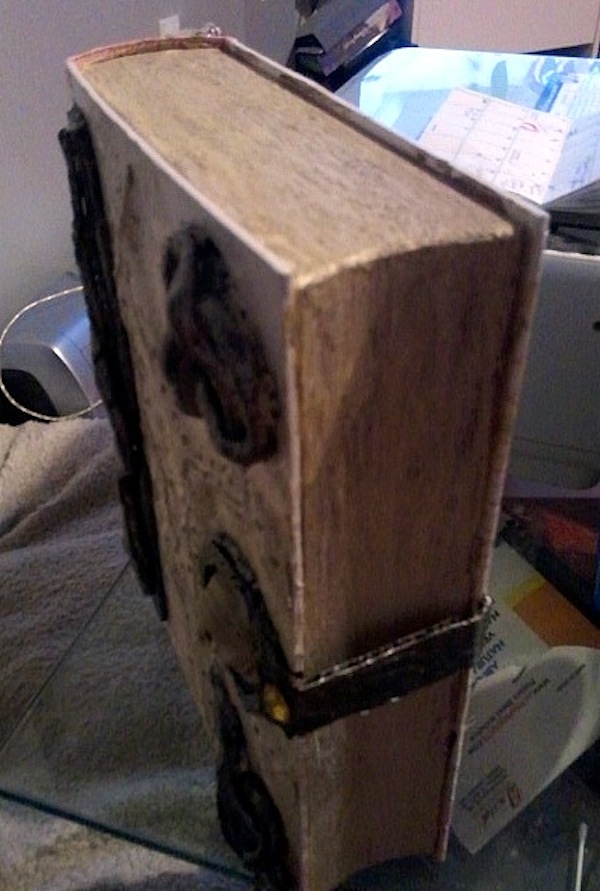 4. I made the latch with the claw and the piece under the large snake out of a cardboard box and painted them black first and then painted a silver paint over the black, and then hot glued all of the pieces to the book.
5. I painted the page area to age it and dragged a needle across the paint to make it look like pages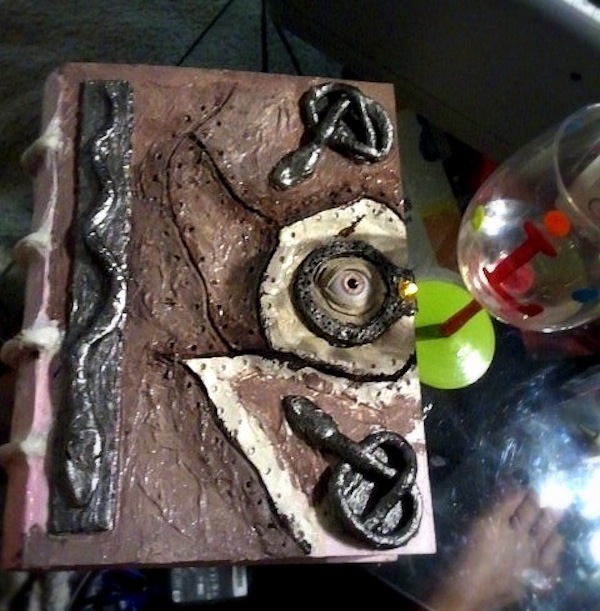 6. I painted all of the skin area (nothing better than crafting and having a glass of wine as you can see in the picture).
7. Then I cut string to hot glue into the holes in the clay to look like stitches.  I used a clay tool to push them in.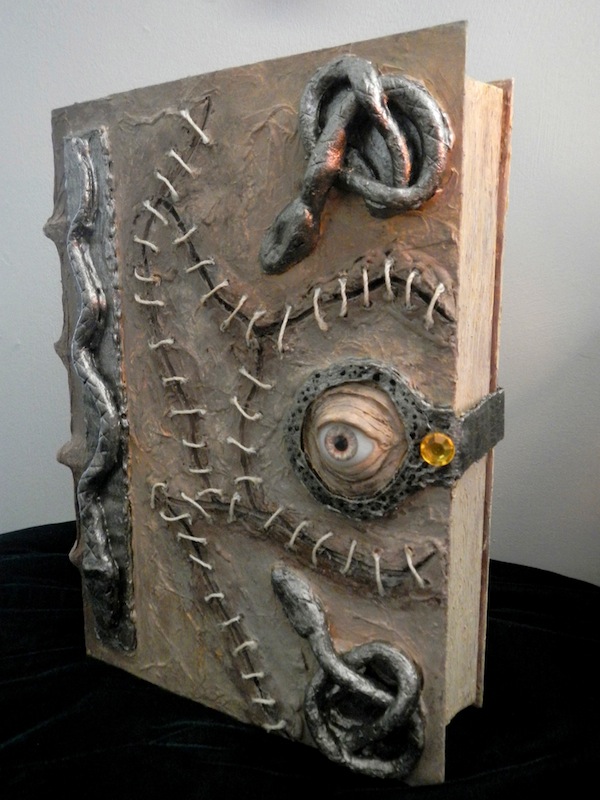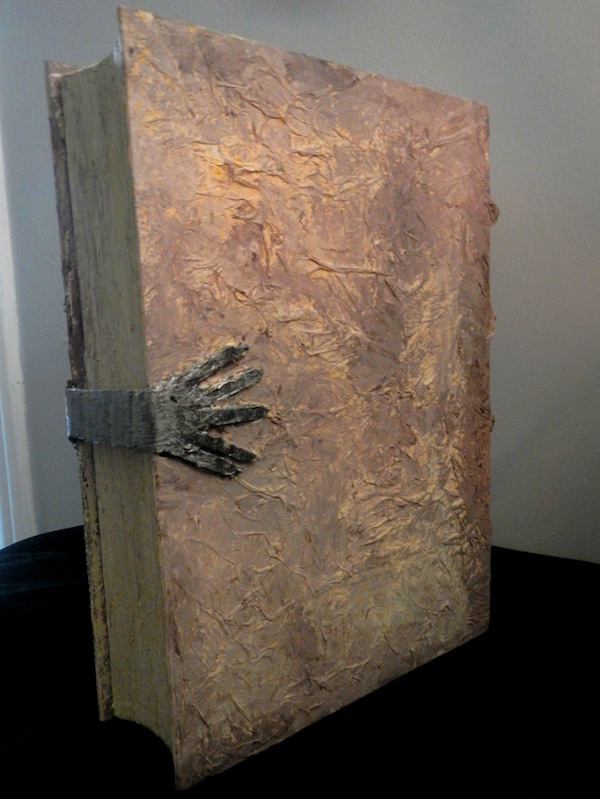 She also sent me some pictures of the costumes that her, her friend, and her husband wore as the Sanderson sisters.  Yes, I said her husband.  Most fun husband ever.  He was the sexy sister Sarah.  Obviously.  These folks take their costumes reallll serious ya'll.
Lindsay, thanks so much again for sharing your fantasticness with us!  Lindsay is also an artist (which was pretty obvious) and she specializes in painting pictures of people's pets that are very realistic looking.  Her website is called Pawsome Art and you should check it out if you have a precious kitter or pupple you want painted.
Happy Thursday friends!