In an effort to make things as Harry Pottery as possible around here for our Halloween party, we have been making lots of signage.  In our humble opinion, signage is one of the best ways for helping things seem like Hogwarts without actually having to reconstruct my house.  Which I would gladly do in the name of Harry Potter if I had the funds.  Unfortunately I don't.  So signs it is.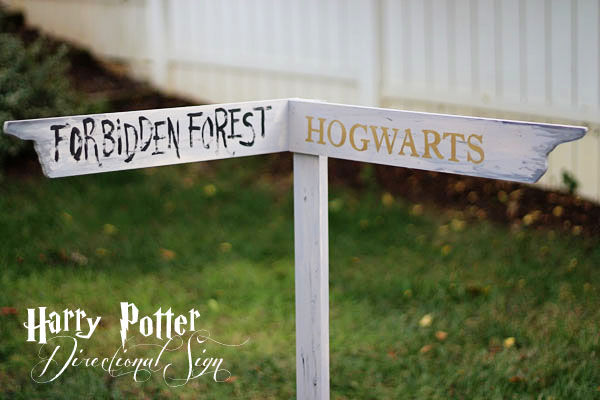 What you'll need:
– 3 long pieces of wood (or more depending on how many directions/places you want to include)  One will be the post so it will need to be thicker and longer.  You will have to gauge how tall you want your sign to be when you buy it.  Mine was about 4 feet long.  Two of the pieces will be shorter for the directional parts of the sign.  Mine were about 2 feet long and also much skinnier than the bigger post.
– A jigsaw- If you don't have this yourself, ask around because it is likely someone you know has one you can borrow
– Nails-  The length will depend on how thick your wood is.  You don't want the nail to go through the back of the wood very much after you hammer it in.
– Hammer
– Paint – Whatever colors you want- 1 for your main color and those colors you would like the letters to be.
– Paintbrushes- one larger for painting wood and one smaller for lettering
– Cardstock or a stencil if you want your lettering to look more professional
What you'll do:
1.  The shorter pieces will be the directional part of the sign.  I sketched a little fingery looking situation on my pieces of wood.  I was careful to consider how they would be pointing and how I wanted the arrows to look once they would be nailed on.  Then I took my jigsaw and tried to follow my sketch with the blade.  I found that I had some difficulty being super exact with following my lines.  I don't think it really mattered much.
2.  On the longer piece of wood for the post, I sketched an upside down triangle on one side and cut it out as well so my post would be easier to bang into the ground.
3.  I nailed one of my smaller cut pieces of wood to the flat top of the long post on the widest side.  I made sure the longest "finger" was at the top.
4.  Then I nailed the other smaller piece to the skinnier side of the long post so that it sticks out at a 90 degree from the wood piece you just nailed in.  Make sure the long finger is on top once again.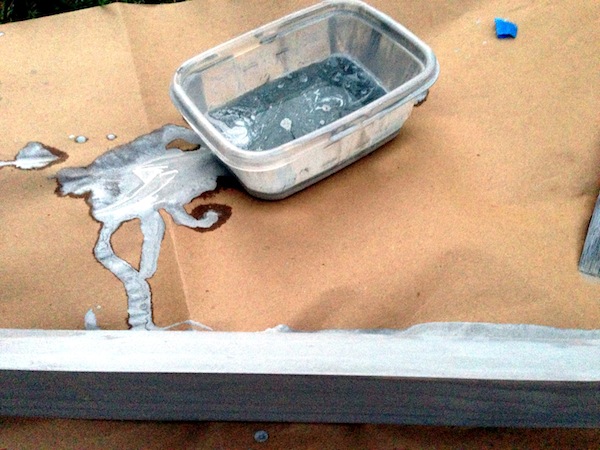 5.  I took some gray paint I had from painting a door.  I mixed a small amount of the paint in water to make a wash for the wood.  I painted the wash on with a 2 inch paint brush.
6.  Then, I took black paint, mixed with the gray and painted on some detailing to make the edges look older.
7.  I wanted to make the Hogwarts direction look nicer so I printed the word out on some card stock and made each letter into a stencil by cutting them out with scissors and an exacto knife.   I then used gold paint and my letter stencils to paint out Hogwarts.
8.  For the Forbidden Forest part of the sign, I wanted it to look rough and spooky, so I hand painted purposely it making it very imperfect.
9.  Once it was dry, I used a water based polyurethane spray to make sure the lettering and paint didn't wash away in the rain.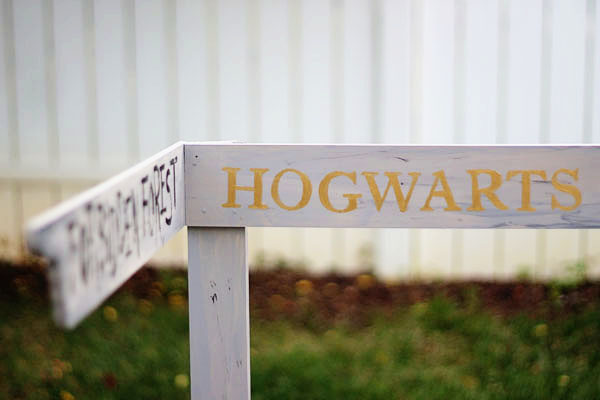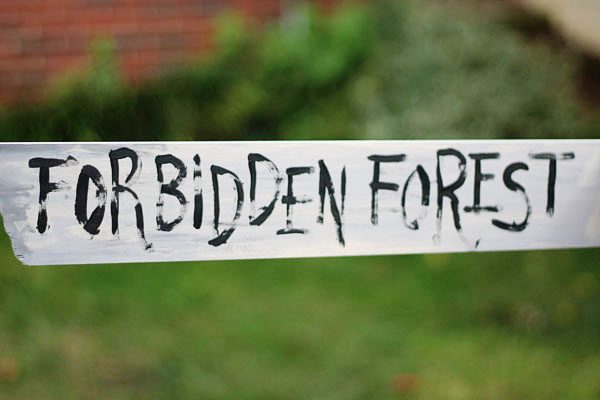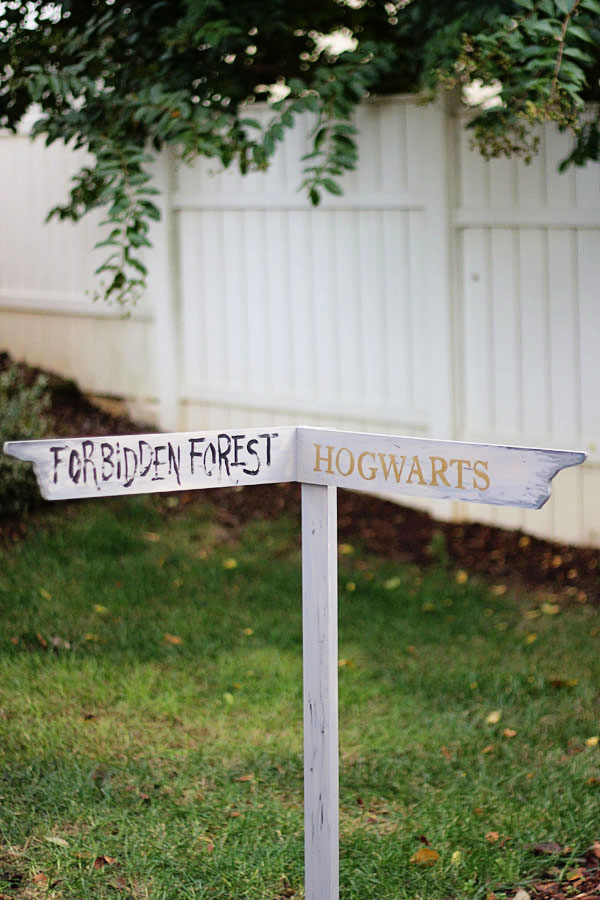 We have purposely been trying not to show too much before our party so we don't ruin the surprise for our friends who will actually be there.  We love a good surprise.  So I promise we will absolutely not show anymore party details until next week.  I am super-de-duper excited.