In the midst of the mass chaos that has been preparing for our Halloween party, we celebrated our dad's birthday this weekend.  As usual, it was my job to make the cake.   My dad said that there was nothing specific that he wanted for his cake so instead I made what I wanted.  Insert evil laugh.  Which was a super chunky appley spice cake.   After perusing google for recipes, I decided upon one from BHG.  I couldn't find my camera when I was making this in addition to the fact that I had at least 3 Halloween projects going on simultaneously.  The result of this was not very many pictures taken during the baking process.  BHG wanted me to put some fruit crap on top of the cake but I said "NO!  No fruit junk will be on my cake."  I am a buttercream girl.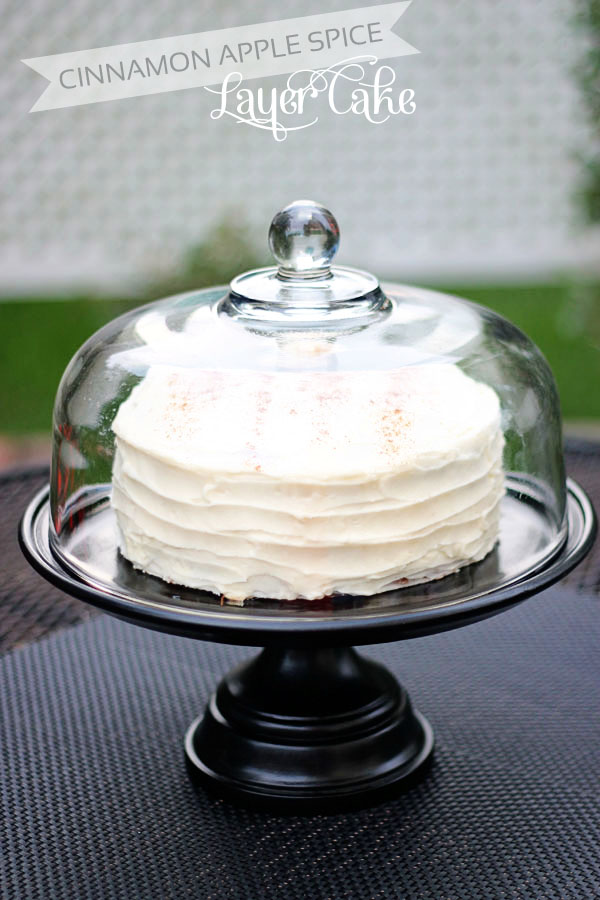 Cinnamon Apple Spice Cake
from Better Homes and Gardens
– 1 1/2 cups buttermilk
– 3/4 cup canola oil (I used vegetable oil.  I am pretty sure I have never used canola oil in my life.  What is it?)
– 1/2 cup water
– 2 cups packed brown sugar
– 2 eggs
– 2 teaspoons baking powder
– 1 1/2 teaspoons ground cinnamon
– 1/2 teaspoon baking soda
– 1/2 teaspoon salt
– 2 teaspoons vanilla (I added a smidge more)
– 2 1/2 cups all-purpose flour
– 2 Gala apples, cored and diced
1. Preheat oven to 350 degrees F. Line two 8x8x2-inch baking pans with parchment paper. Grease and flour the pans; set aside.
2. In mixing bowl whisk buttermilk, oil, brown sugar, eggs, water, baking powder, cinnamon, baking soda, salt and vanilla until combined. Whisk in flour; stir in apple. My batter was pretty runny before I put in the apple so don't freak if yours is too.  Divide evenly between prepared pans.
3. Bake 40 minutes or until wooden toothpick inserted near center comes out clean. Cool in pans on wire rack 10 minutes. Invert cake layers from pans onto racks; remove parchment paper. Cool completely on racks.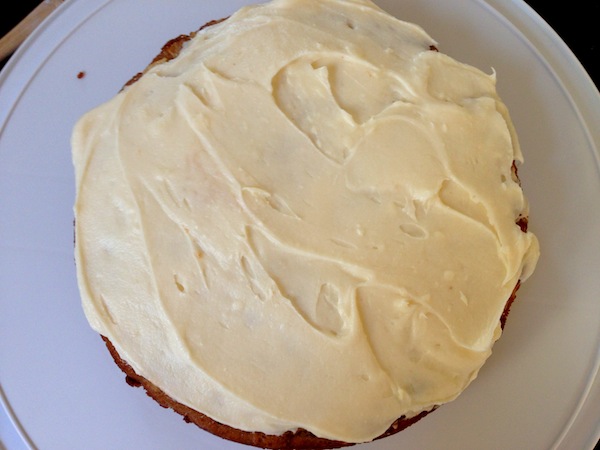 Cream Cheese Buttercream (this is the recipe that I have shared before that I made up)
This makes plenty for a 2 layer cake with about a cup left over so I bet it would be fine for 3 layers as well.
– 2 sticks butter, softened
– 1 pkg cream cheese, softened
– 1 lb powdered sugar
– 1 ¼ tsp almond
– 1 ¼ tsp vanilla
– ¼ tsp butter extract
– 1 TBSP milk
Put all the things in the mixer and fire that baby up.  No need to complicate the situation.  Although I guess you should probably start with the butter and cream cheese.  If you want to get technical.
Assemble your cake.  Use the tips I outlined here if you should desire.
Makes 10 servings depending on how big you like your cake slices to be.
I used the spoon and cinnamon on top technique when I frosted mine up that I read about on our lovely friend Christina's blog called Carolina Charm.  She is always sharing fancy little tips, that one.  Of course, I obviously didn't work that hard to make it look as good as she would.  Oh well.  As my dad always says, at least it eats good.
Happy Birthday Daddy!  We love you.