When I think of events that feel dark and slightly twisted, masquerade parties are always right up there at the top of the list.  I guess my impression of them got stuck that way after reading Poe's The Masque of the Red Death.  I have always thought it would be fantastic to have a masquerade party this time of year when a crisp chill is in the air that seems to be accompanied by a sense of mystery.  I think a rehearsal dinner would be the perfect occasion for an event like this.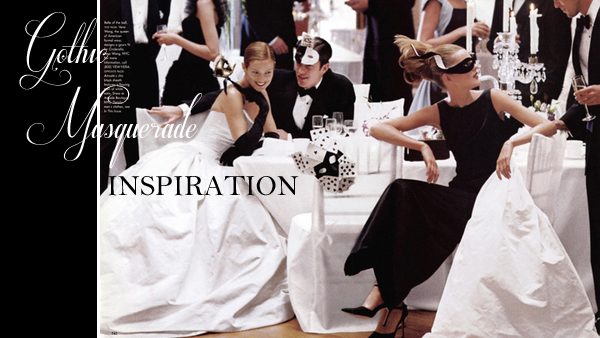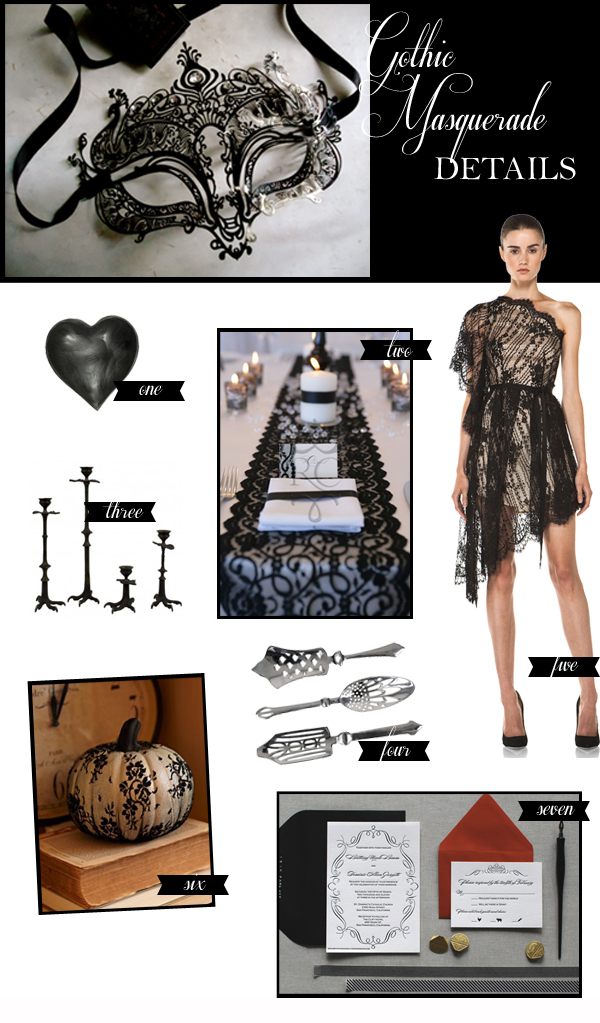 The Mask-  First order of business would be to find a show stopper mask to wear.  Although the mask above is lovely, I have absolutely no idea where it is from.  I have seen similar masks for sale at Target this year and Etsy has many fantastic options as well.
1.  Black Heart Bowl– for serving macabre delights for dinner.
2.  Black lace table runner– I love the idea of black lace over a white tablecloth.  The black color of the lace makes it more architectural and definitely more spooky.
3.  Claw Candlesticks–  For producing dreamy candlelight in a slightly sinister way.
4.  Absinthe Spoons– I have loved these serving spoons for some time and I think their detailing would be perfect for an event like this.
5.  A truly sombre but romantic dress for the bride-to-be.  For a more affordable and realistic option, you can also check out this dress.
6.  Simple white pumpkins covered with black lace to accompany the candles on the table.
7.  Gala Letterpress Invitation– Every masquerade deserves a special invitation.
Wouldn't you guys love to go to a sophisticated but somewhat eerie masquerade dinner?