As far as jewelry organization goes, I have had a system in place for my earrings for some time, but my necklaces have been a hot mess.  All tangled and jumbled up and strewn everywhere.  Not functional and certainly not attractive.  I got the idea for a simple white washed necklace/jewelry holder when we were in New York, but we decided to play around with the idea a little this weekend and put our own twists on it.  You can really do anything you want with this idea.  I will explain to you how we did each of ours.
What you'll need:
– A piece of wood.  I went to the lumber section at Lowe's and got a 10″ wide plank of oak and had them cut it down for me.  My piece was about 10″X12″ and Colleen's was a little longer. Probably about 10″X14″.
– Nails
– Gold spray paint.  Only if you want your nails to be gold.  You can obviously pick whatever color you want.  We also sprayed our boards gold to change the color of the wood.
– White paint.  We used cheapy craft paint and watered it down.
– Sand paper
– Hammer
– Paint brush.  We used a 1 1/2 inch thick brush.
What you'll do:
1) Sand down the rough edges of your wood with fine grit sandpaper.  Blow or wipe off dust.
2) Spray your nails gold or whatever color you desire.  Make sure you get all parts of the nail.  This would also be the time to spray paint your board if you want to change the base color of the wood.  The wood dries pretty quickly but the nails took awhile before they weren't sticky.  Maybe more than an hour depending on how much paint you spray on.
3) For both:
Once the board is dry, get your white paint and pour it onto a plate.  Sprinkle water in and mix until it is smooth and flowy.  If you want a true white-wash, you can water it down even more until it is liquidy.  We wanted ours to cover pretty well.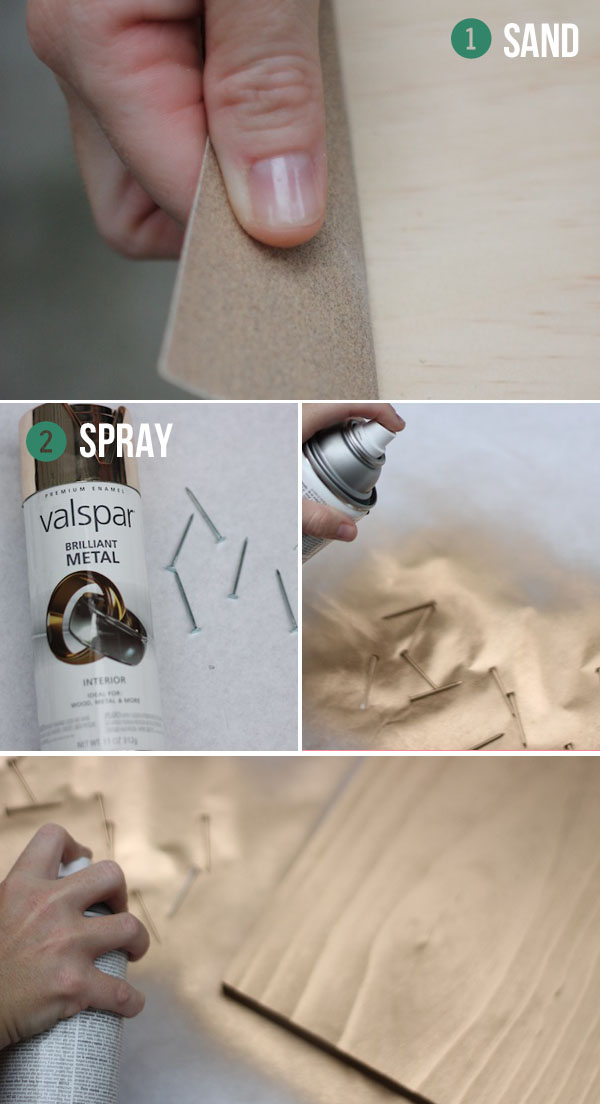 For Megan's:
Paint the top couple inches of the board white and then glob a bunch of paint on across the top so you can work it down towards the bottom of the board.  Take your dry brush and lightly stroke the globs of paint down towards the bottom of the board in sections.  I put less pressure towards the bottom of the board and left the bottom of the board gold.
Then once it had dried, I took a q tip and some pink paint and added little dots at the top of the board.  I liked the contrast of cute and clean at the top with the rustic look at the bottom.
For Colleen's:
Colleen painted side to side and started with heavy coverage at the top and then applied lighter and lighter strokes as she worked her way down.  Her's turned out really cool because it highlighted the grain in the wood.
4) Hammer in the nails (as many as you want) in a line across the top.  We used 5 nails each.  If you want to get really fancy, you can get out a level to make sure your nails are in a straight line, but we just eyeballed it.  By using an odd number of nails, it is easier to get an even number of space between each nail.  Start with one nail on each side (toward the edges)and then put one in the middle.  Then put one each in the middle of the open spaces.  It is hard to explain, but you will totally understand if you do it.
We hung ours by using a picture hanging kit with wire and the little screw-in hooks in the back of the board.  (Editor's (Colleen's) note: Sorry guys, forgot to collage the pictures with the picture hanging kit.  Let us know if you are confused by this.)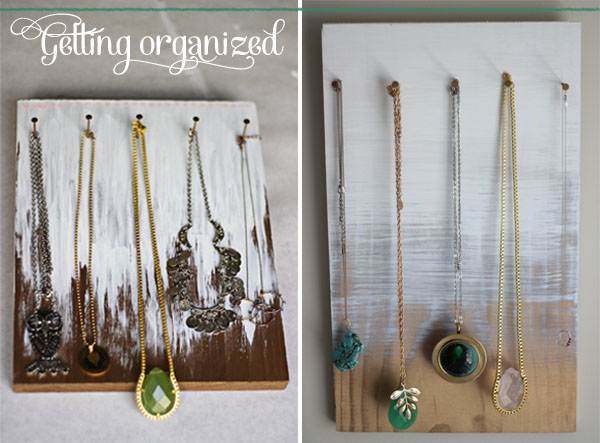 I am so happy not to have my necklaces all muddled up anymore that I am wondering why I didn't do something like this sooner.  Sometimes it's the little things.