The last DIY that we are going to share from Lindsay's shower was probably our smallest one, but I still think it had a pretty big impact.  Even better, I feel certain that I will be able to use it as decor for future events.  We first got the idea for our vellum paper garland from a leisurely trip to Anthropologie.  They had ocean themed decor, and had beautiful translucent garlands lining the walls.  We decided to recreate them to spruce up Megan's Cape Cod Poster.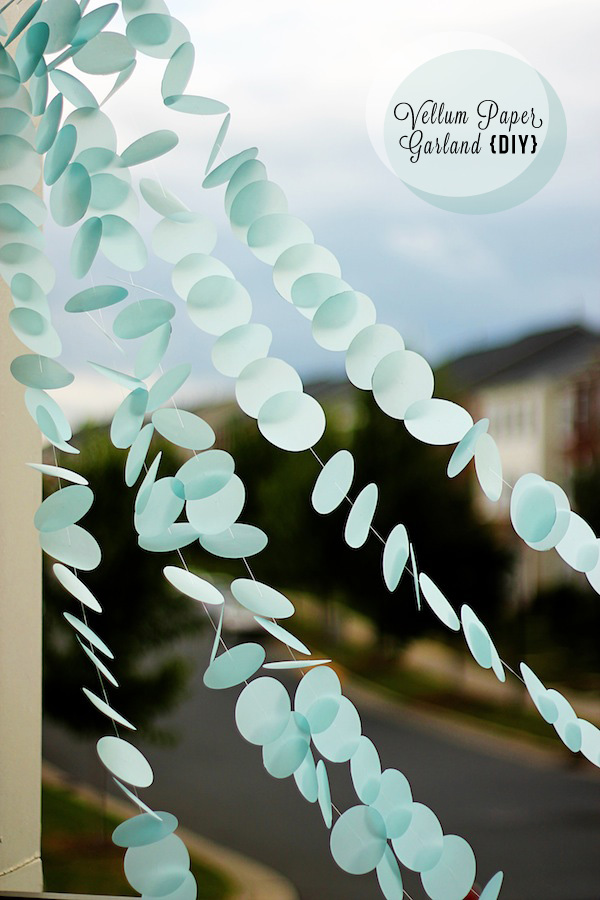 What you'll need:
– Vellum paper (I purchased this kind)
– Circle hole punch
– Fishing line
– Scissors
– Very thin sewing needle
What you'll do:
1) I'm gonna tell you right now that the hardest/most annoying part of this DIY is punching out circles.  It takes longer than you think, and vellum paper is particularly difficult to punch out.  I don't have a good estimate of the number of circles you will need, but my advice is to punch a couple of sheets, then go through the remaining steps to finish up the garlands, then cut out more as needed.
2) Cut your fishing line as long as you want the garland to be, and leave a little bit of breathing room on the ends just in case you underestimated.  Start at one end of the fishing line and tie a double or triple knot almost at the end, but leave a little room for you to be able to tie up the garland later.
3) Use a very thin needle to punch a hole in the center of one of your vellum circles.  Don't go all the way through with the needle because too big of a hole can allow the circle to slip past the knot on the end.  Thread the unknotted end of the fishing line through the hole and bring the circle all the way to the knotted end.
4) Repeat by leaving a little bit of room on the wire (so the circles can move around and look fluid) and then tie another knot to keep the first circle in place.  Thread another vellum circle and repeat the process, making sure that there is a knot between each circle and a knot at the other end to keep the circles in place.