In recent years, it has become somewhat of a tradition for Colleen and I to bake each other's birthday cakes.  When I asked Colleen what type of cake she wanted this year, she said she wanted almond and that she wanted the frosting to be light and "whippy." Hmm.  How delightfully specific.  So I took to google and searched "whippy frosting"  and I found the little gem of a recipe that I will share below.  I didn't want to use a whipped cream frosting because I knew I was going to be making a 3 layer cake and needed a frosting that would be substantial enough to hold the layers together and not slide off each other.  That could be less than desirable.  The cake recipe I used is the same recipe we used for our Ombre Almond Cake.  I am not gonna go through that all again so I will refer you fine folks back to that post should you want to see the recipe.  The name of the frosting was "That's The Best Frosting I've Ever Had."  I thought it sounded like a winner.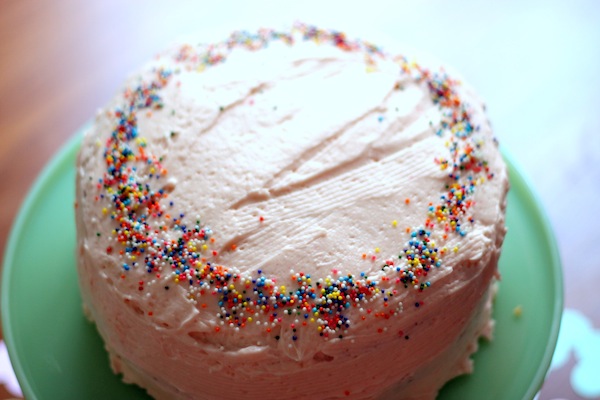 "That's The Best Frosting I've Ever Had" frosting
from Tasty Kitchen.  For my three layer cake, I doubled the recipe and had plenty left over.
– 5 tablespoons flour (you heard me)
– 1 cup whole milk
– 1 tsp almond extract (or whatever flavor you want)
– 1 cup butter
– 1 cup granulated sugar (not powdered)
I did not take many pictures during the frosting making process because I was also trying to get ready for Colleen's birthday party and was super busy.  So I will just show you what I got.
In a small saucepan, whisk flour into milk and heat, stirring constantly, until it thickens. I kept on medium heat initially and then turned it lower once it started to thicken a little.  You want it to be very thick, thicker than cake mix, more like a brownie mix is. Remove from heat and let it cool to room temperature. (If I'm in a hurry, I place the saucepan over ice in the sink for about 10 minutes or so until the mixture cools.) It must be completely cool before you use it in the next step. Stir in almond.  This will not taste delicious yet.  Take my word for it.
While the mixture is cooling, cream the butter and sugar together until light and fluffy. The recipe specified that you don't want any sugar graininess left but I will admit that mine was still a little grainy when I started the next step.  It all turned out fine in the end.
Then add the completely cooled milk/flour/almond mixture and beat the living daylights out of it. If it looks separated, you haven't beaten it enough.  Beat it until it all combines and resembles whipped cream.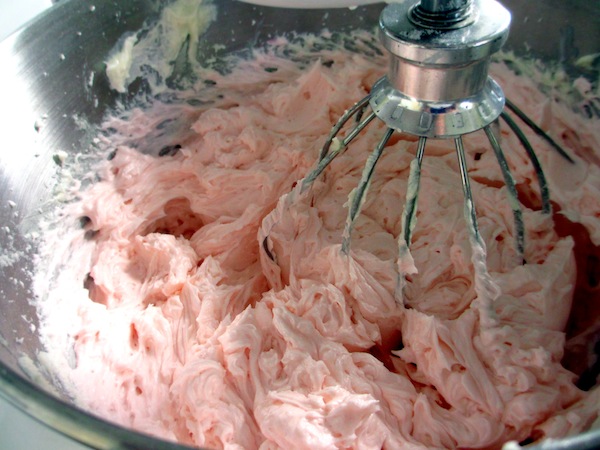 I took some pictures of assembling the cake because I thought someone might be interested in this.  It is not always as easy as it might seem.  Most of my tips and tricks come from Smitten Kitchen.
– If you can't frost your cake right away, wrap each layer up tight in layers of saran wrap and freeze them.  Take them out of the freezer and let them thaw while still wrapped up to keep moisture in.  I have seen conflicting information about this but it worked fine for me.
– To layer a cake, it works best when each layer is flat.  I usually cut the tops off with a serrated knife.  Yes, I know my knife is crappy.
– Put pieces of wax or parchment paper under the first layer of cake to keep the plate or cake stand clean around the cake.  When you are done frosting, just pull out the pieces of paper.  This works great.
– If you are making a cake that is prone to dry out (like almond), you should brush simple syrup (1 part sugar to 1 part water dissolved together in a sauce pan and cooled) on each layer to add moisture to the cake.
– It is also helpful when frosting the cake to do a crumb coat (thin layer) around the whole cake and then stick the whole cake in the fridge to harden the frosting.  This makes it easier to make a smooth and crumb free second layer of frosting.  Unfortunately my fridge was full so I was not able to take advantage of this trick.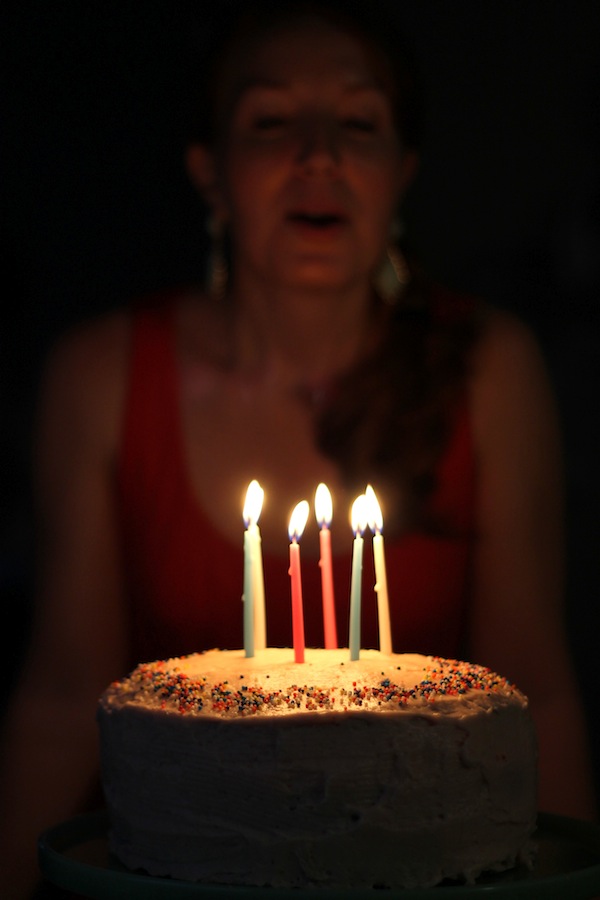 The cake, as always was delicious, but the big surprise was the frosting.  I was feeling a little skeptical when I started due to the flour, but it turned out to be seriously yummy.  It was light and fluffy and sweet, but not too sweet.  It would definitely be worth trying for your next cake adventure.