When Bean and I were in New York a few weeks ago, we went to a Club Monaco store and I found this little bracelet I really liked.  It costs $30, which isn't so bad for the world, but I felt was a little steep for this particular bracelet.  The majority of it seemed to be made out of string after all.  Colleen and I decided that we would attempt to make it at home and so we did this past weekend.  It was a pretty quick little project once we worked out how we were going to do it.  The color options on this one are endless and it might make a very cute and cheap addition to your bridesmaid gifts or any gift in general.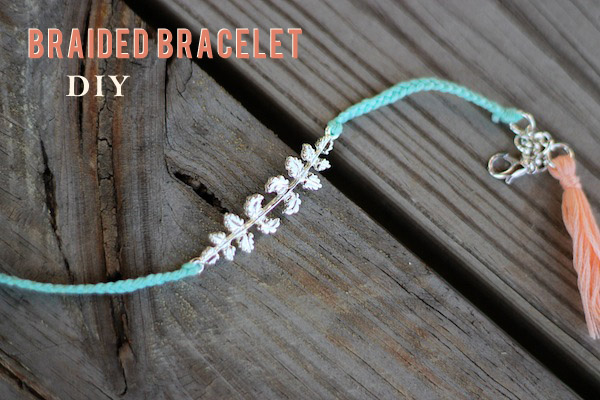 What you'll need:
– String – We used the kind that I used to use on hair wraps in middle school days.  Hair wraps were ever so cool. 😉  It is available in millions of colors at Michael's and calls itself floss apparently.  Each color came in at around 39 cents.  We used much less than one little spool (?) for each bracelet.
– Jump ring s- These were around $2
– Chain – Around $3
– Clasps – Around $2 as well
– Charm of some sort – We found these pretty fancy ones for $3 at Jewelology
– Tweezers or jewelry pliers – I found 2 pairs to be helpful when trying to pry the links open and to be honest, I liked the plain old tweezers better
What you'll do:
1. Pull three strings through one loop of your charm.  The length will be completely dependent on how big your wrist is.  Keep in mind that you will fold them over before you braid.  If they are not all exactly the same length, no biggie.
2. Divide the six strings into 3 sections by placing 2 strings each together in a section.  Start to braid the 3 sections like you are braiding hair but making sure to pull the braid quite tight.  It helps if you have someone to hold the charm so you can make sure it is taught.  A trusty clipboard reminiscent of an old school friendship bracelet set up may also work.  Braid until your braid can reach from the charm around to the back of your wrist.  Keep in mind that there will also be a length of chain in the back so it doesn't have to be so long.
3. Insert a jump ring through the unbraided part of half of the strings (3) and tie it taught.  Make sure to double knot.
4.  Repeat the same steps through the loop on the other side of the charm.  You should now have a charm with a braided section and a jump ring on each side.  Trim the unwanted pieces of string as closely to your double knot as possible without losing the knot.
5.  Take your chain and estimate how long it will need to be on the underside of your wrist to complete the bracelet.  Loosen a link to shorten and attach the chain to one of the jump rings.  I got bamboozled into buying a pair of fancy jewelry pliers but I needed a pair of tweezers as well to pry the links open.  I think if you just had two pairs of tweezers you would get it just fine.  If it is too long or short, just add or subtract rings.  Squish the links closed.
6.  Attach your clasp to the other end of the chain (the dangling end) by loosening another link and re-tightening it around the clasp.  You should now be able to attach the clasp to the empty jump ring on the end of the braided side.
7.  Add another jump ring wherever you would desire your tassel to be on the chain section.
8. Make a tassel by cutting lots of smaller sections of string and looping them all together through the jump ring.  Take another piece of string and tie around the bunch at the top towards the jump ring.  Trim the pieces so they are all together, even and look like a tassel.  Trim the unwanted part of the string used to tie your tassel together.
Here is Club Monaco's…
Here is ours…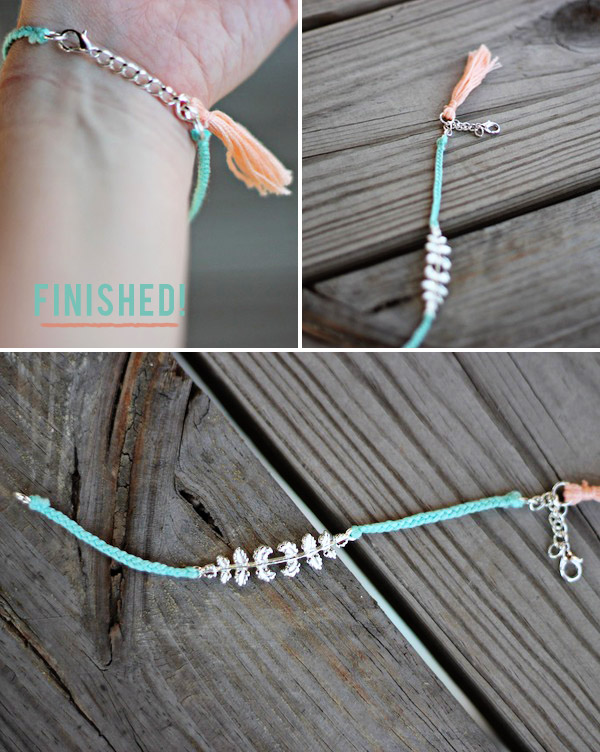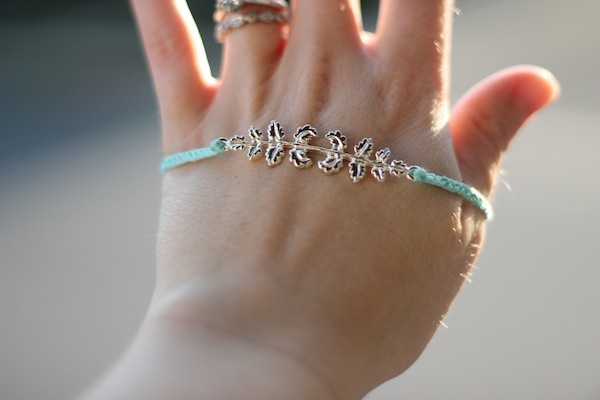 So not exactly the same.  But pretty close and definitely a similar idea.  I am sure you could find a charm that is closer to theirs if you wanted to work at it, but I actually really like ours anyways.