Flowers, particularly for a wedding, are pretty expensive.  We actually got really lucky by finding a reasonably priced florist, but it is not unheard of to see flower budgets of $3000-$5000.  Traditionally a major component of flower costs is spent on altar and ceremony decorations.  A more recent trend is to use alternative methods for ceremony decoration, which I am quite a big fan of.  Here are some of our favorite ways to decorate your ceremony without spending millions on flowers.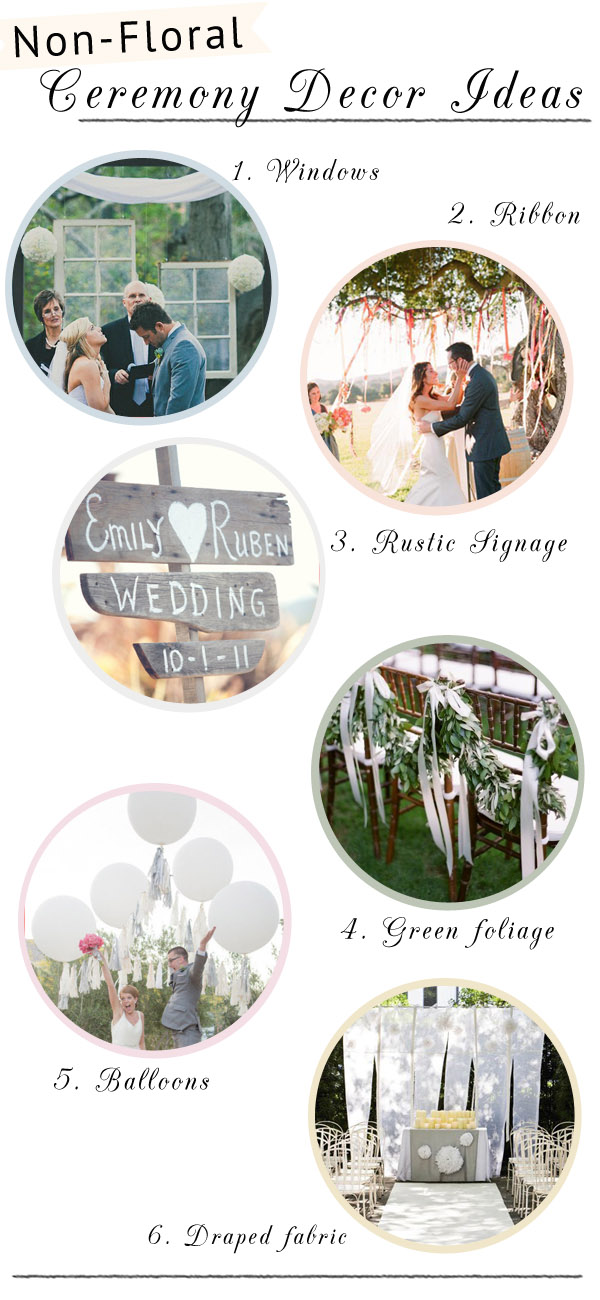 1. Windows hung behind the altar.  Love me some windows.  Another favorite use is for a menu board.
2. Ribbon, ribbon, everywhere.  Hung from trees.  Hung from chairs.  There is something so ethereal about flowing ribbon.
3. Rustic signage painted on wood pointing your guests in the right direction.  We also love individual letters placed into a special message hung from the trees (or behind the altar).
4. Green foliage draped over the altar or on chairs.  This isn't really flowers so we feel like we aren't cheating.  Maybe.
5. Balloons have been hip and trendy for awhile, but we still love them.  Aren't they just so darn cheerful?
6. Draped fabric running across or behind the ceremony space.  We used some white draped fabric for our ceremony and I think it really added to the decor, although I could be biased.