Those of you who have been around for awhile might remember that my husband Corey is somewhat of a coffee connoisseur.  We purchased an espresso machine for ourselves last year and it would not be an exaggeration to say that he has used it five times a week since then.  Me, I'm lazy.  I can just barely take the effort to put normal drip coffee in a normal drip coffeemaker.  He makes all sorts of delicious concoctions that are usually even better than what you would find at your corner Starbucks, and I figured it was time to share another very specific recipe with the world.  (He fancies himself an artist, so he doesn't use those pesky measuring tools.  I will try to give you estimates anyway.)  Here is a how to on a pretty spectacular Iced Coconut White Mocha from Corey:
What you'll need:
– Now if you have a fancy espresso machine then you probably have all the standard gear to make espresso, including the espresso beans.  If you are just learning how to use your espresso machine, feel free to email and I will send your questions directly to the expert.  If you don't have a fancy espresso machine then just make your coffee super strong and substitute.
– Milk – the fattier the better – Corey uses 2%
– Torani White Chocolate Sauce.  Yum.
– Torani Coconut Syrup.  Corey gets all his syrups and sauces from World Market.  You should see our cupboard, we look like Dilworth Coffee up in here.
What you'll do:
1.  Prep:
-Purge espresso machine.
-Place thingy (group handle/portafilter) onto espresso machine to heat.
-Add Espresso beans to grinder and grind:
a) 2 scoops for normal shot of espresso
b) 4 scoops for double espresso (for tired souls)
-Select syrups/sauce to make your deliciousness.  In this recipe we are using white chocolate sauce and coconut syrup.
2.  Prepare:
-Select mug or glass depending on whether you are making a hot latte or iced; I prefer iced and will be describing how to make this version.
-Add white chocolate sauce and coconut syrup; then stir. (Editor's note: I would approximate measurements as 2 tablespoons white chocolate sauce and 2 tablespoons coconut syrup.)  If you like your coffee super sweet, add more.  As I have added a double shot of espresso, I added quite a bit more.
3.  Espresso:
-Add two scoops of ground espresso to the thingy/portafilter.
-Stamp it with the stamper device; not too hard, yet not too soft (Editor's note – I told you he was specific.)
-Put the handle with espresso onto the machine, press button, out comes espresso.  I usually run it about 15 seconds.  Repeat steps if you want an additional expresso shot.
-Add espresso to the syrup/sauce concoction and stir.
4.  Creation time:
-Pour a little over 1 cup of milk into glass and stir while pouring.  Then pour entire mixture into another glass already filled with ice.  As per usual, give milk to cat for added cuteness.
-Add whip cream if you are feeling particularly indulgent.
5.  Don't forget to clean your machine:
-Purge machine/run steam through steam wand (takes like 10 seconds, not too much work).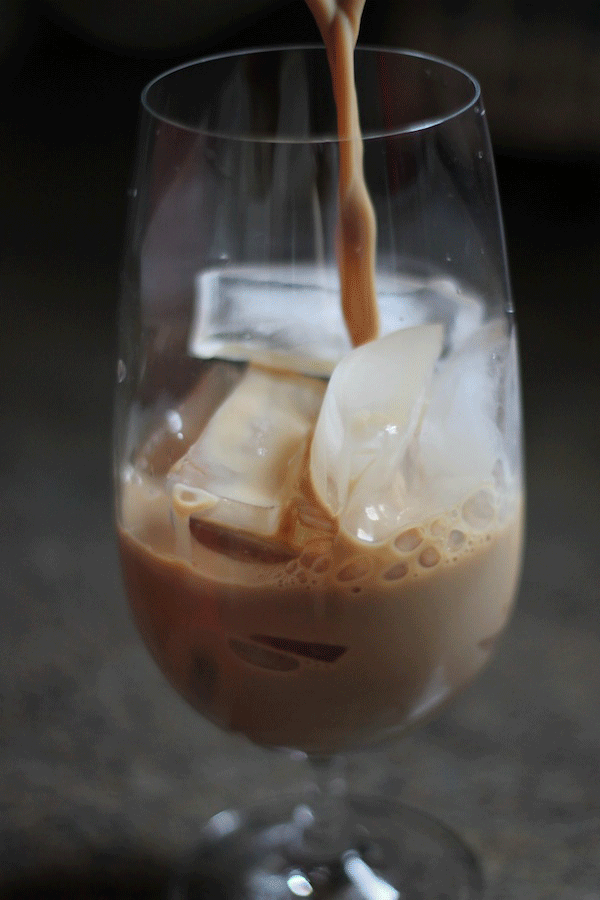 Additional Notes:
-In case you want it hot (takes place after step 3):
-Turn on steam wand device so that it can heat; just takes a minute or two.
-Pour milk (fatty milk is best) into steaming pitcher; get out thermometer and get ready.
-Test steam and then you are ready to Steam-A-Steam.
-Place pitcher under steam wand; do not press wand to the bottom of pitcher, terrifying things will happen that involves the wand shooting off into your pitcher and milk going everywhere.
-Steam away, your milk will be ready between 130 and 140 degrees.