Before I even start I want to be clear that the way I did my tile is probably quite far from the way a professional would do it.  I basically did a bunch of research online and then made it up as I went.  I definitely made mistakes along the way which I am going to outline for ya'll because the information that I found didn't touch on some of these things.  I chose a beveled subway tile that I bought at buytile.com.  I didn't have any really big problems with the company when ordering, it came fairly quickly and it was the cheapest option in a beveled tile that I found.  Once it came, I realized I would have to find some tile to finish the edges with. The little bit of information I found about beveled subway tile said that you should use quarter round trim tile to finish it.  So I went up to Lowes to see all my besties and ordered some quarter round trim tile from them in the color option that best matched the other tile I bought.
I am not going to go into every little detail about tiling because there are alot of tutorials out there that can do that.  Here is one.  Here is another.  I would also watch some youtube videos if I was ya'll.  I am gonna do a little overview and discuss some issues specific to beveled tile.
Materials I used:
-Beveled edge subway tile
– Quarter round trim tile-  You need an trim tile with beveled subway tile due to the differences in thickness between the edge and the middle.  It's totally a thing.  I promise.
– wet saw
– level
– porcelain marker
– tape measure
– 1/4 inch spacers– I just laid these flat on granite to space the tile evenly above it.
– 1/16 inch spacers– I totally used these the wrong way.  Disaster.  As a result my spaces were actually about 1/8 inch.
– Ready to use universal adhesive
– Notched trowel
– Mapei Keracolor unsanded grout white
– Grout Boost (unsanded)-  I mixed my grout with this instead of water
– Smallish grout float-  I started using this but then I dumped it and used a paint stir stick and my finger.  Obviously the wrong way as well.
– special grout sponge thing
-Maipei Keracolor siliconized acrylic caulk
-caulk gun
I also decided to just buy a $90 wet saw (the cheapest they had) from Lowes because I knew I wanted to take my time with it and renting them ain't cheap.  I thought I had really tricked the world with this until I got home and realized the damn thing was some assembly required.  Crap.  And the directions they gave me for assembling it may as well have been written in Chinese.  Double crap.  And so after procrastinating by eating half a box of Cheerios, I began assembling my saw by guessing.  Incredibly, I was able to figure it out.  Then I called my dad over to tighten the diamond blade to make sure it was bolted in.  Scenarios that involved the blade flying up into the air mid-cut seemed less than desirable.  Also, wet saws are a big old mess so take it outside to work or a place that you don't mind getting messy.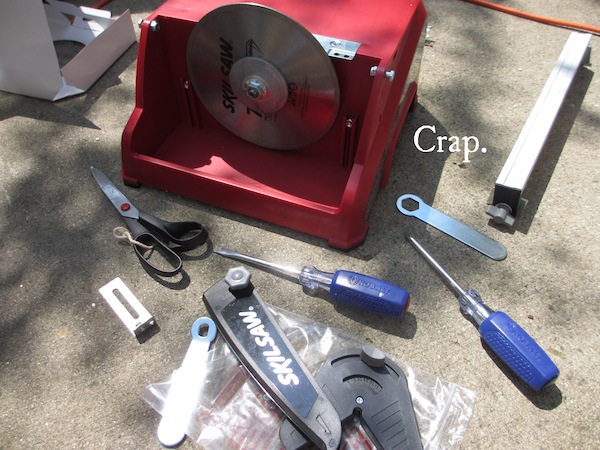 I started out by figuring out how to cut some tiles so that they would be exactly half the size of a full tile.  The measuring for this is actually trickier that it would seem and I have no words of wisdom for you on this except use your math skills.  And make sure your wet saw has water in the bottom before cutting.  Just believe me on this one.
The spacers I used along the bottom of the tile between the tile and the granite were 1/4 inch and the spacers I used for between tiles were 1/16 inch.  Then of course I actually used them incorrectly so the spaces grout lines ended up being 1/8 inch.  Oh well.
In order to start the running bond tile pattern that I used for the subway tile look, I started at the most visible edge of the counter and laid out a full tile at the very bottom edge and then a half tile on top of that working my way up.  Of course everything that I saw on the internet said start in the middle point of the wall but that seemed way stupid to me so I didn't listen.  As long as you work from one side to the other, you will be able to find your pattern.
On applying the adhesive…I used the basic adhesive from Lowes called Ready To Use Universal Adhesive.  I used the smaller notched trowel I found at Lowes  and spread the adhesive on that way for most of the job but I actually back buttered quite a few tiles as well because I could get more of the adhesive on that way when it was in a small space.  This just means putting the adhesive directly on the tile.
To make cuts, I did some measurements but mostly I just held the tile up to the space and marked on it where it needed to be cut.  This is probably one of the reasons it too me so long.  You will learn quickly that the blade on the saw is thick and you will lose some of the tile when making your cuts.
I placed the main tiles first primarily and then put the trim pieces on.  I always used my level to make sure everything was staying straight.
For the corners, I had my dad come over to help me set up a 45 degree cut to form a corner.  Then, I shortened the trim piece to fit in the appropriate space.  Any little gaps can be filled with grout.
Let dry for appropriate time.
Mix up smallish amount of grout as it dries quickly.  I don't have pictures of grouting.  Sorry.  To fill beveled tile, you need to push the grout into the gaps.  I ended up using a paint stirrer stick from the paint department at Lowes.  Then I took my finger and ran it over the crack to expose the bevel section so it isn't covered.  Then let dry for 20 minutes and wipe the extra gunk off the grout and smooth the line with the sponge.  I used one that was kinda rough and one side and spongey on the other.
When the grout has had some time to dry (the directions will tell you specifically) wipe the tile so it is clean and shiny.  There is probably something special to do this with but I didn't have it.
I let my grout dry for w few days before caulking.
Caulk between the tile and counter.  Apply caulk, run your finger over it, and then take a damp cloth and wipe off excess.
Other mistakes I made: (that I remember)
– Wear your shoes when you cut the tile (along with your fancy goggles and mask).  The tile chips and there will be porcelain shards everywhere.  I was feeling too cool for shoes and paid the price.  It is not fun to get shards in your foot on 3 separate occasions on the same day.  Also the shards will track around so be careful about vacuuming when you finish for the day.
– When you remove the outlets before tiling, pull the whole inner box out including the little tabs that hold it to the wall.  You want to cut the tile as close to the hole size as possible.  This way you can put the tabs on top of the tile and the covers will be where they need to be.  I ended up having to rig mine up and definitely did it the wrong way.
I will add if I think of anything else that is important.  Here is more closeup of the finished product…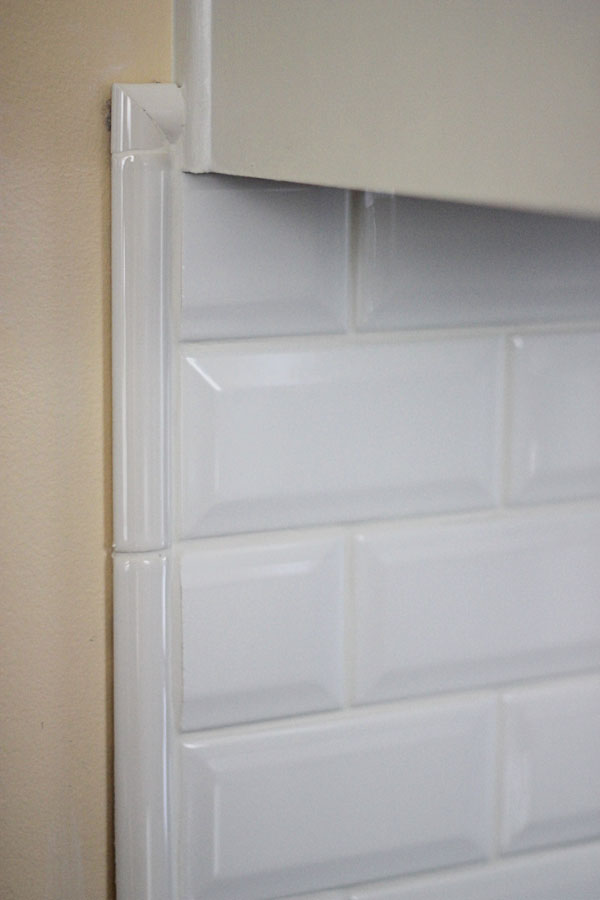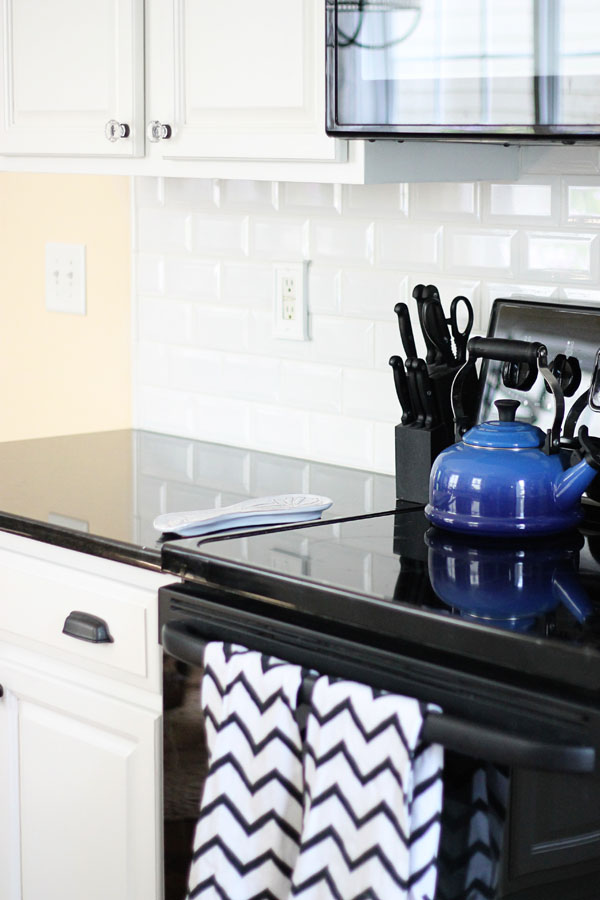 Obviously I need to paint the window sill.  We actually had to redo it before I started tiling so it is just the primed molding color at this point.
Check back to my post from yesterday to see a before and after of the whole kitchen if your heart so desires.