In the spirit of the new Snow White movie, which is actually the second of the year (why is it that they always do that?), I decided it would be fun to do another wedding story post.  Meg and I have big plans to see it this weekend, and despite the fact that I sometimes find Kristen Stewart highly embarrassing to watch, I am actually quite excited about it.  This time we don't even have to rearrange the ending (like we did with Gatsby or Romeo and Juliet), because everyone knows that Snow and Charming are currently hanging out in their fairytale palace somewhere far away.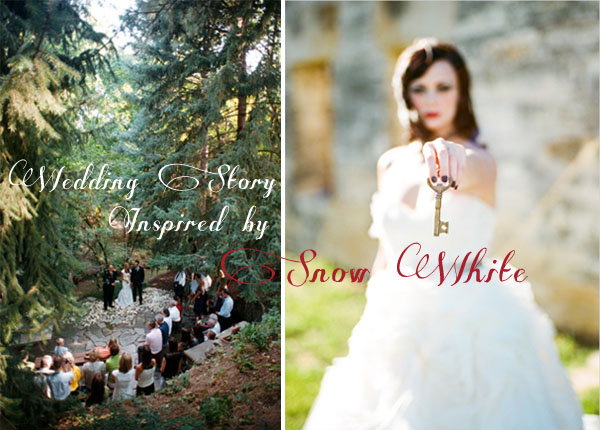 I imagine that Snow and Charming's vows would be taken where Snow is most comfortable, in a hidden majestic clearing in the woods of an enchanted forest.  The ceremony decorations are kept to a minimum to take advantage of the natural beauty of the old growth trees.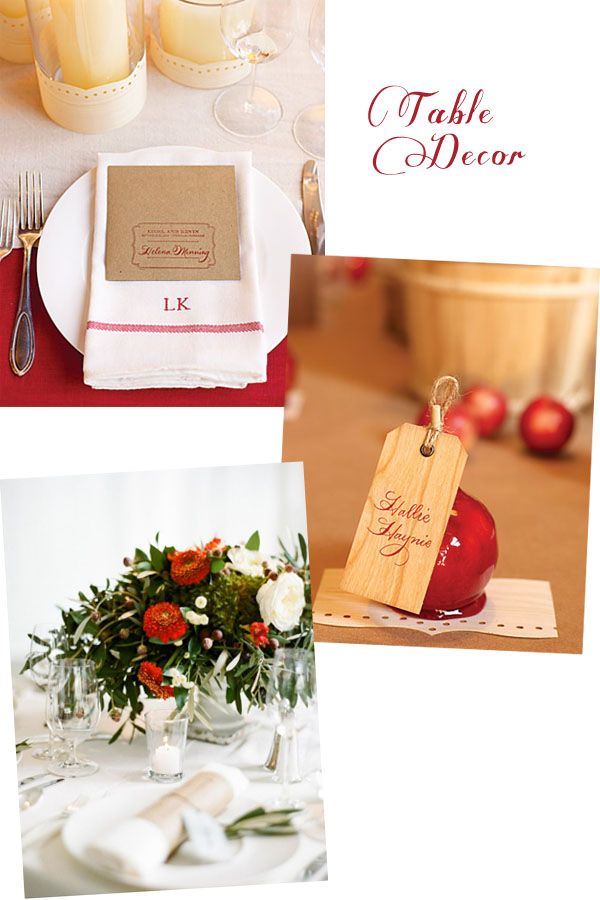 After Snow and Charming say I Do, the guests are treated to an elegant but simple sit-down dinner with red accents and a slightly rustic feel.  Apples are, of course, a main component of the decor, to remind their guests of the hardships their love had endured.
Snow is breathtaking in a strapless organza ballerina ballgown made by the one and only Vera.  Her hair is curled into natural spirals, with wildflowers placed loosely among her tresses, and her only accessories come in the form of some fantastically red peep toe pumps and teardrop crystal earrings.  Her bouquet is composed of snowy white anemones.
Snow's bridesmaids wear simple chiffon gowns with fluttery cap sleeves.  Their bouquets are similar to the brides, only slightly smaller and simpler.  They are accessorized with ornate mother of pearl necklaces and simple rings with little pink hearts.
Snow and Charming decided on desserts of a classic white cake accented with apples as well as caramel and candy apples for the guests to enjoy while they dance the night away.  Their letterpress invites held a simple red calligraphy, timeless and elegant, as is their happily ever after.
Image Credits: 1  2  3  4  5  6  7  8  9  10  11  12  13  14  15  16