Last week, I had a sudden and desperate need for cookies.  I'm not sure when it happened, or what I was doing, but out of the blue I decided that I could not rest until I had cookies.  Well I could rest, but I would be sad until I could have them.  You know what I mean. So I tried to describe said dream cookie to Megan through a series of emails.  It would maybe be chocolate chip?  I always did like chocolate chips.  And maybe it would have almond?  And coconuts?  Megan responded with a link to my new best friend, Marianne's Coconut Almond Chocolate Chip Cookies from Heat Oven To 350.  I do not know Marianne, but I quite enjoy her cookies.  Here is the recipe so you can enjoy them too.
Ingredients:
– 2 cups flour
– 1 tsp baking soda
– 1/4 tsp salt
– 2 sticks unsalted butter, softened
– 3/4 cup packed light brown sugar
– 3/4 cup granulated sugar
– 2 large eggs
– 2 tsp vanilla extract
– 1 tsp almond extract
– 2 cups shredded coconut
– 2 cups chocolate chips
– 1 1/2 cups lightly salted, dry roasted almonds, finely chopped
What you'll do:
1) Preheat oven to 300 degrees.  In a small bowl, combine flour, baking soda and salt.
2) In a medium bowl with an electric mixer, cream the butter and sugars.  Beat in the eggs, vanilla extract, and almond extract.  Mix on low speed until blended.  Thank goodness Megan was with me because apparently I have been creaming butter incorrectly all this time.  Who knew.  And also was forgetting to lock my Kitchenaid in place while using it.  Whoops.
3) Put your almonds on a cookie sheet and throw in the oven to let them roast.  Take them out when you can smell almond.  We kind of forget about them and left them in for too long but it still turned out ok.  Add the flour mixture to the butter mixture and mix just until blended.  Do not overmix.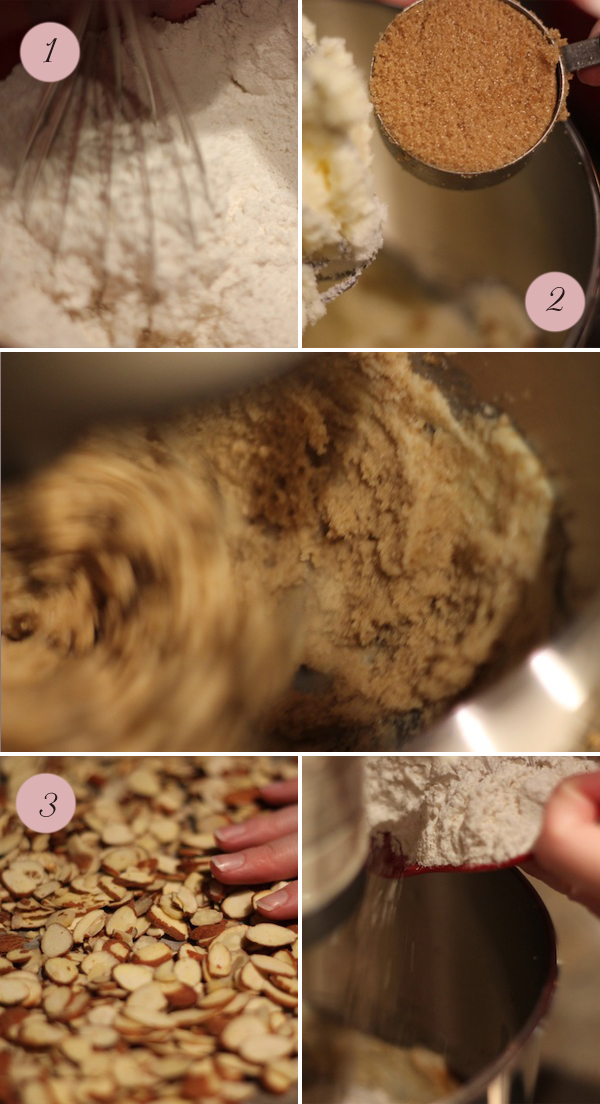 4) Add the coconut and chocolate chips to the mixture.  Put your roasted almonds in a food processor until super finely chopped, almost like a flour.  Then add them to the mixture as well.  We hand mixed this part due to our fear of the step before where they told us "do not overmix."  Scary man.  What happens if you overmix?
5) Place your cookie dough in heaping teaspoons on ungreased cookie sheets 2 inches apart.  Bake for 18-20 minutes, or until set.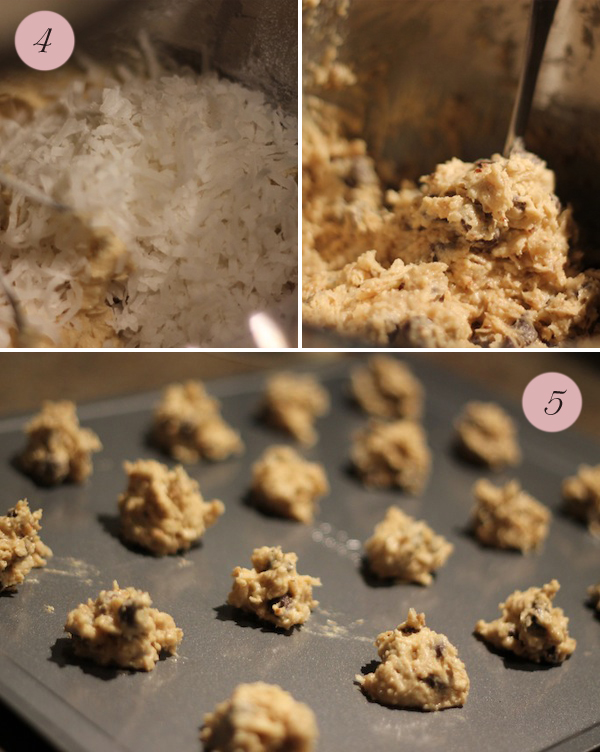 These cookies were really pretty fantastic.  The almond and coconut added an extra special touch to the standard chocolate chip.  Just enough to feel like something new and different, but not too different that you can't still taste the cookie you grew up with.  Yum.