I am not normally in charge of making the cakes.  Really, the cake makers in the family are Megan and Corey's mom, who can whip up a cake that would make your head spin.  My comfort area is more with the cookies and bars.  However, whenever Megan's birthday rolls around, I always pull out the cookbook to make her a delicious hummingbird cake.  Well we really just had hummingbird cake like yesterday, and also we got Meg some hummingbird cupcakes for her birthday dinner with friends Saturday, so instead I decided to attempt the gorgeous Southern Living Strawberry Mousse Cake.  If you get Southern Living, I feel certain you know what I'm talking about.  It looks like pure deliciousness.  Well my version wasn't really perfect, although it was very tasty.  But maybe you guys can learn from my mistakes.  Or just buy a cake mix, which would have solved all my problems in the first place.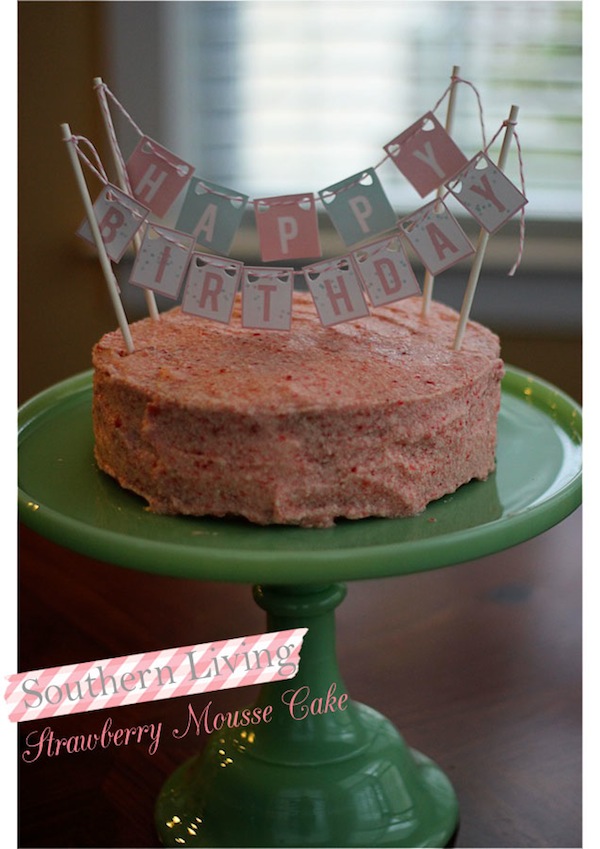 What you'll need:
Cake Layers
– 1 1/4 cups butter, softened (got this one – woohoo!)
– 2 1/4 cups granulated sugar
– 7 egg whites, at room temperature (I took artistic liberties with room temperature, resulting in my failure)
– 3 1/2 cups cake flour
– 4 teaspoons baking powder
– 2 teaspoons vanilla extract
– 1/2 teaspoon almond extract
Strawberry Mousse
– 1 envelope unflavored gelatin (not Jello.  I was totally confused too)
– 2 cups sliced fresh strawberries
– 1/4 cup granulated sugar
– 1 cup whipping cream
Strawberry Frosting
– 3/4 cup butter, softened
– 5 cups powdered sugar, sifted (sifted smifted.  we don't sift in these parts.)
– 3/4 cup finely chopped fresh strawberries
What you'll do:
1) First prepare your cake layers.  Preheat oven to 350 degrees.  Beat 1 1/4 cups softened butter and 2 1/4 cups granulated sugar at medium speed with a heavy-duty electric stand (I used my Kitchenaid for the first time and she was amaze) until fluffy.  Gradually add egg whites, one-third at a time, beating well after each addition.  As I mentioned previously, I kind of ignored the fact that the egg whites were supposed to be at room temperature and it made the cake batter all weird.  I think you should probably actually do this in order for the cake to be normal looking.
2) Sift together cake flour and baking powder.  Yah I started to do this, I really tried, but it was taking sooo long.  So I just stopped sifting.  I'm the worst.  Anywho, gradually add the cake flour and baking powder mixture to the butter mixture alternatively with 1 cup water (not noted in the recipe, those tricksters), beginning and ending with flour mixture.  Stir in vanilla and almond extracts.  Pour batter into 4 (I actually only used 3) greased and floured 8-inch round cake pans.  If I have babbled on so much that this step is no longer understandable, just google Southern Living Strawberry Mousse Cake and you will totally find it.
3) Bake at 350 degrees for 22 to 25 minutes or until a wooden pick inserted in center comes out clean.  Cool in pans on wire racks 10 minutes; remove from pans to wire racks, and cool completely (about 30 minutes).  This was about when I realized that things had definitely gone awry.  My cakes were super thin.  Like really thin.  Like pancake looking.  They were thick enough to use as layers, but just barely.  I attribute this mostly to the egg temperature and the failure to mix the baking powder completely (?).  I called Megan and told her that it was entirely possible that her birthday cake would be crap so she should prepare herself.  Then I continued on my merry way.
4) Pepare Strawberry Mousse (I think I actually got this part right).  Sprinkle gelatin over 1/4 cup water in a small bowl and let stand 5 minutes.  Process 2 cups sliced strawberries and 1/4 cup granulated sugar in a blender or food processor until smooth, stopping to scrape sides as necessary.  Transfer strawberry mixture to a small saucepan; bring to a boil over medium-high heat.  Remove from heat.  Add gelatin to strawberry mixture, stirring constantly until gelatin dissolves.  Cover and chill until consistency of unbeaten egg whites, stirring occasionally (about 30 minutes).
5) Beat whipping cream at low speed until foamy; increase speed to medium-high, and beat until soft peaks form.  This takes a while, maybe 5-10 minutes?  Fold whipped cream into strawberry mixture until well blended.  Cover and chill 30 minutes or just until mixture is thick enough to hold its shape when mounded.  I actually chilled for longer than the recipe says based on some reviews I found online.
6) Spread about 1 cup Strawberry Mousse between each cake layer, leaving a 1/4-inch border around edges; cover and chill 3 hours or until mousse is set.
7) Prepare Strawberry Frosting: Beat 3/4 cup softened butter at medium speed 20 seconds or until fluffy.  Gradually add powdered sugar and 3/4 cup finely chopped strawberries, beating at low speed until creamy.  Spread frosting on top and sides of cake.  So I think I made the frosting correctly, but I had to put it in a container and then drive up to north Charlotte with it before we put it on the cake, which I think contributed to the weird texture.  I wasn't all that bothered by it though.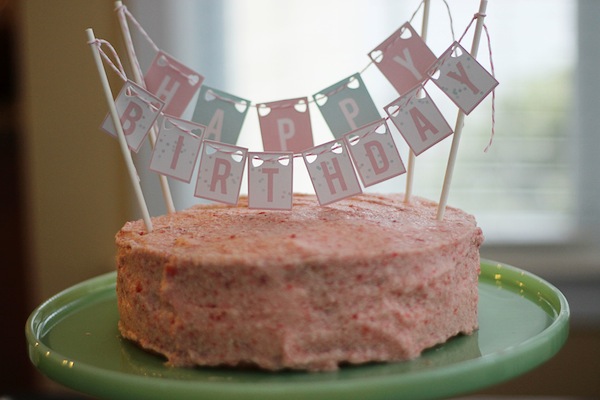 So in the end, although it was really flat, with pretty strange looking frosting, people still went bonkers over it.  So I guess it was kind of a success?