This week marked William Shakespeare's 448th birthday.  As we all know (or do we??), he has a pretty incredible body of work.  It is amazing to think that something written so long ago can still have so much relevance today, despite the world being such a dramatically different place.  When I was in 9th grade, Baz Luhrmann's version of Romeo and Juliet came out in theaters.  During this same year, we covered Romeo and Juliet in my English class.  To say that I became obsessed may be the understatement of the century.  I memorized monologues, watched the movie over and over and nearly cried every time Leo came on the screen because he was so beautiful (has there ever been a better character introduction in a movie?), constructed shrines with twinkle lights in my room, and read and re-read my favorite scenes from the play.  To this day, I would not recommend watching Romeo and Juliet with me as you will be highly annoyed.  Because of this, this is a special and nostalgic wedding story for me and very fitting for this week.
Everyone knows that this is a story about star crossed lovers and therefore does not have a happy ending.  Once again, I am taking substantial liberties with the story because I'd like to believe that, had the story taken place in more recent times, there would have been a different outcome.  Mr. Shakespeare won't mind because we share a birthday after all.  The wedding will obviously take place in Romeo and Juliet's hometown of Verona, Italy.
Because they may still have some family members who do not approve of their wedding, they would decide to keep it small and intimate and take advantage of the rustic, ruined, and breathtaking architecture of the city for their ceremony.  Juliet would walk through a canopy of dripping twinkle lights on her way to the aisle lined with florals.  Other than that, they would want to keep the ceremony decor simple so they can focus on their love for each other and all that they have been through together.
 Juliet would wear a flowing dress embellished with a beaded bodice.  In her hair, she would place an double banded crystal and beaded tiara and her shoes would compliment her hair piece.  Her bouquet would be full of blush pink Juliet garden roses and other soft and creamy flowers.
Juliet's bridesmaids would wear chiffon dresses with a criss-crossed empire bodice and a silver beaded bracelet given to them by Juliet as a thank you for being by her side.  Their hair would be braided into a crown at the nape of their neck and they would carry less elaborate bouquets full of Juliet garden roses.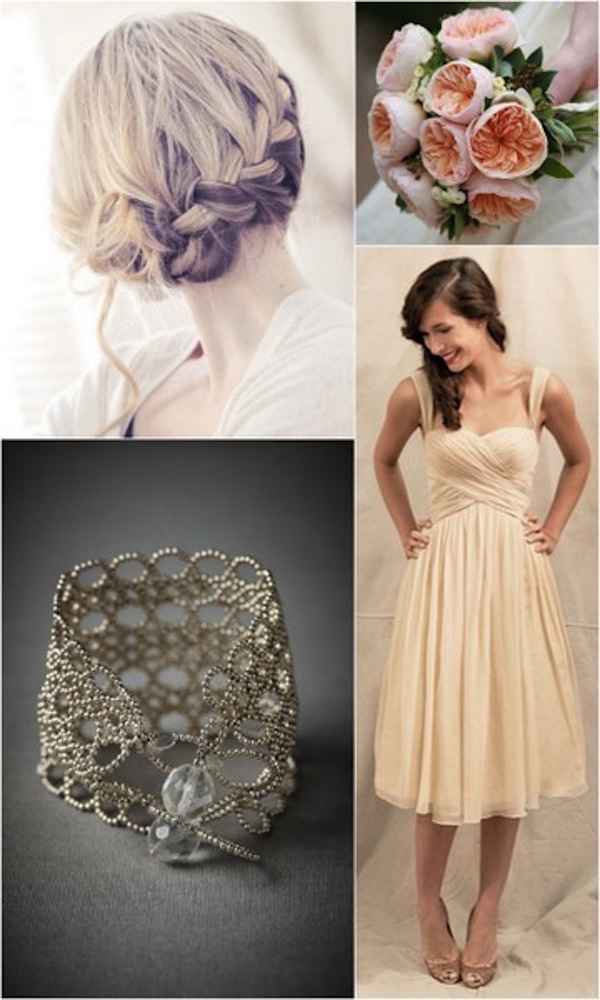 The reception would take place in a courtyard under the stars illuminated with glowing candles and lighting designed to make the guests feel like the stars have descended and are shining brightly over their heads.  This would be a tribute to Romeo and Juliet's stolen moments together when she was on her balcony.  The guests would continue to dance through the night under brilliantly lit globe lanterns and cascading flowers.  Romeo and Juliet would bid their guests farewell by making an appearance on Juliet's balcony before living happily ever after.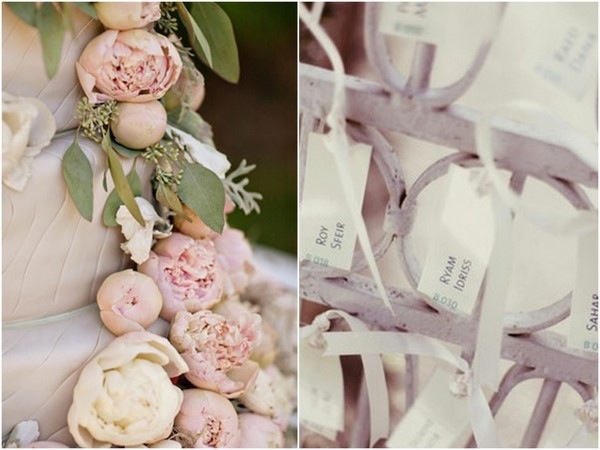 Image credits 1  2  3  4  5  6  7  8  9  10  11  12  13  14  15  16  17  18  19  20  21  22