Meg, myself, and our lovely friend Drew thought it was just about time for another beauty tablescape.  We put our heads together to determine our color palette, and when we decided to incorporate gold into our inspiration, I mentioned the idea of painting old silverware to make it a more suitable addition.  I kept seeing this adorable painted utensil DIY and I was just itching to try it out.  So Meg and I got together last Saturday to paint my old silverware from the pre-registry days, and it turned out mega cute.  You can also see a little peak of how our tablescape turned out, but Meg will show you the rest tomorrow.
What you'll need:
– Silverware (obvs)
– Craft paint in colors of your choosing
– Small paintbrushes
– Shellac Sealer or other protective finish.  Make sure that it is non-toxic and food safe.
– Painters tape (possibly)
What you'll do:
1)  If you are only wanting to paint a part of your silverware, tape off the part that won't be painted to keep the edges clean.  We decided to leave the end of the silverware (the part you eat with) unpainted and just cover the handle, so we taped off this part.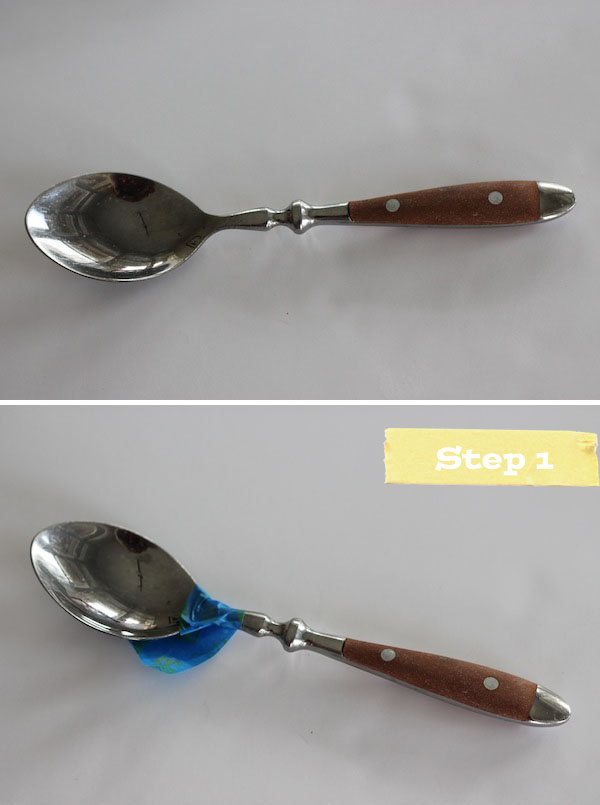 2) Paint a small strip of blue (or other color) right near the tape with a very small brush.  With a slightly larger brush, paint the rest of the handle gold.  If you are more intelligent that I am, you will realize that it is not the ticket to paint both sides of the handle and lay it down because you will have smushed paint.  Better to just paint one side, let dry, then paint the other side.  If you do get some smushed paint, no biggie.  Just sand down a little and re-paint.  I painted about three coats to make sure it was well covered.  After the paint is dried completely, spray the shellac in light coats over the painted area.  I covered the part without paint with newspaper and then sprayed three coats of shellac on each side.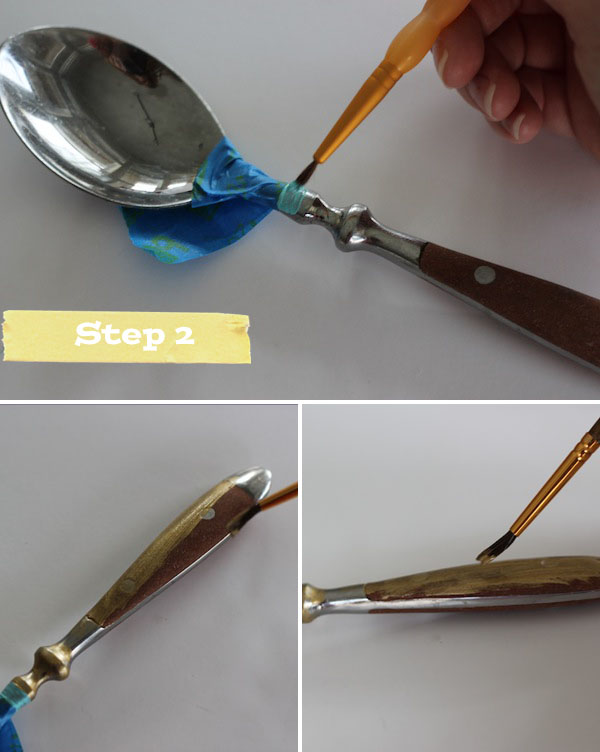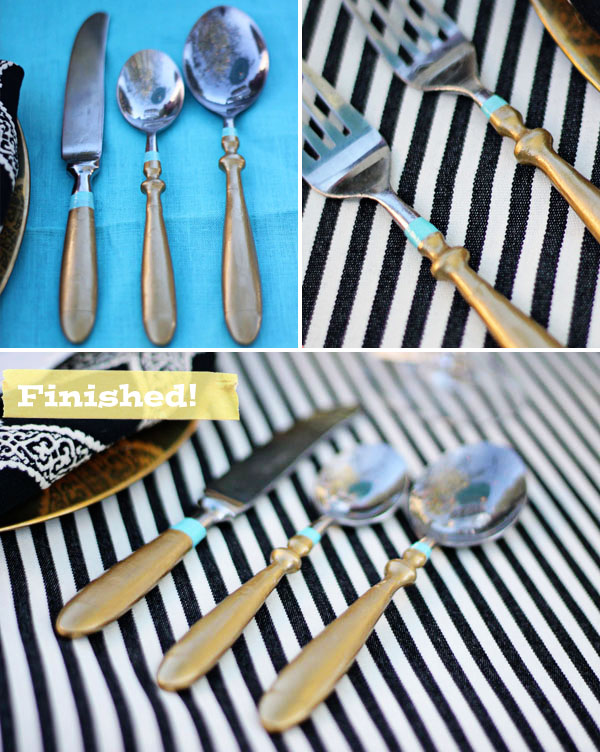 And that's it!  This is a great (and cheap) project if you have old silverware laying around like I did.  We were so happy with how it came out.  Apparently it is hand-washable only for those who are wondering.  We will let you know how that works out.  Come back tomorrow to see our beauty tablescape!  I have to say, it might be my favorite one yet.