During the wedding planning process, one might say that I did some research.  Approximately 100,000 hours worth.  Okay maybe not that much, but really almost.  I searched and searched all of the wedding blogs/ vendors/ magazines to make sure I knew all my options and that everything I did was exactly what I wanted.  It's a sickness people.  There are some resources I used that I now assume everyone knows about, but I guess not everyone spends their entire life in the blog world so they might not know.  Just in case you don't, here they are.
1) Free Stuff.  The free printables from the Wedding Chicks are incredible.  They have invitations, save the dates, and tons of other cute paper products for FREE.  I unfortunately didn't use any of them, but I die over the cuteness every time they put out a new one.  They also have fantastic DIYs, really cute personalized canvas bags that you can buy, and just general wedding beauty inspiration.  Brides really just need to be reading this blog.
This was a free thank you card that I just customized using our wedding colors and names to show you an example. For free people.
Also love this chalkboard place card printable.  We like this one so much that we used it as inspiration for our DIY cupcake toppers we will show you tomorrow.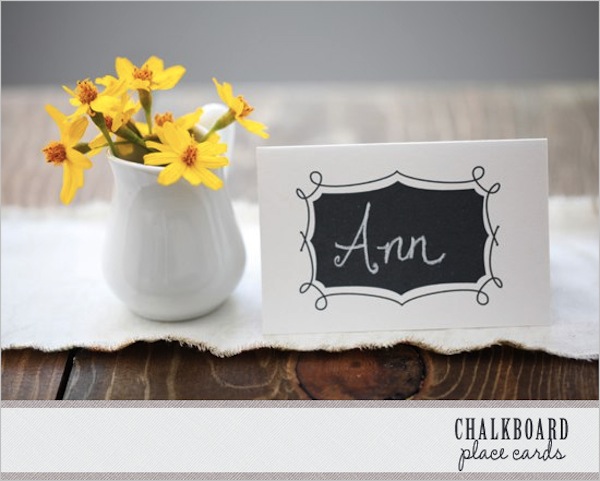 2)  Etsy for wedding decor.  Use it.  I know that some of you have read some of our wedding related posts and said "there is no way I have time for that."  Totally understandable that you don't want to spend every weekend for a year crafting your christmas.  Megan and I are a strange breed.  So, in lieu of hours upon hours of crafting, you can use other peoples crafts to decorate your wedding.  The sheer amount of genius on etsy is pretty much astounding.  Paper products, invitations, jewelry, wedding signs, and veils.  You name it, they got it.  Here are some of my very favorite etsy shops.
I have a special place in my heart for Love to Create Stamps.  I purchased our stamp that we used on our save the dates, invites, and thank you notes from this shop.  So cute.  They don't seem to have the one we used anymore, but I super love this one too.
I love garland of any kind.  Yellow Bird, Yellow Beard has a bunch of different types of garland for really reasonable prices.  I adore this music notes version.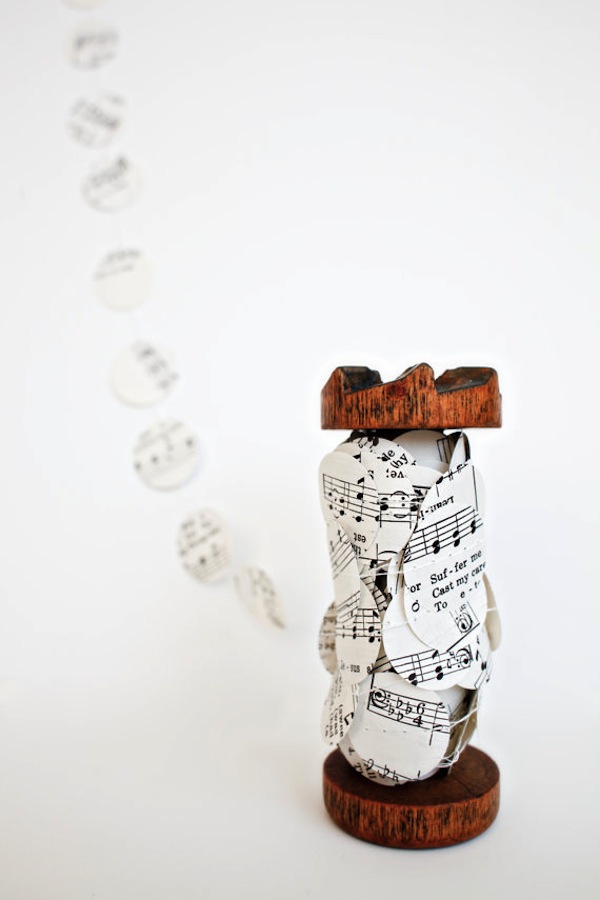 Clearly I am in a black and white mood, and I have always been a sucker for kraft paper, so I love JoBlake's entire shop.  Particularly these adorable little tags.
Another great place to look for decor is 100 Layer Cake's marketplace.  Past brides sell their gently used items, and I am always seeing the most gorgeous decor there.
3)  Bridal Accessories.  I fell in love with four bridal accessories shops while I was engaged.  So much so, that I spent half a year agonizing over which accessory to wear in my hair because there were so many options.  Oh crazy brides.  You guys might already know about all of these, but if you don't, you really need to.
Ban Do (where I bought my hair accessory)
Twigs and Honey.  Isn't this headband gorgeous?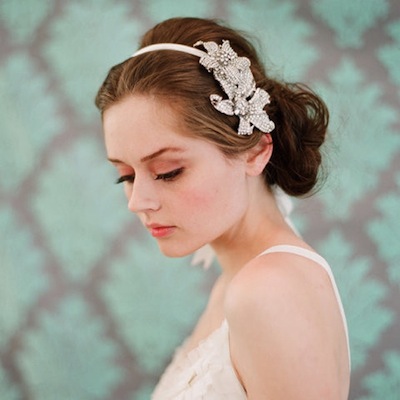 Bhldn, aka Anthro's wedding sister store, has accessories, wedding dresses, rehearsal dinner dresses, and shoes.  This is where I got my earrings from.  They aren't there anymore, but check out these beauties.  Also, Bhldn has some gorgeous (albeat expensive) decor as well.
Untamed Petals.  When I first saw this headband, I thought "this is it!"  Alas, in the end, we decided it was too much with my dress.  And also, I wanted to wear a veil which I thought would look kind of weird with it.
4)  Invitations are a tricky business.  Especially if you fall in love with letterpress and then realize it is 50 million dollars.  I somehow stumbled upon The Aerialist Press, which is really reasonably priced, and still just as beautiful as all the other letterpress companies.  I knew they were my invitation company for sure when I found out they are eco-friendly and use fabric remnants from garment factories that are normally discarded for the paper.  Apparently other people have fallen in love with them as well because they are now a Style Me Pretty, Ruffled, Knotty Bride, 100 Layer Cake, and Wedding Chicks preferred vendor.  Here is one of my favorite suites, called Stella.  Funny that the bride's name is Colleen.  Also, not sure if I mentioned this, but if you super love our invitations, they actually made our design into a house suite called Verdant.  Pretty cool right?
If you are more into the flat printed look, I really like Love vs. Design and Minted.  Love vs. Design is really great because it allows you to either pay them to print the invites and send them to you, or for much cheaper, just print it yourself.  They also have programs, table cards, menus, and thank you cards.  And look at this adorable free mad lib printable that they are offering on their blog.
 Minted has some really beautiful options as well.  And I love that you can print on recycled paper.  This is one of my favorites.
Hope this was helpful!  Anyone else have any fantastic wedding resources we need to know about??