I had been planning to paint the back of my china hutch for basically 2 years now but never got around to it until last weekend.  I had a hard time deciding on a color because I really wanted it to be neutral.  I was thinking about gray (again) but I decided it might be pretty to try silver (again).  I really need to break out of my color rut with painting but I guess you just like what you like.  I used Martha Stewart's Metallic Paint Specialty Finish in Polished Silver from Home Depot.
Which I have to say I was quite happy with.  It goes on very smoothly and the finish actually does look metallic unlike some paints I have tried.
My hutch was getting quite junky for a while there because it is one of those places where I dump random things when I need a quick cleanup or my cats' PICA kicks in and they start eating random non-food items.  Here is an internet acceptable version of my hutch junkiness.  I decided I wanted to clean it up a bit and make it less busy.
Which brought me to this…
And a few weeks later, this…
In preparation for paint.  I cleaned the surface somewhat and wiped away dust, etc. with a tack cloth.  I just used the Polished Silver paint and a brush for the job.  I tried a small foam roller but found it does not work well with this paint.  I just hand edged as well.  Here is the coverage after the first coat.
Two coats was all it took.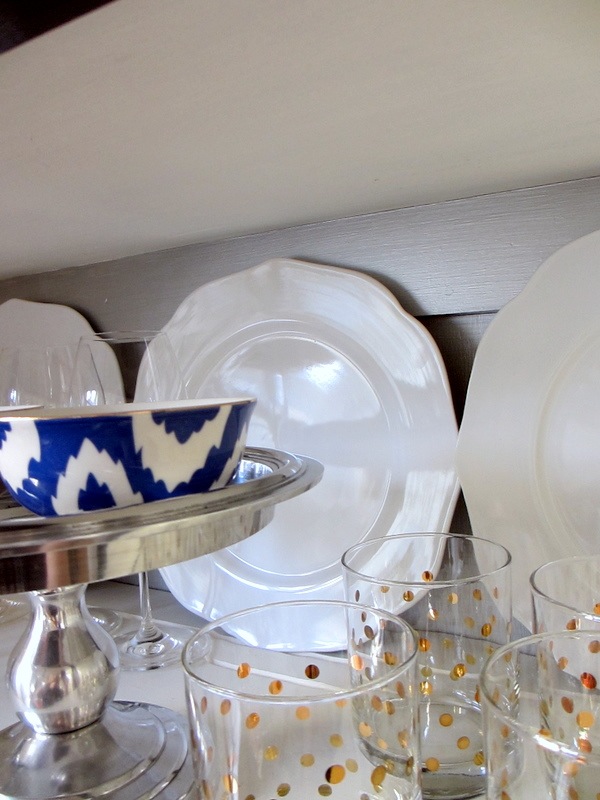 So, truthfully, I am not sure I am 100% sold.  It is shiny, but when my hutch glass doors are closed, it is hard to see that the back of the hutch is silver and the contrast of the white plates and the silver is maybe not as dramatic as I wanted it to be.  I am wondering if I should buy the "Thundercloud" color in the same type of paint, which is darker…
And maybe mix some with the Polished Silver to make it darker and more dramatic but still metallic???  Or maybe use the same robin's egg blue as the walls in the adjoining room.
Benjamin Moore Crystal Blue
I was hesitant about this before since I already have so many different blues going on with my bowls and accessories, but now I'm not sure.  What do ya'll think??  Is shiny and subtle good?  Or should I go more dramatic so you can make out the contrast when the hutch doors are closed?  Help please.