I have been searching for a decorative tray for my coffee table for several months.  There are some really pretty trays out there, but it seems like all the ones I wanted were at least $60 and I just wasn't willing to spend that much (says the girl who would drop $90 at Target without skipping a beat).  Regardless, last week I finally decided that I would just make my own.  So I started doing some research to see what kind of trays have been DIYed in the blog world and there are actually some pretty great options.  I decided on using a shadow box frame that I would paint in silver and then use doilies to stencil the inside.
Unfortunately, the world didn't really want this for me.  I went to Target to pick up my shadow box frame only to find that the bottom of the frame is a fabric instead of plastic, meaning that paint would not look shiny like I wanted.  Luckily (or unluckily sometimes), I am too persistent for my own good and I meandered over to the kitchen aisle to find this tray.  Not what I had originally imagined, but I liked the circular shape, and the fact that it was bamboo made it impossible to put down.  I am a major sucker for anything eco-friendly or eco-friendly sounding.  To the point of ridiculous.  Not to go off on a tangent, but I may or may not have been suckered into buying adopted penguins and polar bears for my entire family for Valentine's Day because they (the charity, not my family) told me that it would save the polar bears.  That gets me every time.  So I happily bought my tray and asked Megan to bring down the doilies left over from some Christmas crafting.  She carefully placed the doilies in a plastic bag and drove down to my house, only to find that they had somehow flown out of her tote bag.  The world really didn't want me to do this project.
Nevertheless, we decided that we would just paint something on the tray.  But what?  I was washing my face and found inspiration in the form of my shower curtain.  We used a homemade stencil to paint the shapes from my shower curtain on the tray, and if I'm to be completely honest, I think it probably turned out better than the doilies would have.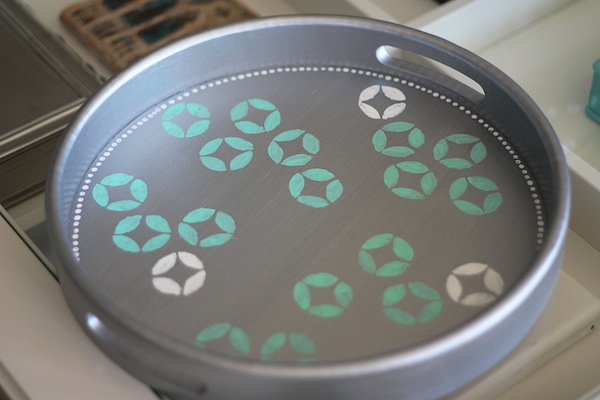 What you'll need:
– 1 wooden tray.  Mine was from Target but there are some really inexpensive trays at Hobby Lobby and Michaels as well
– 1 large and 1 very small paint brush
– Paints in the colors of your choosing.  For the base, I used Martha Stewart Living (of course) Metallic Paint in Polished Silver.  The blue is Martha Stewart Crafts multi-surface satin in Beach Glass and the white is Folk Art acrylic paint in Wicker White.
– Some paper and scissors
– Polycrylic protective finish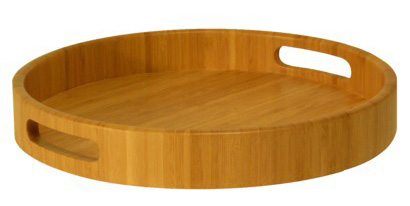 This is my tray.  Sorry folks I was such a mess I forgot to take a before picture with the supplies.  So this is the picture from the Target.
What you'll do:
1) Use your large paint brush to paint the tray in the base color.  I needed the smaller brush for inside the handles.  We painted 2 coats.  Let dry.
2)  Use a pencil to draw your stencil on a sheet of paper.  We used one of the shapes in my shower curtain pattern shown below, but you can do whatever shape you want.  I freehanded the shape and then cut out the little holes by folding the paper (like you would to cut out a heart).
3)  Place your stencil down on the tray and use the little paint brush to fill it in with the paint color of your choosing.  Instead of trying to make the pattern all the way around the tray, we figured it was easier to paint them in random clusters.  I also did several in white for a little bit of contrast.
4)  We added white dots around the border with a q-tip, just to make it look a little more finished.   Let all paint dry.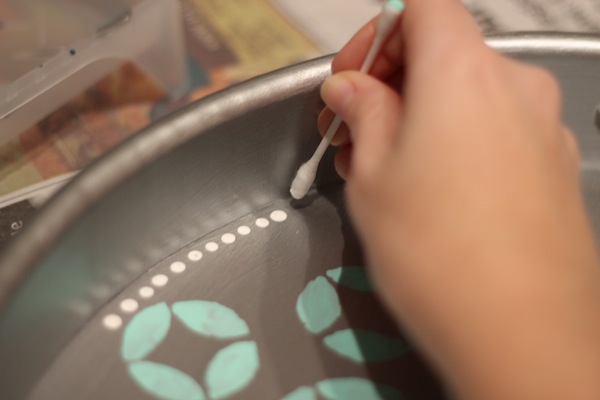 5) Spray with polycrylic (I just did one coat), and you're done!  Mine now lives on my coffee table, making the remotes look at least a little bit less ugly.  Maybe.