When I moved into my house, all of the cabinetry was a builder grade yellowy colored honey oak.  Which was perfectly fine.  Very sturdy and kept in excellent condition by the owners before me.  It just wasn't my taste.  I began improvements by having the cabinetry in the kitchen painted a very clean white color (Simply White by Benjamin Moore). I guess I must have been feeling fancy in my pants because I paid a professional to do it, which is something I am almost always too cheap to do.   I knew I wanted to do the vanity in my master bathroom next, and that I was gonna have to do it myself.  I wanted to do something a little different than white but still keep it very clean and neutral (and hopefully not offensive to future homebuyers). I decided on a charcoal gray.  Then I started the process of choosing a gray.  After months of looking at paint chips and painting pieces of cardboard with sample pots, I finally decided on Gray by Benjamin Moore.  It seemed to be the most neutral in my bathroom light with the least undertones.  Since we are talking about paint, I will mention that it is my opinion that Benjamin Moore has the best paint.  It just seems to go on and cover better than other paint I have used.  You can call me a snob if you want.  I had heard about a new paint formula that Benjamin was coming out with called Advance that was specifically for wood.  So, in July, I marched my happy butt up to the paint store and purchased my paint in satin, primer, and supplies.  Then I proceeded to let them sit in my laundry closet for about 7 months.  I guess I knew it was going to be a pain to paint cabinetry.  I was definitely right.  I have finally completed the job and here is my finished product.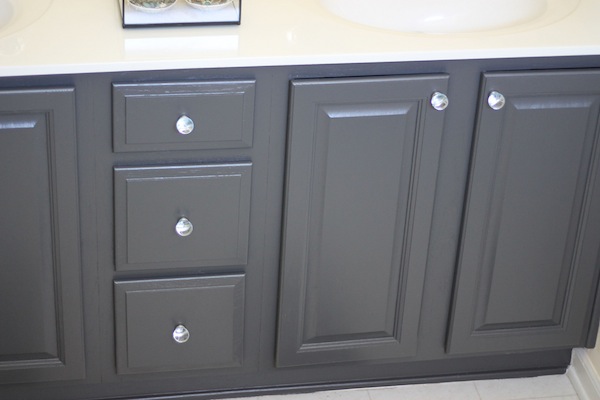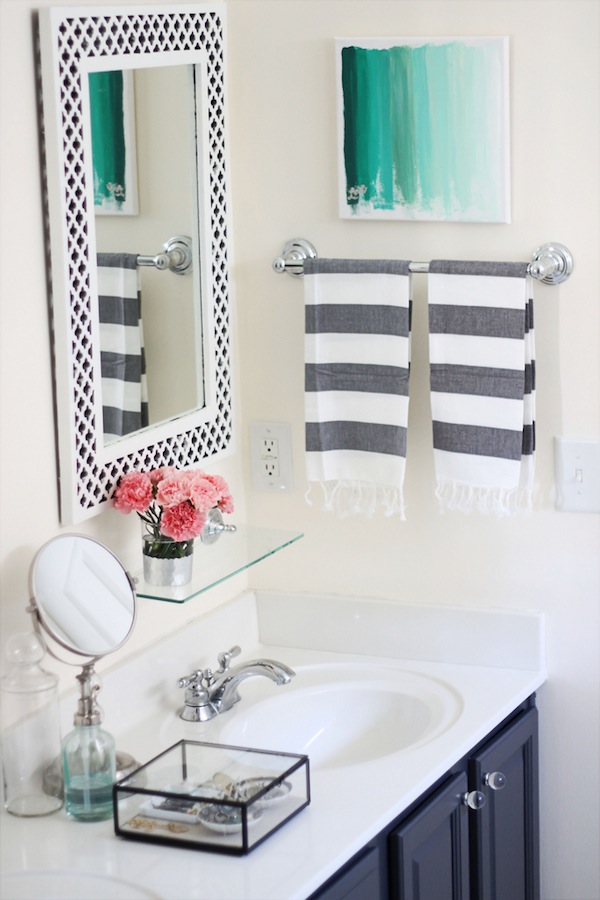 Just so we can see what I was initially working with, I wanted to include a picture I scanned in from the listing booklet when I bought my house.  Sorry for the horrible quality.  I forgot to take my own picture before starting to make changes.
Certainly not bad, just not what I wanted.  My first changes were painting the walls a nice creamy neutral (Sherwin Williams – Medici Ivory mixed by Benjamin Moore) and then painting my ceiling an understated aqua color (Sherwin Williams – Glimmer mixed by Benjamin Moore) to add a little interest.  While painting, I removed the huge mirror and hung two small mirrors I bought from Home Goods and painted white.  I also changed the light fixture to these from Pottery Barn that I received as a gift for my birthday.  I installed small glass shelves under the mirrors that I got from Target for keeping my everyday items like face wash and lotion.  I decided to keep all my fixtures chrome to match my faucets which I did not want to have to replace (If you are reading this and do want to replace yours here are some of lovely  bathroom faucets.)  Here are some pictures from after I made these changes and before I painted the vanity.
All in all, painting the vanity took about a week due to having to allow the doors and box to dry for the appropriate time periods between each coat of paint and having nights when I just couldn't pull myself away from "The Bachelor" to paint.  I hate Ben, by the way, but it's just so bad, it's good.  If you would like an excellent video tutorial on painting cabinetry, check this one out from Young House Love.  I'll just do a quick overview.  I did all of these steps on the box and on both sides of the doors and drawers.
1) I removed all of the doors and drawer faces and kept the hardware from each door in its own little labeled plastic baggie.
2) I used some plain old wood filler to fill in some of the grain on the raised panels to smooth out the look.
3) I sanded all areas down with fine grit sandpaper sheets and my Dad's electric sander.  I removed dust with tack cloths.
4) I used liquid de-glosser to remove remaining dust and gunk.
5) I primed each side one time with an oil based primer.
6) I applied two coats of paint to each side including smoothing out with the foam roller and then "feathering" with a mostly dry brush.  This means run over it really lightly.
7) I waited for paint to cure 5 days and then installed new knobs before re-installing doors and drawer faces.
Hardware installation assistants.
8 ) I cleaned and touched up places on the floor that were not supposed to get painted.  An important note.  If you are taping off areas that you don't want painted and edging, do NOT and I repeat do not use the blue paint tape.  It SUCKS.  Evidence…
I usually just hand edge without tape but I tried to get cute by using tape and got the blue stuff because it was cheaper.  Only use the green Frog tape.  It is significantly better.
It's over.  Thank God.  Are you tired yet?  I am.
I am totally obsessed with my newly purchased knobs from Restoration Hardware.  A side note…never buy anything from there unless it is on sale.  They have 25% on junk all the time.  These knobs were 25% when they were having a bath sale.
The hand towels in this picture were purchased from West Elm as well as my little jewelry display box.  This may be my favorite purchase recently.  The cool thing about it is that the bottom is lined with a material that you can stick pins in and it can be mounted on the wall with the hooks on the back to display your favorite jewelry as art in a shadow box.  If I had enough money, I would buy you all one.  I would like a new large bath rug but I still haven't found one I'm in love with.  The art on the wall was made by me last weekend and is so easy a 2 year old could do it.  Literally.  I will talk about that more at a later date. 🙂  See link below.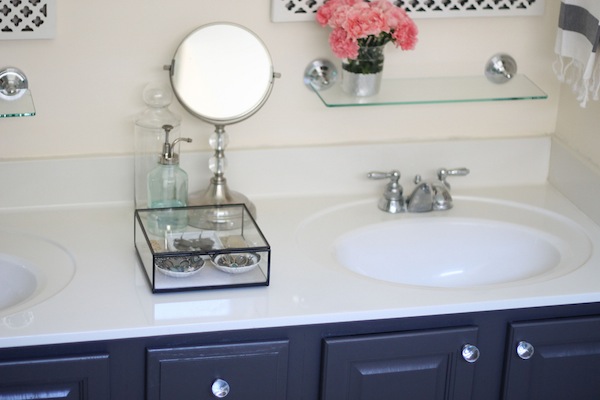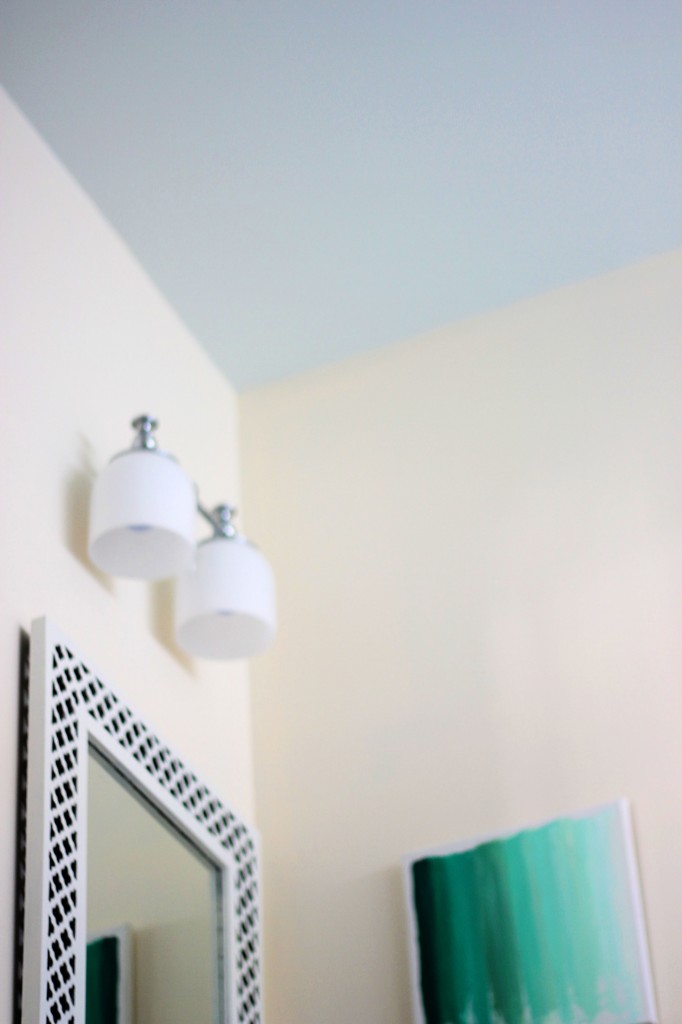 So you can see the ceiling color.  Just slightly aqua.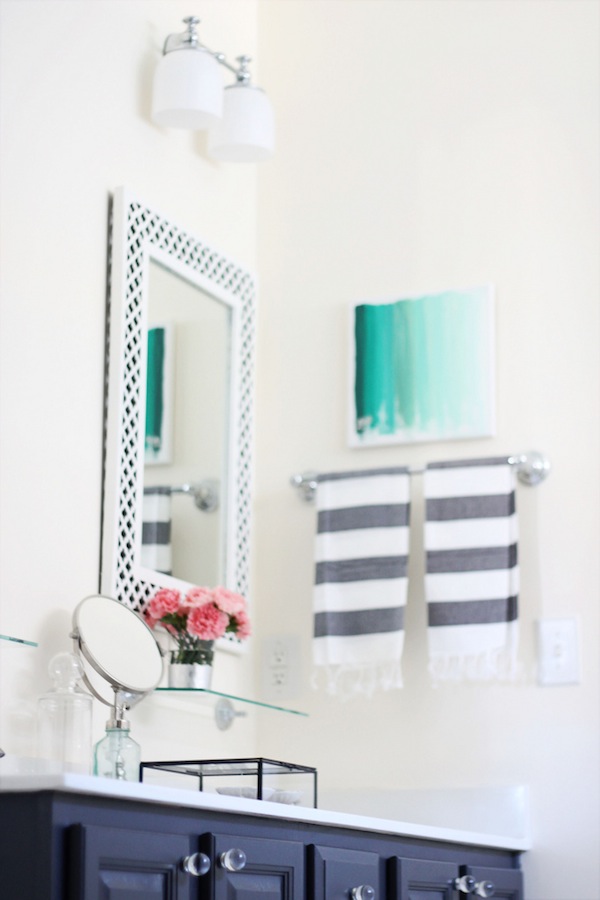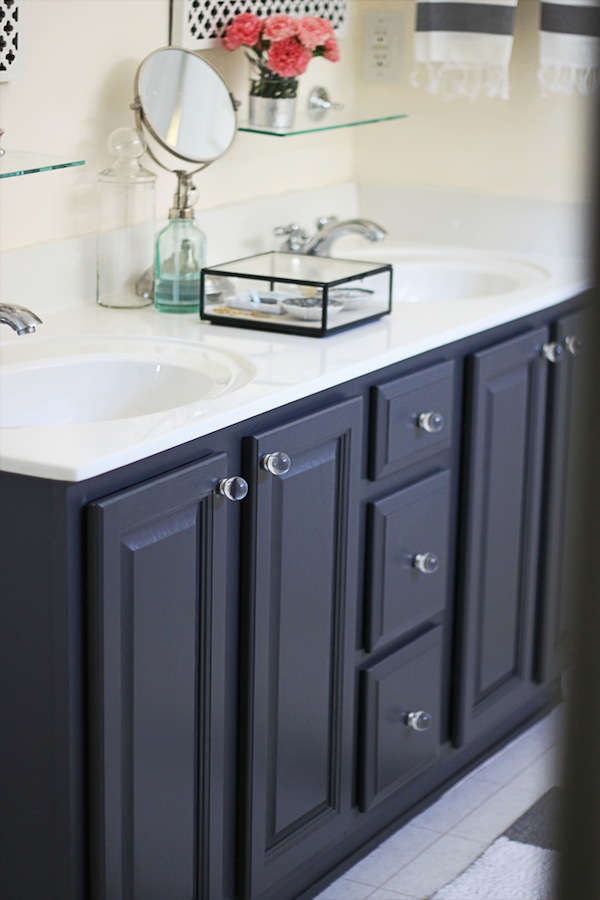 I would ask you what you think but since it's already done at this point and I'm not gonna be stripping any wood in my forseeable future, I will ask that you all just tell me it looks good or keep 'em quiet.  🙂