After the ceremony, the guests shuffled into the house for cocktail hour (in which there were no cocktails, unless pumpkin beer qualifies).  Corey and I took family formals in the ceremony area and then went upstairs to wait for everyone to move to the reception area.  I took this opportunity to stuff my face with a couple of chips and then Corey and I practiced a little bit of our dance.  We actually took dance lessons before the wedding, and in our practiced dance, I was required to spin.  Up until our practice, I was quite skeptical that this was going to be a possibility in my dress.  Luckily, I could just eek out a spin (kind of) so we felt a little better about it.  Meg has a pretty cute picture of us practicing upstairs.
Once the guests had all moved to the dinner area, our friend Ben announced us as husband and wife for the first time.  While we ate our strawberry salads, Megan asked me if she should start her speech.  I have never seen her so nervous in my life.  Not only was she still teary from the ceremony, but she was also visibly shaking.  I have to be honest that I was really nervous as well (for her), but once she got started, it was literally one of the most thoughtful, heartfelt, and funny speeches I have ever heard.  I am pretty sad because I wanted to share the video with you guys but the file size is too big to fit into the post.  In the video, you can see that we were both crying during the whole speech (I was also laughing), but she still managed to stay so eloquent.  I was pretty much amazed.  One of my favorite lines was "I don't have any experience with marriage and I don't know that there is any special magic formula to making one work.  And I also know that marriages are fragile, especially these days.  But I really feel like Corey and Colleen have a very special relationship.  They both know the importance of being careful with eachother and careful with their relationship and I think that is something that people take for granted."  Then it was Corey's best man's turn.  Jim has been Corey's best friend since they were toddlers.  He is one of the most clever people I know, and doesn't go anywhere without making people laugh.  Needless to say, I was expecting his speech to be hilarious and very sarcastic.  While it was hilarious, his speech also reflected a tenderness that I don't often see.  He had this really sweet bit that I have attempted to write verbatim about how he had just found a letter he sent to Santa when he was 7: "Dear Santa, Merry Christmas.  Thank you very much for everything from last year.  I would like you to know that Corey isn't home, but he will be home Sunday.  Just wanted to write to you to have a very Merry Christmas.  Love, Jimmy.  Sorry the paper got wet.  I think the moral of the story is that even at 7 years old, I was more concerned about Corey and him getting what he needs than I was about getting presents, because I didn't ask for anything, which was stupid.  Even back then, I wanted the best for Corey and I think that he's gotten that."  So sweet.  My dad's speech was really cute because he talked about how Corey used to try to watch me play tennis in high school but I was so nervous that I didn't want him to come.  So he would hide behind a brick wall and pop his head out every now and again.  Seriously, some of the best speeches I've ever heard.  As usual, all photography by the amazing Abigail Seymour Photography with backup shooter Traci J Arney.  Videography by Whitney Photo and Video.
*Update*
I was able to figure out how to add in the video of Meg and Jim's speeches.  Warning:  Do not watch if watching people cry makes you uncomfortable.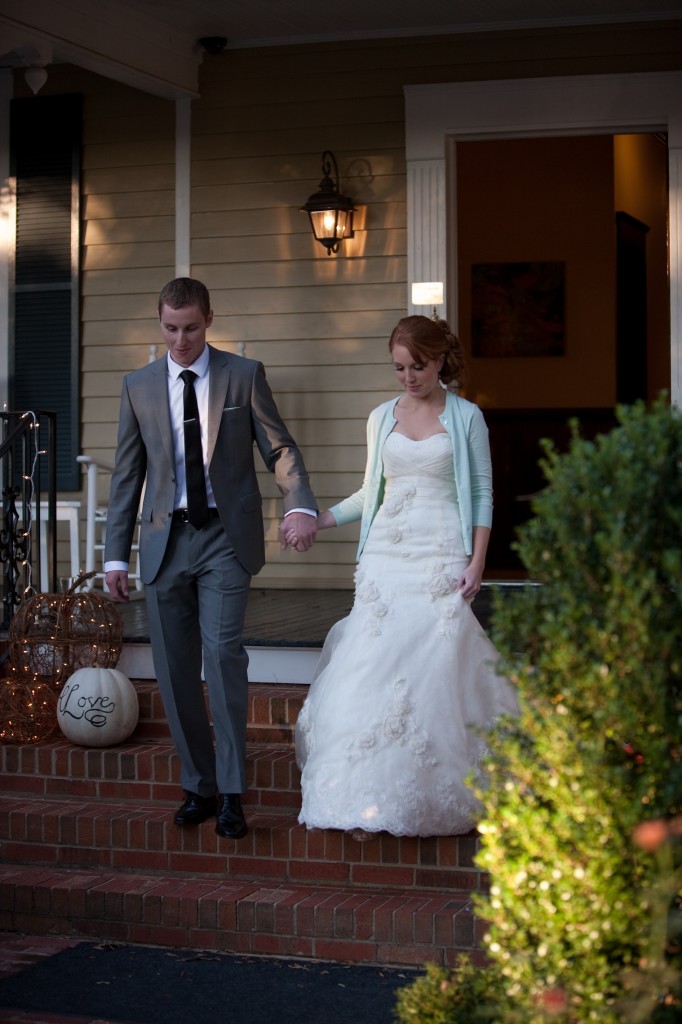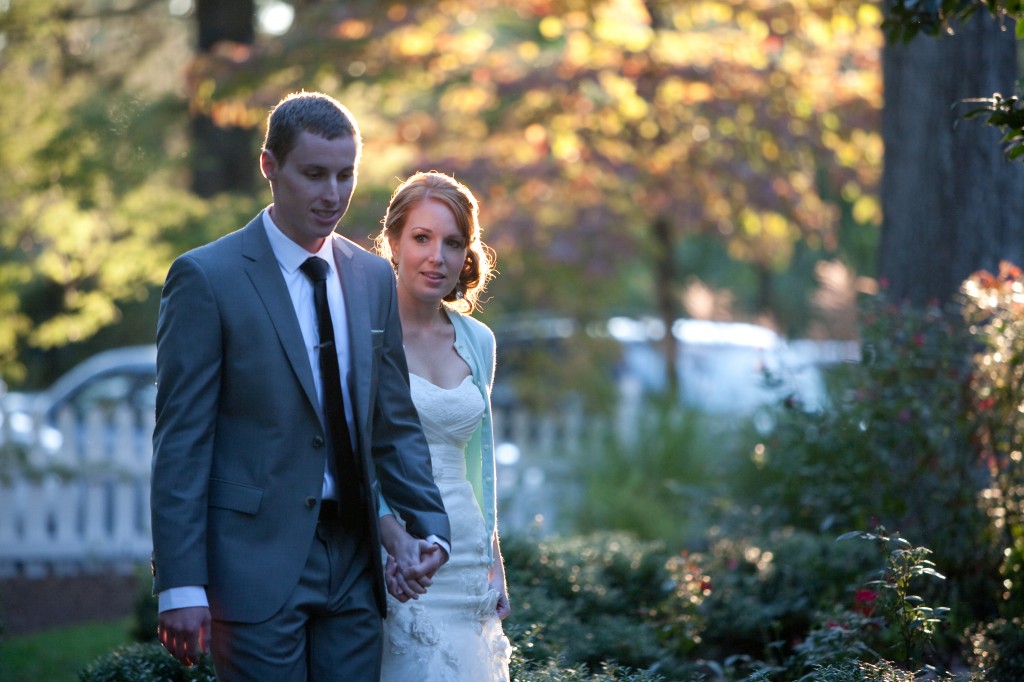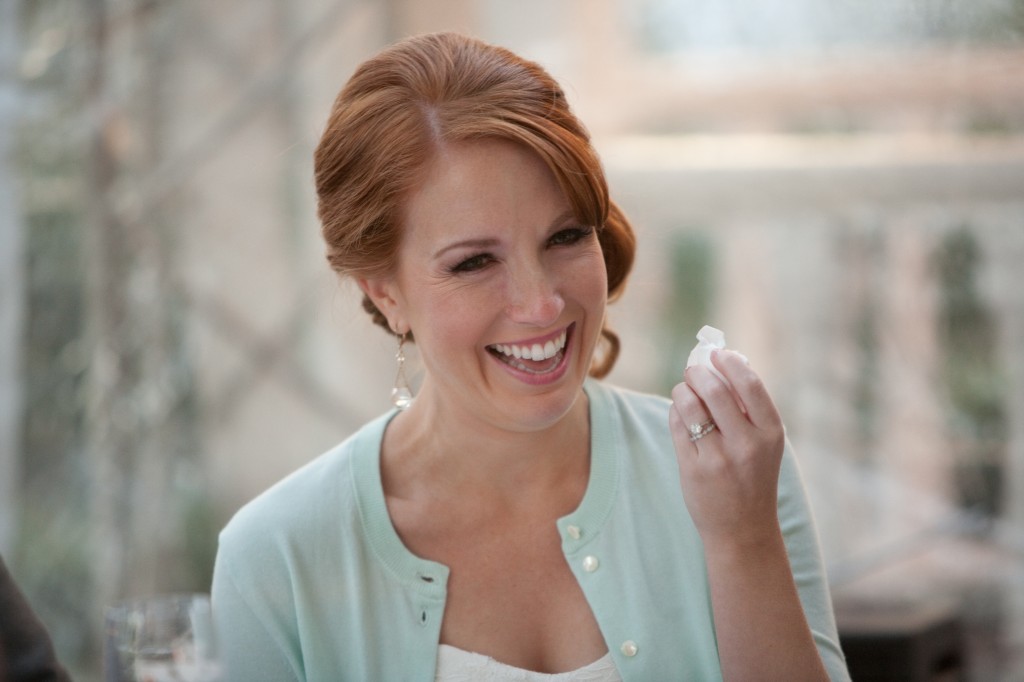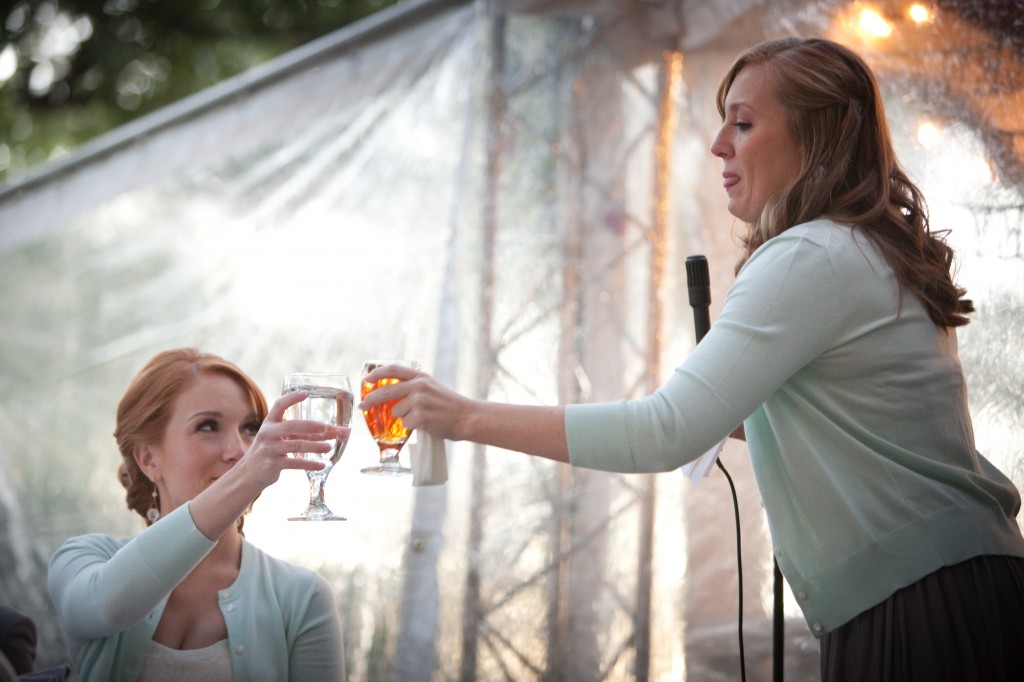 After dinner, our band The Daily Soul started playing.  They were stellar.  If you are in Charlotte and looking for a band for your wedding, you need to book them immediately.  Anywho, we were a bit off schedule, so we decided to go ahead and have our first dance to Peter Gabriel – In Your Eyes.  I was such a mess and almost forgot most of the steps, but I think that just made it better.  My dad and I danced to The Beatles – In My Life, and Corey and his mom danced to a beautiful version of The Way You Look Tonight.
A really special surprise was when Corey and Sam Sobell (their family and ours are basically family) took over the keyboard and microphone to sing Corey (big Corey) and I a song.  Sam made a really cute speech about how they knew Corey and I when we were first dating and he wanted to give Corey advice when he liked me and I didn't like him but Sam was too young.  They sang Maybe I'm Amazed by Paul McCartney.  It was so cute that I uploaded it to youtube for their Mom (Kelley) to have right after the wedding.  So now I can share it with you!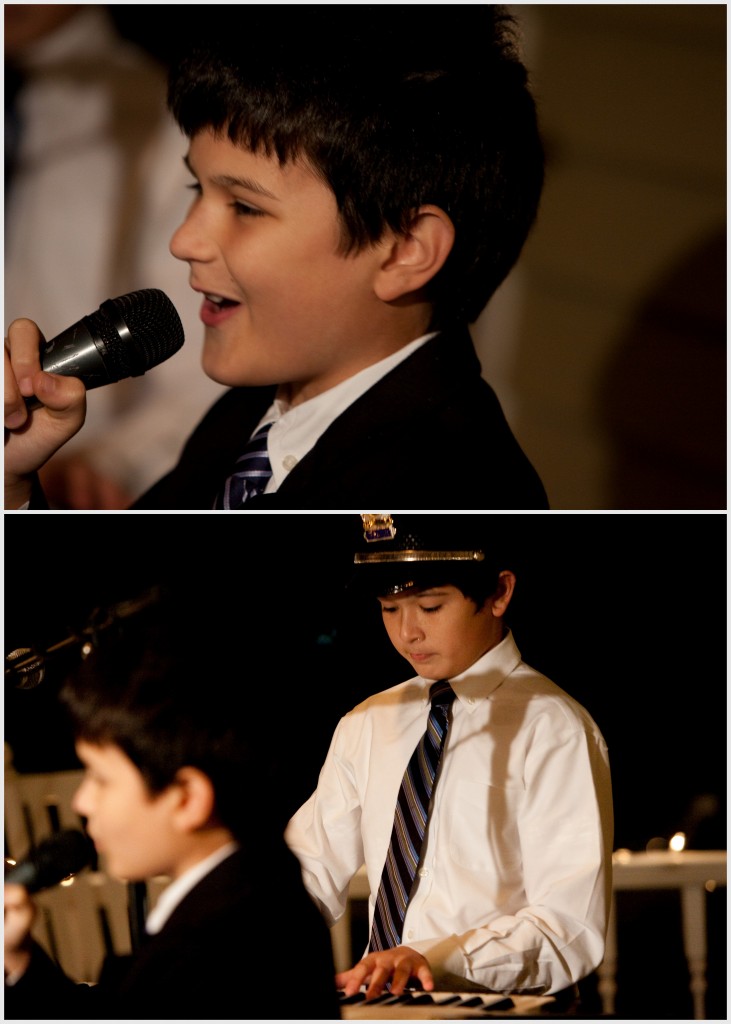 After Sam and Corey's performance, Corey and I cut our cake.  I of course warned him that if he smashed my face with cake, he would be in trouble.  Luckily, we both fed each other without making a mess of LRT's beauty makeup job.  The rest of the night was spent dancing, eating desserts, and drinking (water only for me :)).  People really went crazy over the band, and there was dancing like you wouldn't believe.  There may or may not have been a conga line.  With my Uncle Ron doing an excellent Paul Simon impression.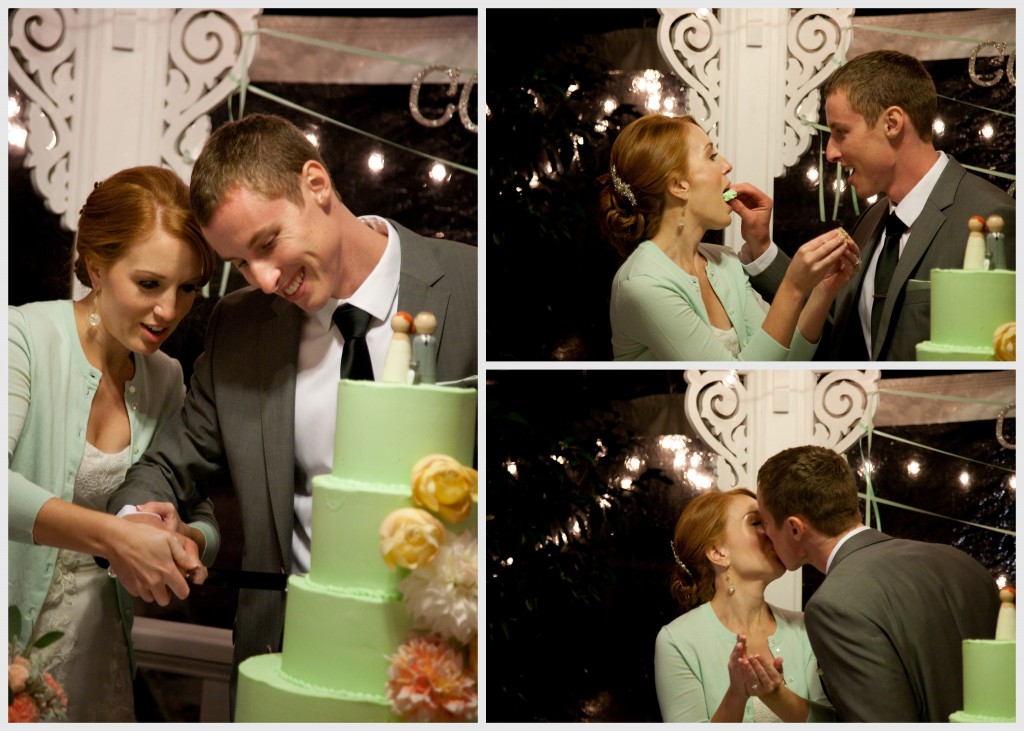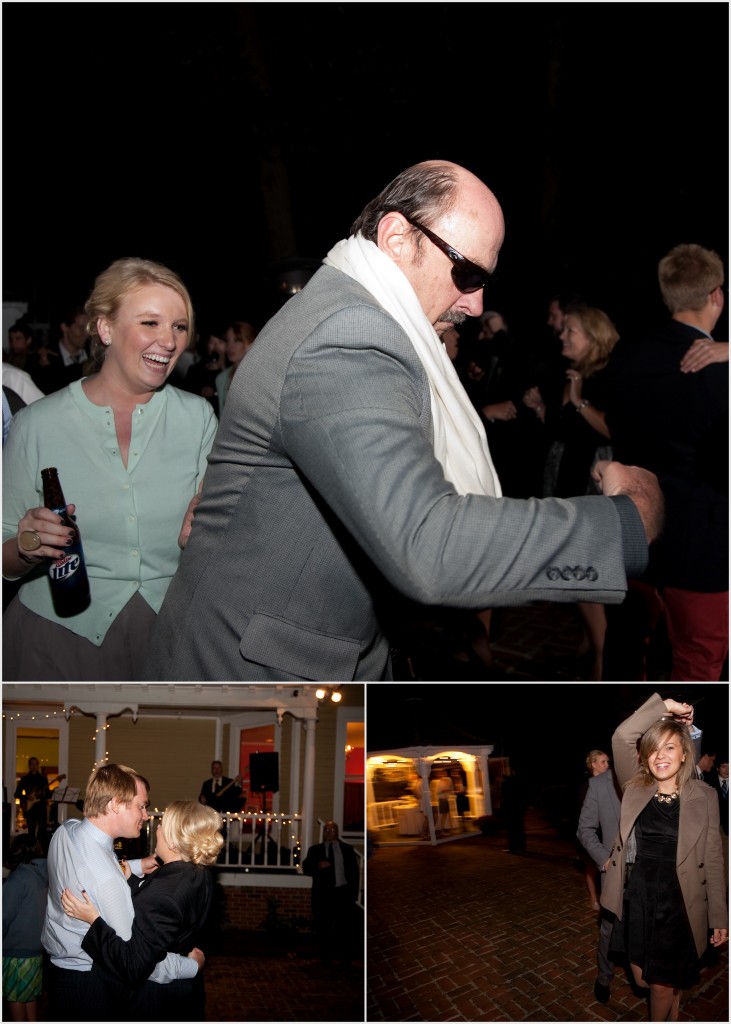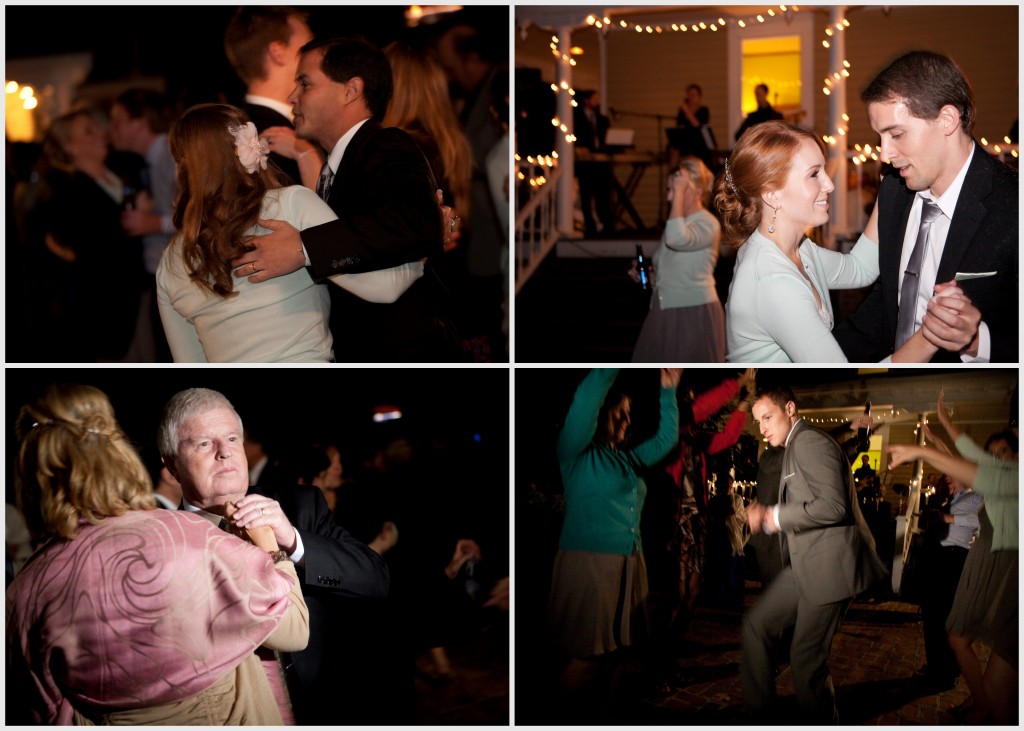 Finally, it was time for us to make our exit.  Despite the chill, most of our guests were still there to say goodbye, lined up with the bells made by my mom to ring at us as we ran through the crowd.  I guess it is a little sad that it is all over, but I honestly couldn't imagine changing one thing.
Previous Colleen + Corey Wedding Recaps: