The Christmas before last, Santa Claus brought me my dream present.  I would say it may even have beat out my pink Shera castle as best present ever (if you don't know who Shera Princess of Power is then I am very sad for you).  It was a total surprise to me.  Anywho, it appeared under the Christmas tree and boy was I shocked.  It was….a Kitchenaid mixer.  In honor of its magical new presence in my life, I wanted its first use to be very special.  I wanted to welcome it to my kitchen with a bang.  And so I decided to attempt what I understood at the time to be the most complicated confection possible.  Le French Macaron.  I still know people who have no idea what this is, but it has made quite a big splash in the design, culinary and particularly blog world in the last few years.  They are essentially cookies that don't use very many ingredients but require a very precise technique in order to create.  In all honesty, my first try came out pretty decently.  My macarons had feet (this is actually a good thing) but were a little bumpy on the top.  I made another batch which came out a bit better and I have only continued to improve.  This is the recipe I have always used.  I have made some changes over time with trial and error and reading other recipes.  Let it be known that I don't have any fancy food scales for weighing ingredients and such so I liked this recipe because it told me how to do it with plain old measuring cups and spoons.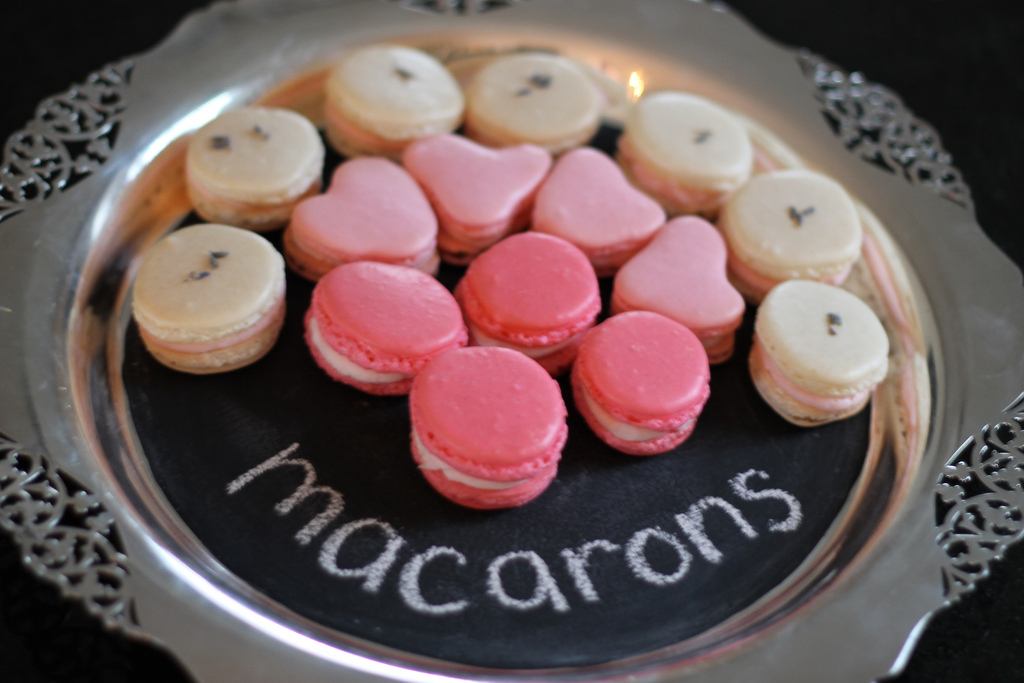 French Macarons (adapted from Givers Log and Martha)
Makes around 35-40 shells or between 15-20 cookies when the shells are put together to make their little sandwiches
Things to consider before you begin: 
Pick a cool, dry day.  Humidity can kill your macarons because whipped whites are mostly air, and moist air can deflate your macarons.  A hot kitchen can also deflate whites.  To be honest, I have made mine when it was hot outside in the summer and it was fine.
Separate your eggs in advance. This is imperative.  I separate my egg whites right out of the fridge, put them in a little tupperware and leave them out at least overnight.  I have heard people say they have left their egg whites out up to 3 days prior to using.
Have everything you need in place so you don't have anything to slow you down once your eggs are whipped.
Ingredients (for the shells)
1 cup powdered (confectioners) sugar, 4.5 oz
3/4 cup almond flour, 2.5 oz. (I always make mine by processing almond slivers, but if you can find this, buy it.)
2 large egg whites, room temperature (Must let your whites sit out at least overnight.  This is important so just do it.)
Pinch of cream of tartar
1/4 cup caster sugar, 1.5 oz. (also called baker's sugar, or superfine sugar )
If you want colorful macarons, I recommend gel food coloring.  Liquid food coloring can also kill your egg whites.
What you'll do:
1) Grind up your almond slivers in the food processor.  I just dump the whole bag in and worry about the measuring later.  It is important that you use almond slivers and not whole or sliced almonds.  You don't want any of the skin on them.  Remove these from food processor and place in their own little bowl or tupperware.
2) Prep your cookie sheets by covering them with parchment paper.
3) Measure out 3/4 cup of your processed almonds or almond flour and 1 cup powdered sugar into your now empty food processor and pulse together until combined.  It will look more like flour now.  The directions say sift it twice.  It will improve the texture but I despise sifting so I only do it if I am making them for a fancy purpose.  I notice that my macarons have tiny bumps on the shell when I didn't sift.  If sifting, you will need a bowl sieve.  An actual sifter is too much of a pain for this.  There will be lots of little almonds left over in the sieve so don't freak out.  Put this mixture in a separate bowl and place to the side.
4) If you would like to flavor your shells, now is the time to do it by adding flavoring to the almond flour mixture.  I have added cinnamon and other spices as well as dried fruit that I have powdered by grinding with a coffee grinder.  Flavoring the shells with things like fruit is complicated because anything wet will mess up your shells.  You can also just keep your shells plain and use your filling to flavor them.  For almond, you don't have to do anything to the shells.
5) Pour your egg whites into a DRY mixing bowl.  Whisk whites with a mixer on medium speed until foamy.  Add pinch of cream of tartar, and whisk until soft peaks form. Reduce speed to low, then add caster sugar. Increase speed to high, and whisk until stiff peaks form (Martha's recipe suggests 8 minutes, for me it only took around 4 minutes, take care not to over-whip). You will know it is done because when you lift the whisks out of the egg whites, a peak will form that does not fold back and is kind of stiff to the touch.  If you're going to add color, add food coloring towards the end of whipping your whites.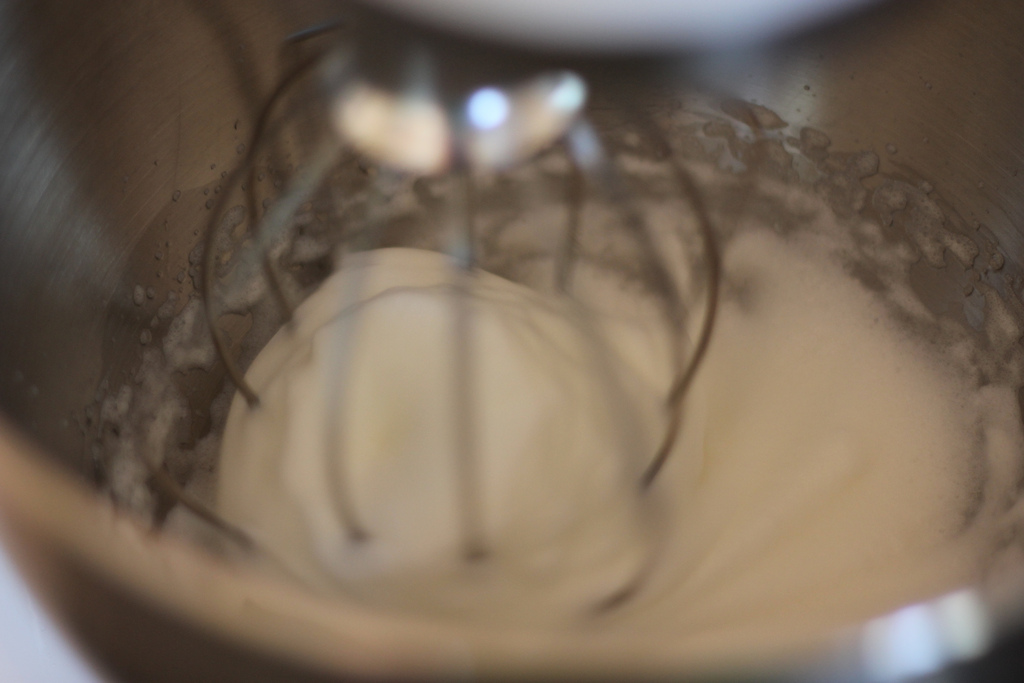 Quick note:  At this point, I usually use some of the egg whites from the whisk to dab on each corner of the cookie sheets to help my parchment paper stick to them
6) Sift or slowly pour flour mixture over whites, and fold with a spatula until mixture is smooth and shiny and oozy.  The amount of folding is actually quite important. Fold too little, and your macaron shells will have peaks and bumps. Fold too much, and your meringue will be too drippy and flat.   I have seen 50 folds recommended but I have never counted mine.  I just fold til it flows and oozes like lava and when you run a knife through it, the crease disappears within 10 seconds.  I also always spoon a little bit into my pastry bag fitted with a Wilton #12 round tip (other similar sizes would work as well) and test by piping one circle into my cookie sheet to see if my batter will smooth itself out to form smooth, slightly rounded caps.  If your peaks and bumps don't disappear, fold another 5 folds and try again.   If the batter forms a round cap but doesn't run, it is just right. The perfect batter will ooze slowly out the tip of your pastry bag while you are trying to fill it.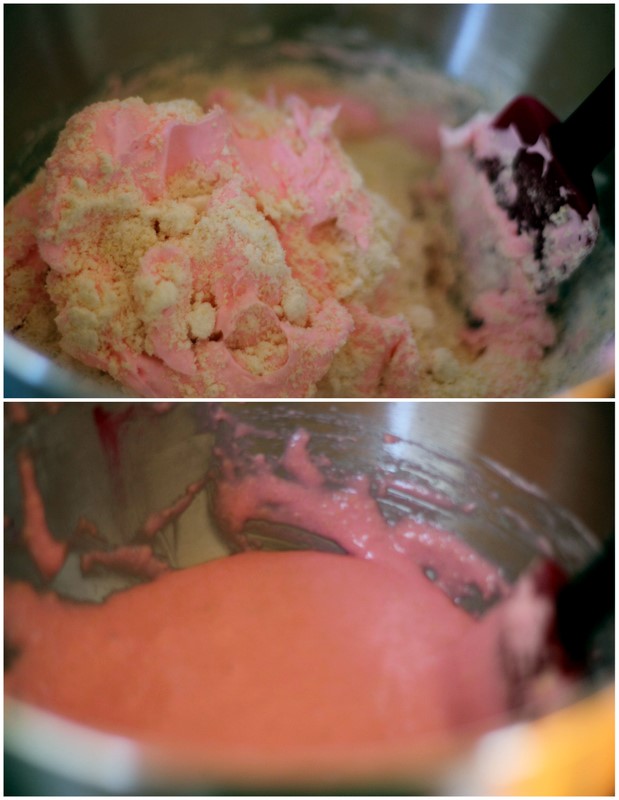 7) Pipe 1 to 1 1/2 inch circles into your parchment lined cookie sheets.  I start on the outsides and work my way in with my circles.  For my lavender macarons, I topped the shells with dried french lavender from Williams Sonoma right after I finished piping them all.  For plain almond, I left them bare.  For the heart shaped ones, I just played around with a heart formation.  Obviously this is optional.
8 ) Once your pipe your macaron shells, tap each sheet once firmly against the counter to get rid of air bubbles
9) Let your piped shells sit on the counter for 45 minutes so that the shells dry and form a skin before baking.
10) Preheat oven to 300 degrees.  Bake shells between 10-12 minutes one sheet at a time.  Hopefully your shell will start to raise up and your macarons will form a little spongey looking layer or "feet."  You will know they are done when the feet stop looking so wet and the smooth top of the cookie stays attached to the bottom when you try to slide it slightly.  When they are done, place the cookie sheet on a cooling rack and let sit for a few minutes before you try to take off your shells.  They should come off pretty easily by pulling them but if not, try to pick up the parchment paper or spray some water under it first before removing the shell and see if that helps.
Sorry I didn't take any pictures of making the buttercream.  Oops.  I trust ya'll know what icing looks like.
Fluffy Buttercream Filling: (from Martha)
This is enough to fill 20 macarons with some left over
1) 1 stick unsalted butter, softened
2) 1 1/2 cup powdered sugar
3) 1/2 tsp almond extract (for almond buttercream)- this is more than Martha says but I think it's right.  Use vanilla if you want vanilla buttercream.
4) teany tiny bit a salt (1/4 of a pinch?)
Cream butter in the bowl of electric mixer.  Beat on medium high until pale and creamy.  Reduce speed and add sugar 1/2 cup at a time.    Add extract and salt and blend.  Add food coloring if desired.  I added a tiny bit a pink for a blush frosting.  Spoon into  pastry bag to be piped onto shells.
Pipe the buttercream onto a shell and sandwich gently with another.  Repeat until they are all frosted.  Place in a tupperware because the hardest part has descended upon you.  Don't eat until they sit for 24ish hours.  Macarons need to sit overnight for them to reach the correct texture.  I put mine in the freezer and take them out to let them come to room temperature before eating.  They will be edible on the day of but most likely be too crunchy.  Sorry!  🙁  It's so cruel.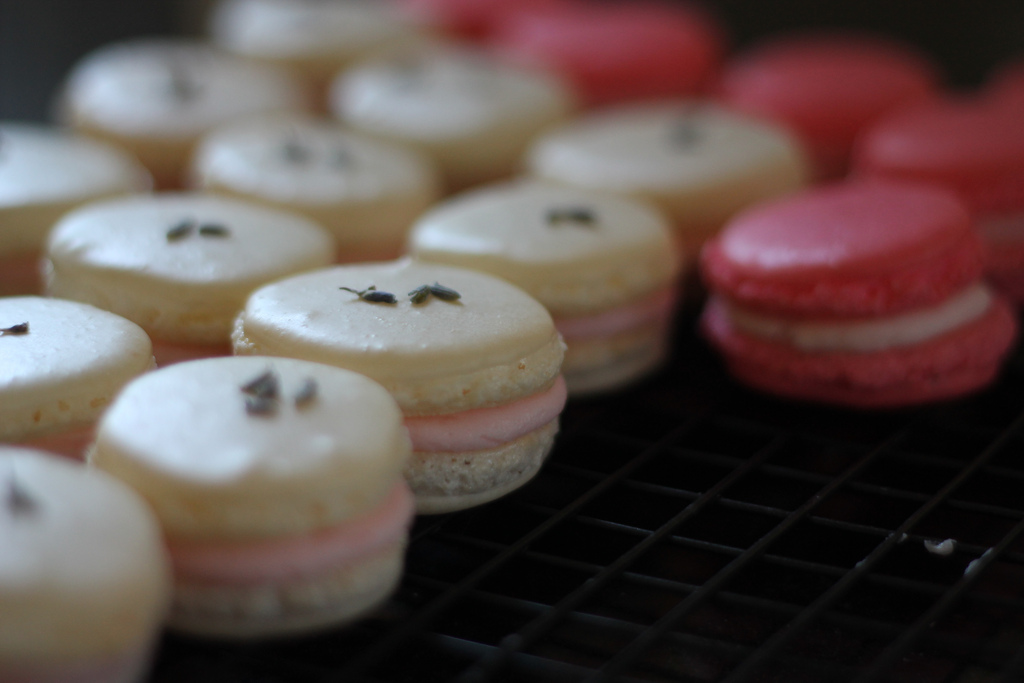 When Colleen was making her vintage frame chalkboard, I decided to paint a silver platter with black chalkboard paint using the same technique.  We used it to show off the macarons.  Turned out cute right??
I definitely spelled lavender wrong in this picture.
And one more shot of the macarons in all their glory in our Valentine's tablescape.
Here are some troubleshooting tips from the website I got the recipe from:
TROUBLESHOOTING: If you're wringing your hands in frustration because you can't get these little desserts to come out right, either they are hollow inside or have no feet or they crack, you are in good company. Me included. Here are a few things you can try to get that first perfect batch that will get you addicted to making macarons.
1. Use an oven thermometer: Chances are, your oven is different than mine, which is different from many other friends and bloggers who have attempted macarons. Put down the few dollars it costs for a decent oven thermometer and you can know for certain that your oven temp is right. Undercooked macarons will end up hollow or deflate after cooking.
2. Use a good baking sheet: If your baking sheet is too thin, the macarons won't bake evenly or correctly. You can even try doubling up two thin baking sheets if that's all you have.
3. Use old eggs: I know this may sound wrong in our world of refrigerating everything, but it makes a difference. Use eggs that are not too fresh and leave them on the counter at room temp for a day or two.
4. Make sure you have prime egg-whipping conditions. Trust me, a humid day or one streak of grease in your bowl can make what could have been a beautiful batch of macarons into a big disappointment.
5. If your macarons have no feet, make sure they had their time on the counter (after piping and before baking) to create a skin. I love what Evelyn said below: "NO skin No feet… " When your macarons form a skin before you bake them, the skin traps the air under the dome so that the air's only way to escape is through the bottom, creating feet as it goes.
6. Don't over or under fold your batter. I know, I know, we've been through this. But if you let your macarons sit on the counter for 45 minutes to form a skin and you're still asking yourself, "why don't my macarons have feet?" the answer is probably that you underfolded so the batter is too stiff or overfolded so it is too loose. And if you come up with a different reason, I'd love to hear.
7.  Increase cooking time for bigger macarons: I've undercooked my macarons before and had them come out hollow. Pretty still but very disappointing in texture. Make sure that if your macarons are bigger circles, you bake longer.
8. Keep an eye on your macarons to avoid browning them or letting them crack: I love this note from Beth: "I bake mine with the light on in the oven so I can monitor what's going on in there. If it seems a little hot, crack the door and stick a wooden spoon in to hold it slightly ajar. I believe the cracking happens when the oven it too hot–this is not based on anything scientific–just my observations."
9. If you macarons won't unstick, try water (and cook longer next time). Here's a great tip from a reader whose macaron shells stuck to the paper. (Thank you, Jennifer!!) "The steam did not work for me, I think because my paper is fairly thick. So I rested the paper (with the Macarons stuck to it) on a thin layer of water. I counted to 15 which is just enough to soften the paper without getting the Macarons wet. They pulled off flawlessly! You may have to adjust how long you let it sit depending on the type of paper you use, so as not to wet your Macarons!" And it's also likely, if your macarons stick, that you didn't cook quite long enough.
Have you ever seen cookies with so many rules in your entire life??  They are entirely delicious and once you've done it once, it gets much easier.  Let me know if yall try!