I don't think it is any secret that Megan and I spent an exorbitant amount of time on wedding preparations.  We have always been very detail oriented, so we spent a huge bulk of time on the wedding details.  We started gathering inspiration and crafting a year and a half before the wedding.  Turns out, we needed every single minute to finish all the things that we had in our "vision."  I had dreams of bistro lights, handmade signs, vintage bottles filled with beautiful flowers, and antique looking lanterns and Meg and I made sure those dreams were made a reality.  Although there were weekends that we got sick of wedding crafts (those hateful mercury glass votives got me), I would have to say that planning out the wedding decorations was one of my favorite parts of planning.
For the ceremony, we had programs in mail holders we already owned on top of small tables marking the two entrances for the ceremony site.  I had the programs designed by an etsy seller and we printed them on recycled cardstock in three colors the weekend before the wedding.  We had babies breath placed in the front of the mail holders to make them look more ethereal, as well as a little heart with instructions to take a program (instead of making someone stand there.)  We also wanted little lemonade stands in the back of the ceremony space for people to enjoy.  We gave one of the venue people the lemonade, mint, and strawberries and she put them in these really pretty drink canisters.  We made little heart signs for the mint strawberry lemonade, with striped straws placed in mason jars on the side.  We also made signs for each stand that said "Wet your whistle and have a seat" out of recycled card stock and placed in frames found laying around Megan's house that we spray painted.  Of course, on the actual wedding day, it was too cold for anyone to actually drink the lemonade.  C'est la vie.  We had several of my beautiful bridesmaids Shannon and Sarah help by lining the aisle with leftover babies breath tied with green ribbon to the chairs.  For the altar, I bought an Ikea lantern that I had been eyeing to hang above us and my mom hung drapey white fabric along the porch pillars.
As usual, all images by the super talented duo of Abigail Seymour with backup shooter Traci J Arney.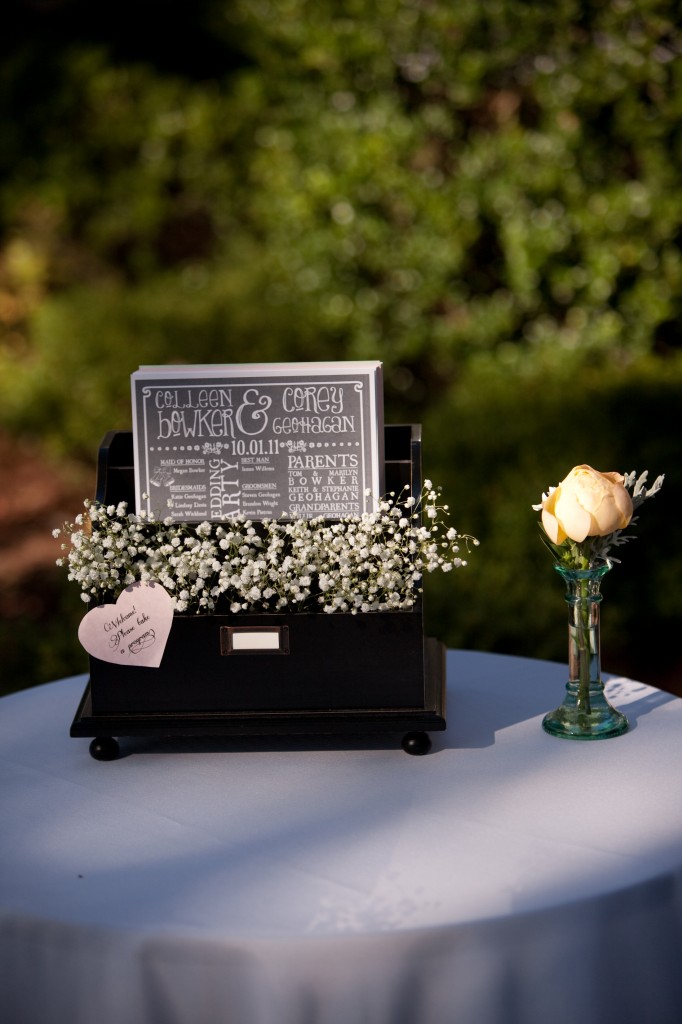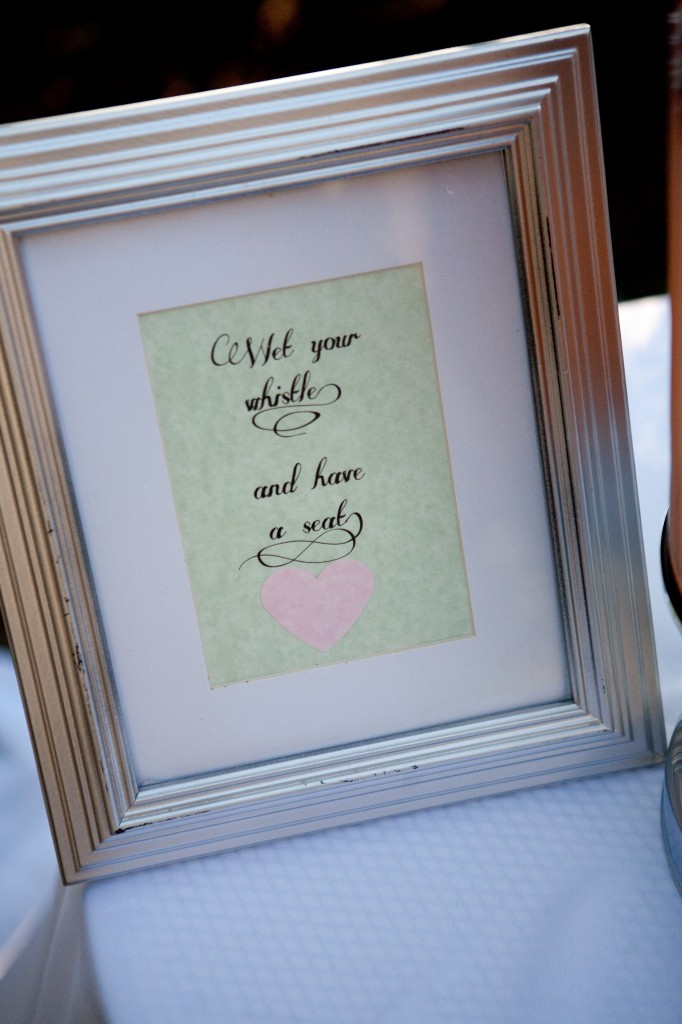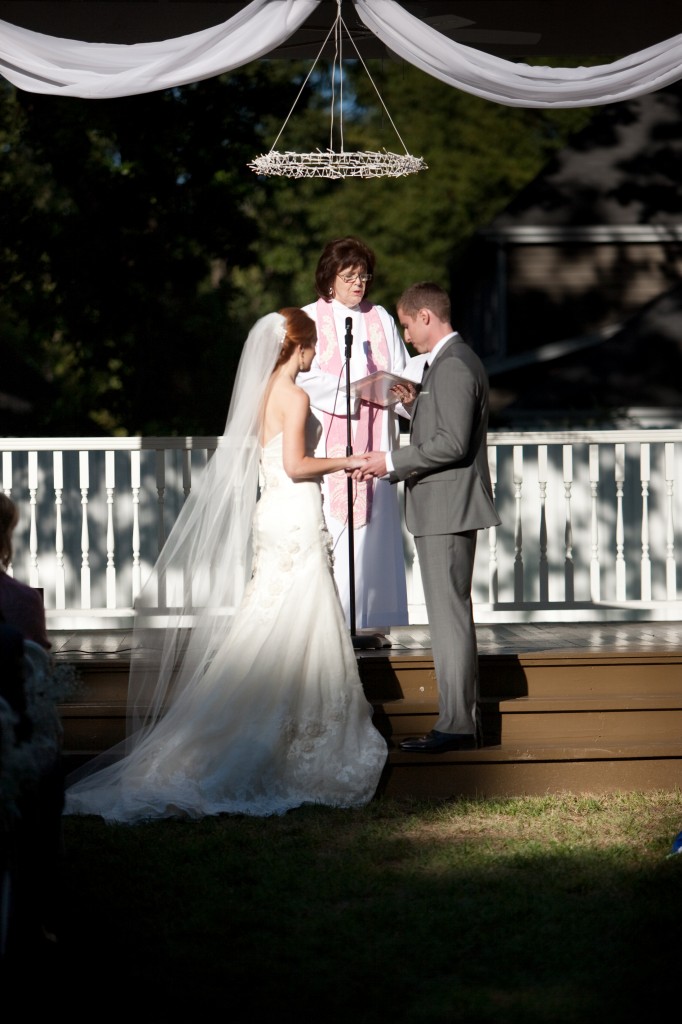 In the reception area, Megan, Katie, mom and dad, and I hung bistro lights I bought in bulk earlier in the year from the trees the day before the wedding.  We also draped white twinkle lights around the Whitehead porches and placed the sparkle pumpkin and scripted pumpkins on the porches.  Meg and I probably spent the largest amount of time on our centerpieces.  We spent a good three months on those mercury glass votives (see tutorial here).  I decided that it was more eco-friendly to go with lanterns with a small amount of flowers instead of huge floral centerpieces like you normally see, so we waited months for our favorite Restoration Hardware lanterns to go on sale (sorry folks no longer available).  Meg bought some for her own self and I bought the rest with the intention of selling them after the wedding.  Of course I haven't yet, but I do plan to.  We spent weeks scouring antique stores and flea markets for green glass bottles and vases.  We wanted them to be small so 1 or 2 stems of flowers would still look substantial in each bottle.  We dropped the vases off to our florist in Asheville about a month in the wedding, and directed for her to place a garden rose or dahlia with some wildflowers in each vase.  We made the table numbers out of wood numbers found at Hobby Lobby and we used screws and brackets to fasten them to little wooden stands.  We spray painted them silver, and also intend to sell them.  For our guest book, we really wanted to do something different.  We spent weeks discussing what would be neat and unusual and finally found this idea to have the guests write Corey and I love letters.  We decided to tie a blank letter with a direction note (both printed on recycled paper) to the top of napkins on each charger.  We placed a mason jar in the center of the table with pens to write on the love letters and also for guests to place their notes in when they were finished.  We bugged our caterer to get the napkins the weekend before the wedding, and tied the notes to the napkins in the midst of macaron and apple pie making.  For the back of Corey and my chairs, we crafted cute little "bride" and groom" signs.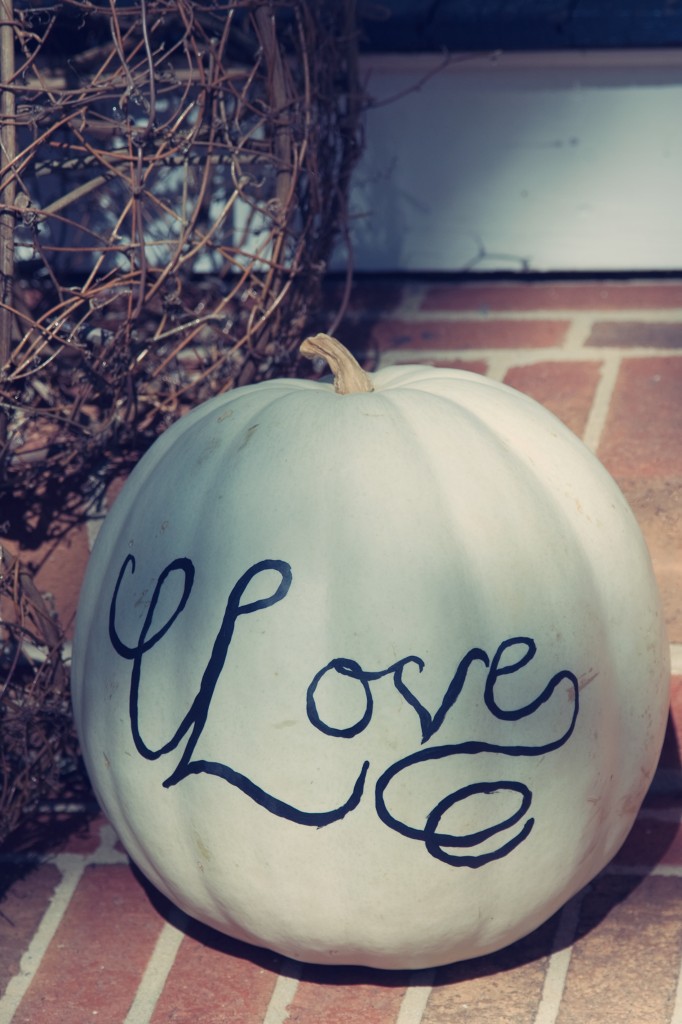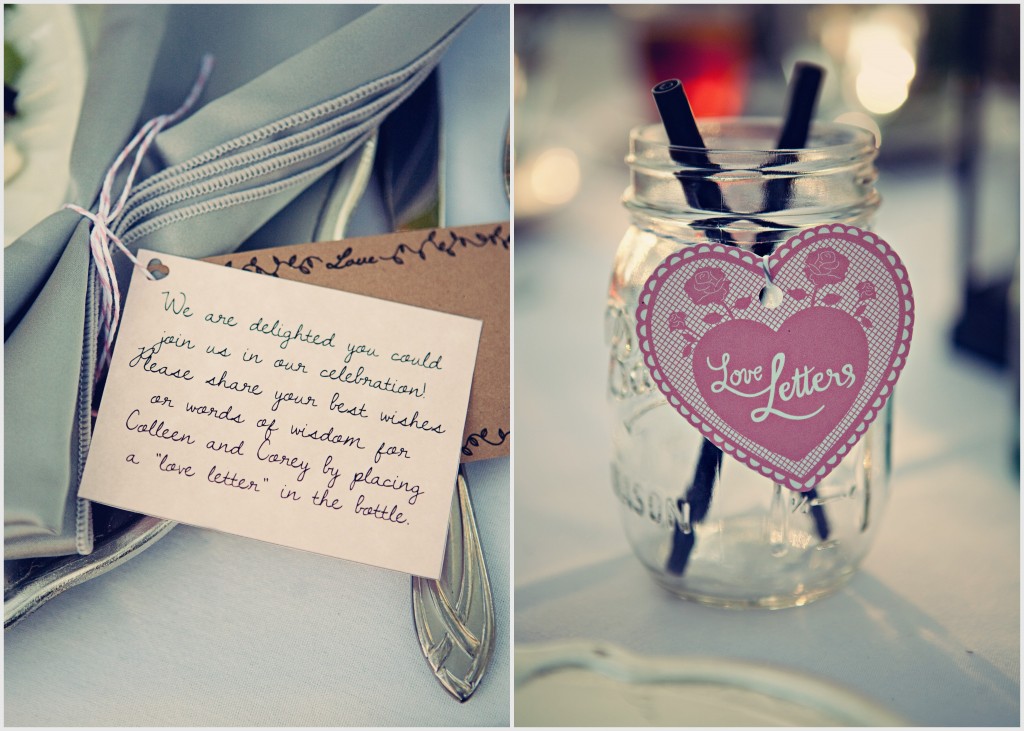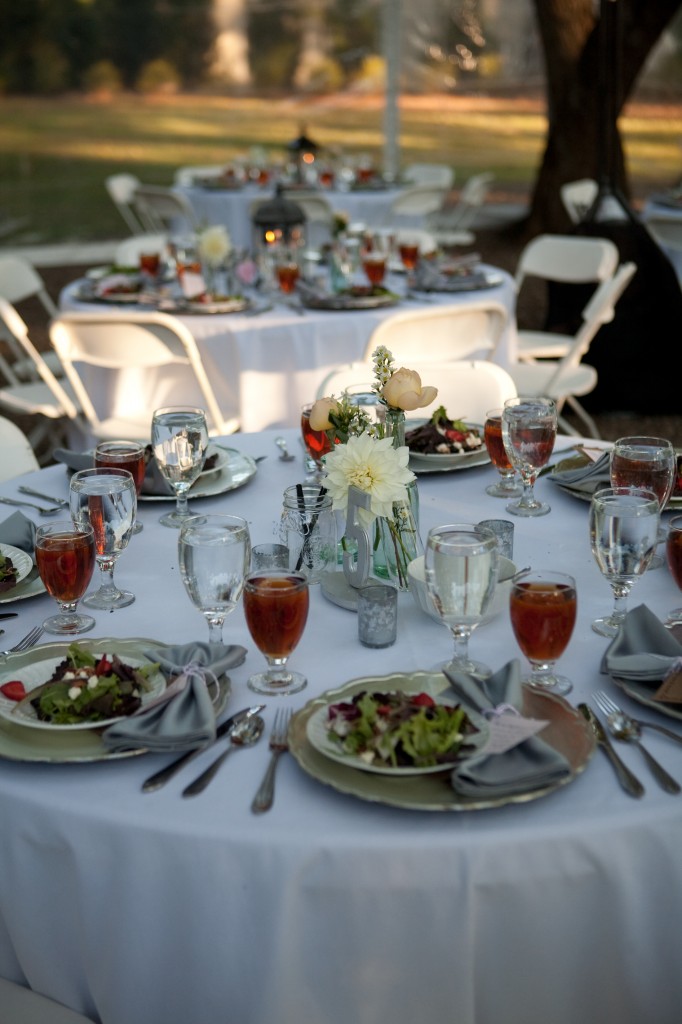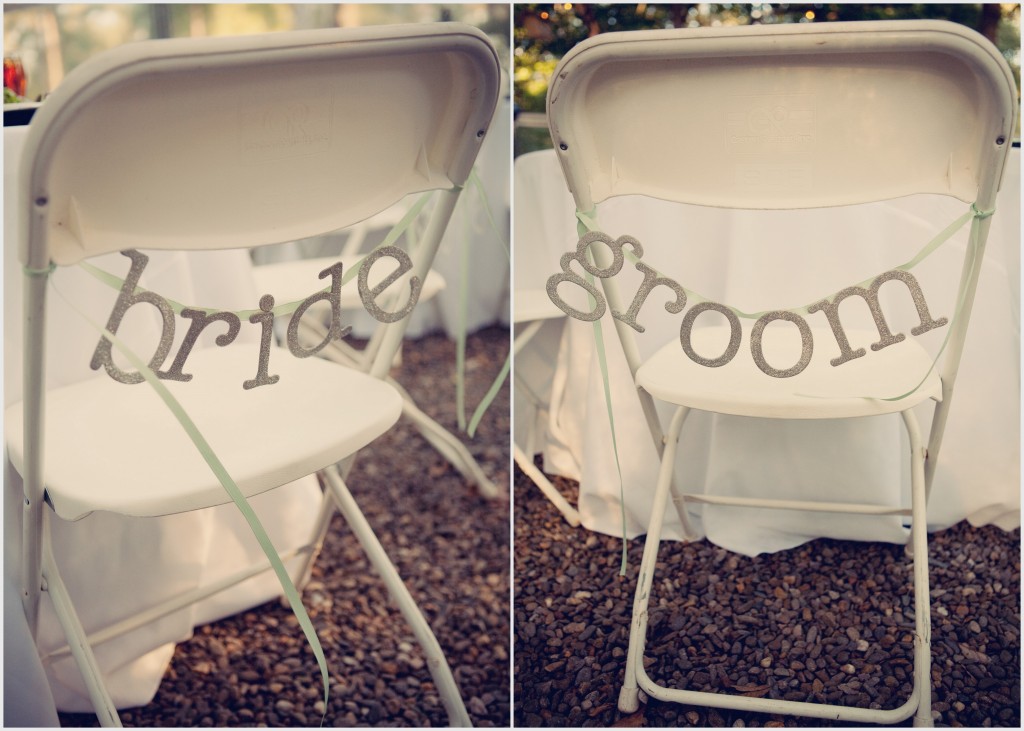 For the comfort of our guests, we provided grey flip flops that I purchased on sale from Old Navy earlier in the year.  We punched out little signs for each set to write down the size and tied with twine.  The basket was actually something Megan already had, and we spray painted the top pink.  We also made the little "dancin shoes" sign.  The week of the wedding, we realized that it was going to be really (unseasonably) cold.  Like high of 50's during the day.  So Meg, being the amazing maid in honor that she is (and also to shut up my crying) ran out to Ikea and bought 10 white blankets for people who were chilly.  We tied them with pink baker's twine and place them in a basket from my house.  We tied a little sign that said "snug as a bug in a rug" to the basket, of course printed on recycled paper.  Several days before, we also ran out and got stuff for a hot chocolate and coffee bar.  Our venue was really nice and provided hot water free of charge, and we bought individual hot chocolate packets, marshmallows, coffee, creamer, and sugar packets and placed them in cute little bowls.  Corey and I found some recycled coffee cups at Party City (I think the brand was called Bare.)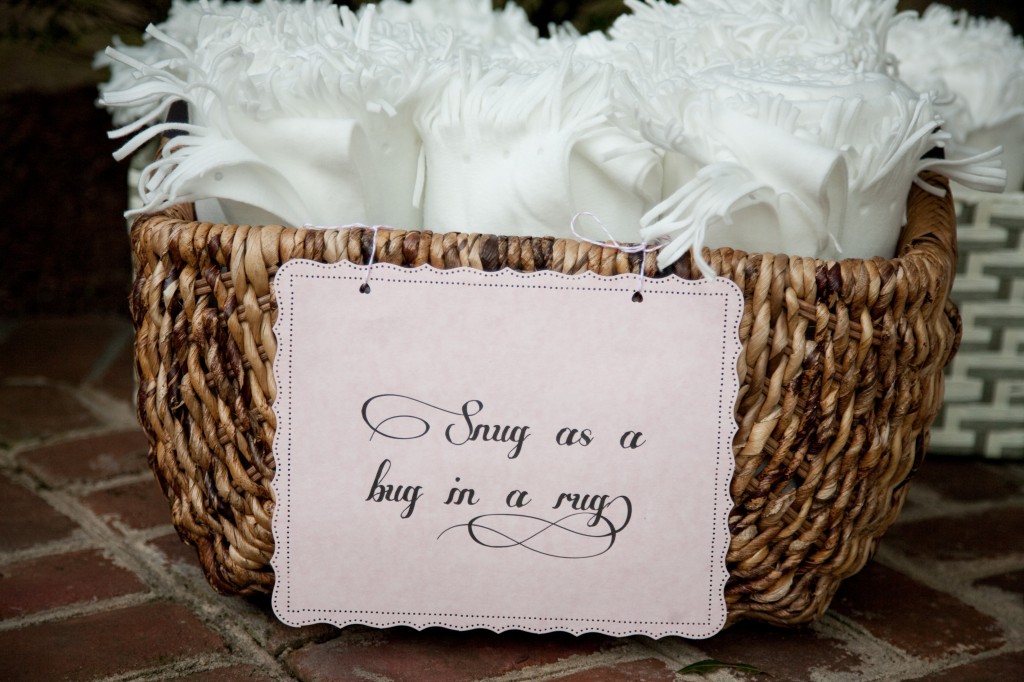 Finally, for the tables inside the house, we used a spray painted C & C, framed engagement pictures and mini white pumpkins to decorate the table near the bar for the cocktail hour.  For the groom's cake table, we put the beautiful chocolate peanut butter cake made by Corey's mother, a cute sign we made with recycled cardstock and a spray painted frame that said "Made with love by Mrs. Geohagan," and some mercury glass pumpkins left over from my last year's Halloween decorations.  My mom made table runners for 2 inside tables along with the outside dessert table (which we will talk about next week) from pretty fabric we bought.  On our RSVP cards, we played off the saying "will be there with bells on."  So for our send-off, my mom spent hours making cute little bells tied to ribbon for our guest to ring at us on our way out.
I decided against hiring a day of coordinator.  I really wish I had because on the day of the wedding, Megan had to coordinate both our vendors (our venue coordinator was what you would call subpar in terms of vendor coordination) as well as put out a lot of the ceremony, inside, and dessert table decorations.  Luckily, we also had FANTASTIC wedding day of helpers who put out all of our centerpieces and reception decorations.  Lauren, Taylor, and Sir Billiam, you guys are rock stars and I can't thank you enough!  If you do have friends helping put out your decorations, I would recommend being SUPER organized.  Like to the point of ridiculous.  Megan and I did table setups of our dessert table, all the inside tables, and both centerpiece layouts and took pictures to guide our helpers.  Also, we packed our decorations according to location at the venue.  So we had a dessert table box, lemonade stand box, centerpieces box, love letters box etc.  I provided our "special" person (helper in chief if you will) Lauren with a list of all of the items at each table and schematics of how they were to be placed.  I know, you are thinking "man this chick is crazy."  But seriously, ask Lauren, Megan, and all our other helpers if this organization was necessary.  It really and truly was. 
Edit: I would also like to thank Corey and Jim for trucking all of our 50 million pounds worth of decorations to the wedding venue.  I am so sorry that I forgot to mention this, because we obviously would not have had the decorations without them.  Also, thank you to Jim, Corey, Elyse, Mom, Aunt Jackie, Mr. G, and others for helping take down the decorations the day after the wedding.  Love you all!
Previous Colleen + Corey Wedding Recaps: