I must admit I still love to read children's books.  Oftentimes more than grown up books.   Some of my most cherished childhood memories involve books and I guess it makes me nostalgic.  Looking back at our favorite books from when we were little, Colleen and I realized that many children's books in the 80's and early 90's were mega scary.  I guess they wanted to make sure we stayed in line. They may have had the right idea.  Just read some of the original fairy tales and try to tell me you don't have nightmares.  Did you know the original "Little Mermaid" died in the story?  Like she turned into a bubble and was dead.  That's rough man.   Anywhos, here are some of our favorite stories from childhood.
1) The Story of Poppyseed (Megan)
This is about a little girl who gets lost from her family along with a bunch of other kids and gets stuck living on an island, trapped by a sea monster named Gloo Gloo.  I am just now starting to make the connection between this and my continued (to this day) refusal to swim in oceans and lakes.  Hmm… It's cool though because Gloo Gloo ends up being pretty cute and gives them rides on his back.  Still.  Side eye to that.
2) Heckedy Peg (Colleen)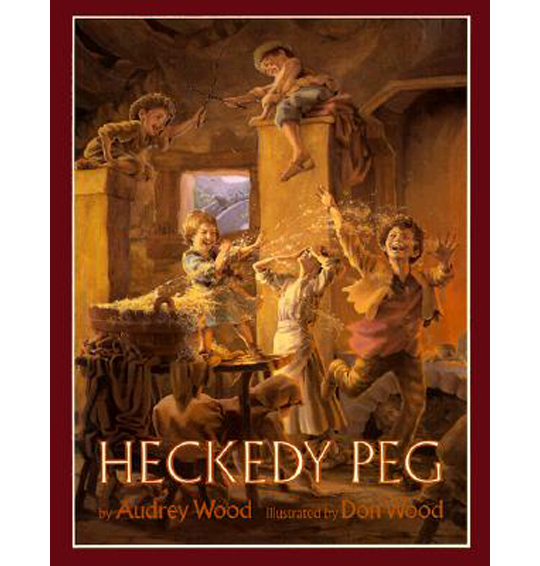 This is about this lady with millions of kids who leaves them alone to go shopping.  A creeper witch comes by the house while she is gone and turns all the kids into food so she can eat them.  The mom has to track their butts down and save them by guessing what food they turned in to.  For whatever reason, Colleen was completely obsessed with this book.  She would beg our mom to check it out every time we went to the library.  I guess getting turned into chocolate bars sounded like the ticket to her.  This doesn't surprise me.
3) The True Story of the Three Little Pigs
 I bet at least some of you have read this little gem.  It is the story of the three little pigs from the wolf's perspective.  Pretty cute and makes you feel glad he ate those dumb pigs.  All he wanted was a cup of sugar and those jerks wouldn't give it to him.  Not terribly scary but excellent anyways.
4) There's A Nightmare In My Closet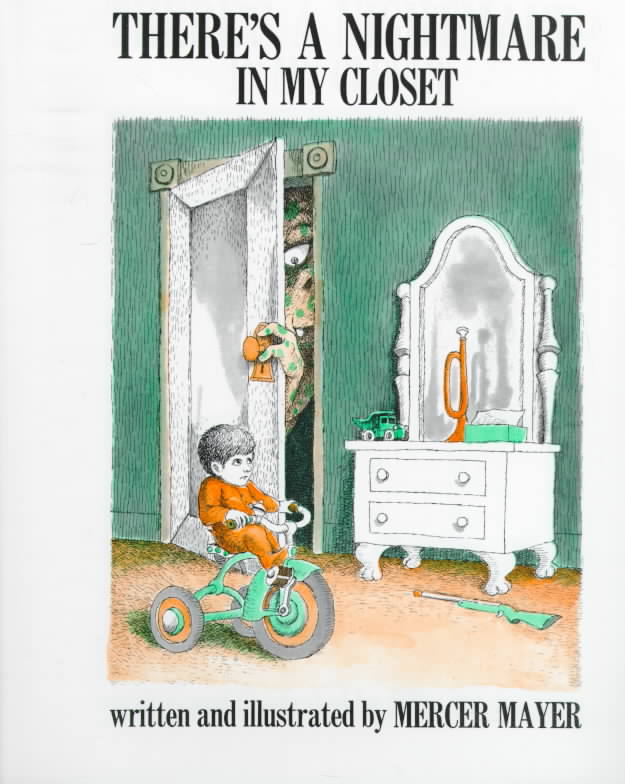 I am sure most of you have read this book as it was and still is quite popular.  The book basically insinuates that we have nightmare monsters in our closets.  And I wonder why I insist on having all doors closed before going to bed.
5) Witches Goblins Ogres and Fantasy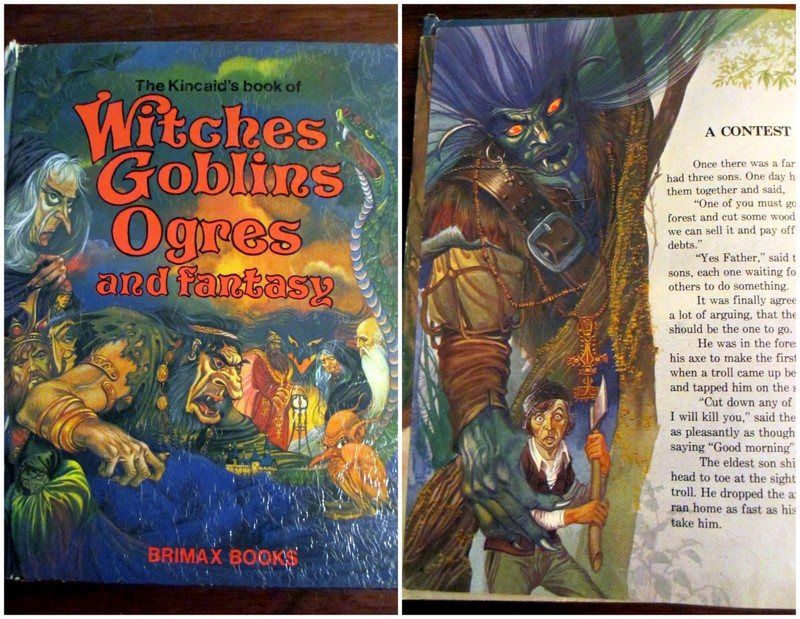 Juicy thinks it's creepy too.
Who really knows what this book is or where it came from but it was legit one of my favorites things as a little girl.  I used to carry it around like it was a teddy bear.  What a weird kid.  There are really no words for how terrifying these illustrations are.
What are your favorite books from childhood?  Did any of them use scare tactics?  Do you think they worked?
Happy Friday and hope ya'll have a fantastic weekend!